Thomas Dale High School's Codey Wells tackles Meadowbrook's Antoine Brown. (Rob's DigiPix) Thomas Dale 17, Meadowbrook 6 The Thomas Dale Knights used their sure...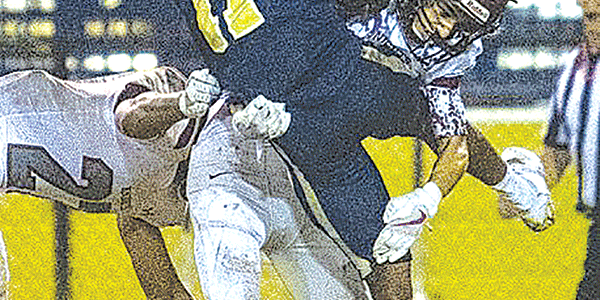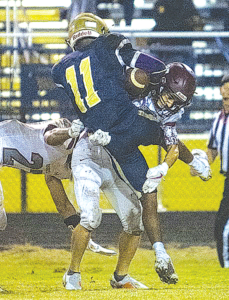 Thomas Dale High School's Codey Wells tackles Meadowbrook's Antoine Brown. (Rob's DigiPix)
Thomas Dale 17, Meadowbrook 6
The Thomas Dale Knights used their sure and steady running game and a staunch defensive attack Friday to send the Meadowbrook Monarchs to their sixth straight loss, 17-6.
"It was an ugly first half filled with penalties for both teams," explained Thomas Dale High's coach, Kevin Tucker. "We settled down and stopped turning the ball over and committing dumb penalties. We were able to make some adjustments in the second half, and special teams was better in the second half."
Chris Tyree ran for 171 yards and caught two passes for 38 yards for 209 total yards from scrimmage. Quarterback Ejay Walker provided both of the touchdowns, one through the air and one on the ground.
Defensively, Thomas Dale got another huge effort from linebacker Adam Hall, who has been in double digits in tackles in each of his team's six games. He finished with 11 tackles, including a sack and two tackles for losses. Juda Jones had a breakout game as well, tallying 10 tackles, including a sack and a tackle for a loss.
The Knights improved to 4-2, but Tucker knows that to place third in a competitive region, they'll need to win out. The four-game stretch includes local dates with an upstart Petersburg program led by quarterback Meziah Scott, a tough Hopewell team and another Central District battle with Prince George.
"We need these wins to finish ahead of Cosby and Clover Hill," Tucker said.
That journey starts at 7 p.m. Friday at Ed Karpus field against Petersburg.
L.C. Bird 14, Clover Hill 7
Although the L.C. Bird Skyhawks' offense never clicked on all cylinders, it did enough to get by Clover Hill, aided by yet another strong defensive performance. L.C. Bird won 14-7 and improved to 6-0.
With Jayden Payoute only touching the football once, the Skyhawks offense fell into the capable hands of junior running back Tre Mason, who finished with 197 yards on the ground including a 76-yard run for a score against the Cavaliers' defense. The other L.C. Bird touchdown came through the air from Jamon Battle, who was filling in for Payoute at quarterback. Battle connected with junior Tyson Pledger on a 21-yard strike.
"Tre Mason is a tough runner," L.C. Bird coach Troy Taylor said.
The Skyhawks defense caused four turnovers, forcing two fumbles that were recovered by Michael Allen and Chris Thomas, and nabbed two interceptions, courtesy of Dominic Gray and Ramon Brown. Gray also blocked a field goal attempt.
All told, it was a game won mostly on defense. Ahmad Couch led the way with eight tackles, including three for a loss of yardage.
"Our defense has played well," Taylor said. "Coach [Tony] Nicely does a great job preparing our guys. Freshman Ramon Brown came up with a big INT (interception), and Tyson Pledger has played well on the defensive line. Mykey Anderson has been a leader in our secondary."
On Friday, L.C. Bird will have a showdown with 6-0 Manchester, which is led by quarterback Brendon Clark, a verbal commit to Notre Dame. The Lancers also sport lineman Hakeem Beamon, who verbally committed to Penn State and transferred from L.C. Bird to Manchester this past offseason.
L.C. Bird's talented defense will face a tall task in Manchester, a team that's defeated its opponents by an average score of 61-3.
Dinwiddie 42, Matoaca 13
The Dinwiddie Generals' offensive attack didn't let up as they rolled past the Matoaca Warriors, 42-13.
Ky'mon Pope has been a star for Dinwiddie all season long from the quarterback position as a dual threat. He's one of the best dual threats the Generals have had over the past four or five seasons, and is their top offensive option. He finished the night 11 for 21 passing for 239 yards and a touchdown. That went along with 71 yards rushing and three touchdowns. Senior Tyre Dalton finished with 137 rushing yards and a score.
On Friday, Matoaca will face off with Meadowbrook. Both teams are 0-6, but have played competitive schedules and come close to defeating opponents on multiple occasions.