Longtime Chesterfield firefighter David Creasy died Oct. 15 after a four-year battle with cancer. Creasy served the community for 50 years. He joined the...
Longtime Chesterfield firefighter David Creasy died Oct. 15 after a four-year battle with cancer.
Creasy served the community for 50 years. He joined the fire service in 1968 as a volunteer with the Manchester Volunteer Fire Department. In 1971, he went to work for the Richmond Bureau of Fire and was assigned to Truck Company No. 3. Creasy left Richmond in 1974 for a career position with the Chesterfield Fire Department.
During his 28-year career with Chesterfield Fire and EMS, he worked in nearly every aspect of the department. He retired in 2001 as a senior battalion chief and fire marshal.
Creasy returned to work with the Richmond Fire Department in 2008 as the city's fire marshal. After that, he continued working part-time for Chesterfield Fire Department as an instructor. He also was an instructor in the Community College System and with the Virginia Fire Marshal Academy.
Creasy had a vision of saving and documenting fire service history that he believed was invaluable, not only for memory's sake, but to share fire departments' heritage with the new Chesterfield Fire and EMS generation.
He wrote "Chesterfield Fire Department: The Original Thirteen Departments," and helped establish the Chesterfield Fire Museum.
Of his book, Creasy said, "I love talking with the old-timers, finding pictures and information that documents the Chesterfield Fire Department's history. I grew up in this department, and it gave me a wonderful career. It is a tremendous family, always there in good times and bad. If you need something, they are there for you."
So much of the history of the volunteer fire departments is gone, Creasy explained in an earlier interview. Many of the people moved away or passed on, pictures and records have been thrown away, and there is no one central point that acts as a repository for fire department history information. In addition, there is a generation of firefighters who have no idea what it was like back in the day and no link to the past.
The book took four or five years to research. Creasy researched newspapers, board of supervisors meeting minutes and fire department records and visited with old-timers. The work with the publisher took about 14 months.
Creasy also gathered memorabilia from fire departments.
"Having watched the Chesterfield Fire Department grow from 13 individual departments to one outstanding and nationally-recognized department was a wonderful experience for me," Creasy said. "I think, as with a lot of things, people are interested in how it all happened. Several years ago. I started to collect memorabilia and organized an exhibit in the county museum."
After being diagnosed with cancer, Creasy began an educational campaign for firefighters about on-the-job risks. Even while undergoing treatments and experiencing sickness and side effects from his cancer and treatments, he placed others above himself and spread awareness to save lives.
Creasy was a member of Manchester Masonic Lodge, Scottish Rite and Acca Shrine Temple, and was active with the Acca mini-patrol.
Creasy said of his work, "I feel like writing this book not only allows me to enlighten folks, but allows me to feel like I am giving something back by keeping the history of hundreds of firefighters alive."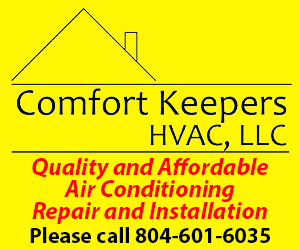 U.S. Rep. Abigail Spanberger came to town Friday, Oct....

Running each week through Oct. 30, the Village News...

A "brunch at Tiffany's" fall fashion show and champagne...

The Friends of Chesterfield County Public Library will host...

In the race for state Senate District 10, which...