ABOVE: From left, Terrance Ervin, Salvatore Camp, Torrey Pettis and Quentin Hall. Under former L.C. Bird High assistant football coach Salvatore Camp, and with the...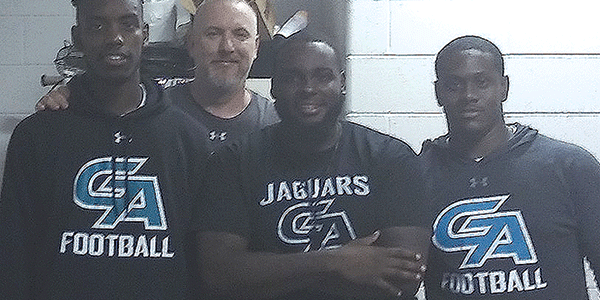 ABOVE: From left, Terrance Ervin, Salvatore Camp, Torrey Pettis and Quentin Hall.
Under former L.C. Bird High assistant football coach Salvatore Camp, and with the help of three L.C. Bird graduates, Glen Allen High School is currently 7-2 on the year. The Jaguars' highest win total since the school opened in 2011 had been four.
Camp currently has Terrance Ervin who quarterbacked for two Bird's three state titles, on staff along with 2012 Bird grad Torey Pettis, and a 2011 Bird grad, Quinton Hall.
"Having these young guys on the coaching staff has really helped the kids relate to the coaches," Camp said. "If you have a bunch of 50-somethings coaching, it makes things more difficult."
Glen Allen's success can be attributed to many things, but two stand out: defense and quarterback play. The Jaguars have allowed 20 points fewer per game this year than they did in 2017. Secondly, quarterback play has improved with Ervin as the team's quarterback coach.
Senior Donovan Riddick is Glen Allen's signal caller, and under the guidance of Ervin, he's thrown for 1,300 yards and 11 touchdowns with just one interception. He's added another 800 yards rushing with 17 touchdowns, giving him a total of 28 on the season.
"He's been crucial for Riddick's success," Camp said of Ervin. "He's able to provide a lot of the mental details during practice that I might not focus on. He's the calm in the storm of everything that's going on…."
Ervin weighed in on his first coaching experience as well.
"I just try to show him (Riddick) how to slow the game down," Ervin said. "He was a little used to leaving the pocket early, so I've tried to get him to stay in the pocket and see what the defense wants to try to do to stop the offense. He's got to be in control of everything when he's in the game. I think I've helped him with that mental side."
Ervin, who has a year of NCAA eligibility left, is taking a year off from college. He decided to ask Camp if he could help coach. The former Skyhawk went 33-0 in his career as a starter for L.C. Bird, won two state championships, including the first in school history. He then went onto Norfolk State, then to Louisburg College in North Carolina and then to Johnson C. Smith University in Charlotte. Some may question why Ervin has been on the move so much, but the answer is simple.
Now 23, Ervin is looking to play college football and finish his education degree next fall, and is raising his son, Chaise, who will turn 4 in February.
"The key has been having a great support system around me," Ervin said. "That helps me keep everything in order and to keep everything positive."
Camp, now in his third year as coach at Glen Allen, took a lot of what he learned under Bird coach David Bedwell with him.
"My time at L.C. Bird molded me for my time at Glen Allen," Camp said. "And to be honest, I probably wouldn't be here if it wasn't for them."
Camp said that he took the "ground and pound" running scheme from the Skyhawks, but since has been able to find ways to use the talent he's got to move the ball in different ways. As for the ground and pound, having a running back in junior Devin Flowers – who rushed for 1,425 yards as a freshman and then 2,120 yards as a sophomore – hasn't hurt things one bit.
The Jaguars have locked up a playoff spot in Class 5, Region B, where they are ranked against the likes of Highland Springs, Henrico, L.C. Bird and Varina. With a win over J.R. Tucker High on Friday, it's possible that Glen Allen will host a first-round playoff game. The Jaguars could finish anywhere from a 4 to a 7 seed.
Glen Allen could face L.C. Bird in the first round too. But Camp isn't focused on a possible match-up with his former team or the playoffs yet.
"We just have to keep taking care of our business, and that's J.R. Tucker this Friday," he said.