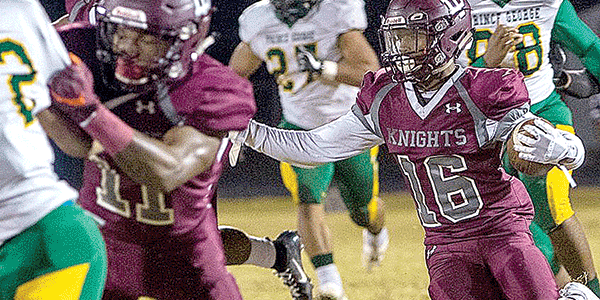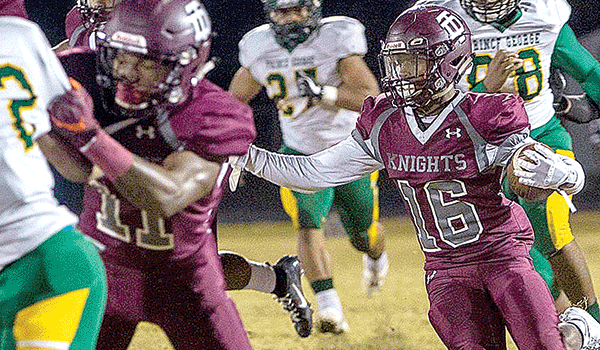 ABOVE: Deangelo Gray cuts back while running the football during gridiron action last week. (Rob's DigiPix) Thomas Dale 48, Prince George 20 In what head...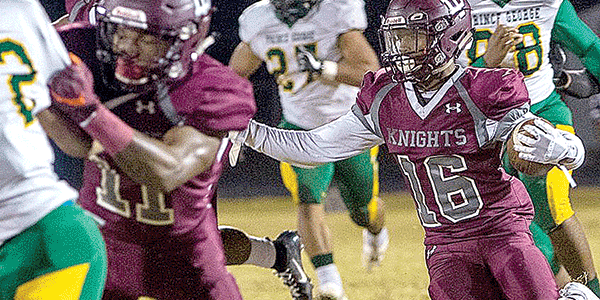 ABOVE: Deangelo Gray cuts back while running the football during gridiron action last week. (Rob's DigiPix)
Thomas Dale 48, Prince George 20
In what head coach Kevin Tucker called a "sloppy" game for Thomas Dale High School, the result looked awfully good on paper.
The Knights improved to 8-2 with a victory over the Prince George Royals on Senior Night, as 25 Knights played their last home game and C.J. Reavis saw his jersey retired.
Interestingly, Prince George ran 74 offense plays to Thomas Dale's 31. But despite only running 31 plays, the Knights won handily. Thomas Dale led by just one point at the half, 14-13.
In the second half, Thomas Dale was able to open things up with five touchdowns while Prince George went quiet. This was a big change from the first half when Tucker said the Royals they did a great job of "keeping our offense off the field." Defensive adjustments were also made, but Tucker wasn't satisfied with his team's effort.
"We will regroup and get back to the basics so the defense can get back to flying around and having 11 hats on the ball," he said.
Thomas Dale had a special ceremony to retire No. 11, an important, if not hallowed, number in Knights' history. Reavis, a member of the Jacksonville Jaguars practice squad who formerly wore No. 11, was on hand with his family. But that was not the only reason that No. 11 holds such respect. Malcolm Piggott, who drowned in 2007 before his senior season, also wore the number. A Division I football prospect, Piggott hit the game-winner bucket in the Central District's basketball final the same year.
This season, a deserving player was chosen each week to wear the No. 11 jersey, including Chris Tyree, Jasiah Williams, DeAngelo Gray, Darius Sterling and Bryce Carter.
Up next for Thomas Dale is the Class 6, Region B playoffs, where the third-seeded Knights will host sixth-seeded Cosby at 7 p.m. Friday. Should the Knights win, they would get the winner of No. 2 Manchester vs. No. 7 James River matchup.
"They [Cosby] are a much improved team from week one," Tucker said. "They are playing great defense and the offense looks 100 percent better now than it did it week one. Those guys are well coached, and we'll have to bring our 'A' game."
L.C. Bird 20, Cosby 14
L.C. Bird High finished the regular season 8-2 with a hard-fought victory over Cosby.
"Cosby played hard," L.C. Bird head coach Troy Taylor said. "It was a great game."
Mykey Anderson came up big for the Skyhawks on defense in overtime.
After a defensive stop that held the Titans to a field goal attempt, Anderson blocked the kick.
On the next drive, quarterback Jaden Payoute ran the pigskin in for a score on third down, and the L.C. Bird faithful celebrated.
"We are proud of the way our kids played this season," Taylor said. "Now it's a new season and time to get ready for a home playoff game."
Looking at the points in Region 5B, L.C. Bird has the No. 2 seed and will face No. 7 Douglas Freeman in the first round this weekend. Should Bird win, they would then play the winner of No. 3 Henrico vs. No. 6 Varina at Dutchman Field.
Petersburg 51, Matoaca 21
An upstart Petersburg team put the brakes on Matoaca's three-game winning streak.
"Things didn't really go our way early in the game, and we gave up some big plays," Matoaca head coach Jay Parker said. "We got behind early and fought back late, but it was too little, too late. Petersburg is a very good football team."
Quarterback Marcus Dreher finished 10 of 21 passing for 80 yards and added 75 yards rushing and a touchdown. Jonathan Coleman carried the ball 11 times for 147 yards and a touchdown. Aaron Jones scored a touchdown on the ground, in addition to an excellent defensive game in which he recorded 13 tackles and three sacks for the Matoaca defense.
After starting the season 0-6 and dropping close games to Cosby, Thomas Dale and Hopewell, the Warriors were able to win three of their last four contests, knocking off Prince George, Meadowbrook and Colonial Heights. Matoaca finished the season at 3-7.
"We are very proud of our guys this season," Parker said. "We played an extremely tough schedule and started off with rough and tough breaks. Our kids didn't hang their heads. They just kept  fighting and continued to improve."
"Finishing the season 3-1 was a good momentum builder heading into the offseason," he said. "I'm encouraged about the fact that our guys came together as the season went on. We played for our team, school and our community more and more as the season progressed."
Hopewell 61, Meadowbrook 7
The Monarchs' season came to a close last week with a loss to Hopewell.
After a challenging season for 0-10 Meadowbrook, head coach Chamont Thompson will continue working to turn the program around.
Meadowbrook nearly knocked off L.C. Bird (8-2) in the first game of the season, falling 14-12.
After narrowly losing to Colonial Heights in their fourth game, the Monarchs struggled to keep games close.