By Caleb M. Soptelean, editor/reporter  Chesterfield voted for criminal justice reform, barely. Scott Miles overcame a Republican registration advantage in the county and pulled...
By Caleb M. Soptelean, editor/reporter 
Chesterfield voted for criminal justice reform, barely.
Scott Miles overcame a Republican registration advantage in the county and pulled off an upset in the commonwealth attorney's race, but he did it at the same time that Abigail Spanberger was winning the District 7 portion of the county by some 10,000 votes. Miles only won by 2,500-plus votes.
He has one year to establish the kind of commonwealth attorney's office he'd like because the seat is up again next year for a full four-year term.
Miles has vowed to not ask for cash bail or jail time for non-violent offenders, but as his Republican opponent John Childrey pointed out, that decision is not solely up to the discretion of the commonwealth attorney. The magistrate – a kind of low-level judge – will ultimately decide whether or not cash bail is required for those charged with a crime and the commonwealth attorney's office may not even be involved at that point in the process. In the sentencing phase, the commonwealth attorney's office is involved and can make a recommendation, but circuit or district court judges ultimately decide.
Where the commonweath's attorney can make a big difference is in choosing to downgrade charges from felonies to misdemeanors, which Miles said he will do in certain drug possession cases. Childrey argued that doing so is a violation of state law, which defines the parameters of each offense. However, it should be noted that prosecuting attorneys have wide discretion on whether they even charge someone, and in most cases some charges are dropped or dismissed as part of a plea agreement.
It's how the judicial system works, for better or worse.
Miles pointed out that the commonwealth's attorneys in Richmond and Henrico County already are using what he calls "best practices," so it seems that his methods will be judged by the mood of the voting public.
Numerous politicians have called for criminal justice reform in recent years, most notably former Sen. Jim Webb, D-Va., and current Sen. Rand Paul, R-Ky.
The last county where I worked in Montana — Lake, which consists of rural areas and small towns with a total population of 30,000 — has been forced to do criminal justice reform because its jail only houses 45 people. There was no room for non-violent offenders and even some violent offenders get released due to space constraints. The jail is reserved for the worst of the worst.
But just because offenders – mainly drug-related – aren't being jailed doesn't mean they are being rehabilitated. That takes money. Lake County was able to start a drug court last year thanks to a grant from the Gianforte Family Foundation, which was founded by Greg Gianforte before he was elected to Congress. The county subsequently was awarded a federal grant for the drug court.
Chesterfield already has drug courts for juveniles and adults, but Miles said he would lobby the board of supervisors for additional funding for treatment options.
Presumably, more funding would be available if some percentage of the three-quarters of the supposedly non-violent offenders in the the county's 1,100-person jail are not incarcerated in the first place.
Whether or not the supervisors buy into Miles' ideas remains to be seen. Jim Holland is the lone Democrat on the five-person board.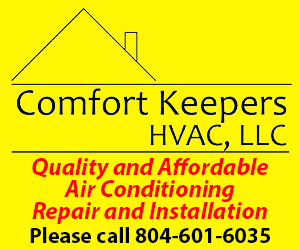 U.S. Rep. Abigail Spanberger came to town Friday, Oct....

Running each week through Oct. 30, the Village News...

A "brunch at Tiffany's" fall fashion show and champagne...

The Friends of Chesterfield County Public Library will host...

In the race for state Senate District 10, which...