ABOVE: Will Kimenhour (32) and Andrew Carraway try to block a James River strike. Thomas Dale High School's boys volleyball team knocked on heaven's door...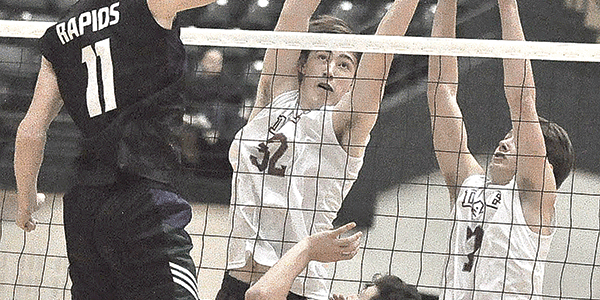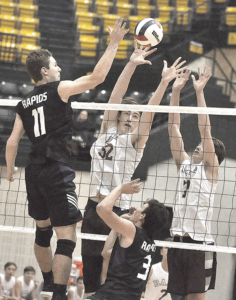 ABOVE: Will Kimenhour (32) and Andrew Carraway try to block a James River strike.
Thomas Dale High School's boys volleyball team knocked on heaven's door Thursday evening, but James River answered. The Rapids dispatched the Knights 3-1 to claim their third state title in the last five seasons.
"This community has been amazing in helping us get back to this point," Thomas Dale head coach Joshua Forbes said. "We have worked really hard for a long time to get us back here. The support from the alumni, and our school's administration – they, along with the team, have worked really hard, and I think you'll see the work that's been put in reflected for a really long time."
The Knights rallied behind a raucous student section at Kaplan Hall on the campus of the College of William & Mary in Williamsburg. After Thomas Dale won the first set, 25-23, James River rebounded to win the next three sets, 29-27, 25-18, and 25-23.
By making it to the state final, Thomas Dale made it back to where the proud program was before, as it had been 11 seasons since the Knights won a state championship when they went 26-0 in 2007. James River coach Michael Blankenbecler was Thomas Dale's star player that year. In 2008, Thomas Dale returned but lost the state championship.
"The first two back-to-back were nice," Blankenbecler said. "When you get to play your alma mater in this game, and it's the first time they've been back to the finals in a decade, it just feels really good to play against a great program."
Forbes has been a big part of the program's return to the limelight. In his six years of coaching, he's shown growth each season despite having to play against top-notch talent north of the river, like Glen Allen, Douglas Freeman and Mills Godwin. Not only that, but since the Virginia High School League's realignment that placed Thomas Dale in Conference 3, the Knights have had to deal with James River and Cosby at least twice each season. Once a team in Region B makes it to the state tournament, there's also perennial power Frank Cox to deal with.
After graduation, seniors Will Kimenhour and McKenzie Scott are headed to play college volleyball at the next level.
Kimenhour, a Division I prospect, is being recruited by top schools such as Pepperdine. Scott was lauded as "hard worker" by Forbes and may end up at the Division II level. Forbes said that when Kimenhour started, he was probably one of the worst players in the gym. That clearly wasn't the case this year. Kimenhour finished with 18 kills in the championship game.
"Forbes has just done a really great job with the program," Blankenbecler said. "The more competitive teams in the area, the better. He's really built this program from the grassroots up, and I told him after the match that I hope to see him and the team in the finals again next season."
Blankenbecler has been a story too. In his five years as coach he's appeared in four state championship games, winning three. The young coach has found a winning formula and has continued to execute it with consistency.
"This year's team is different," Blankenbecler said. "This year's team had many kids that were on junior varsity when we won the first two titles and those teams set the standard, so these kids always had the expectation that they would make it here," the former Thomas Dale standout said. "I think it's more fulfilling for them to see the championships as younger players and make it to that level themselves."
With a young roster and players such as Jacob Craig, Isaiah Oriente and Gabe Palmer returning, it appears the Knights are in the driver's seat to challenge for a state championship trophy next year.
The Knights finish the season 17-4. James River ended at 18-2.