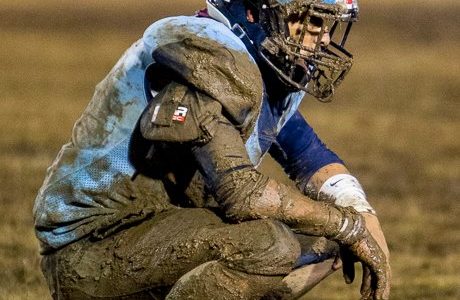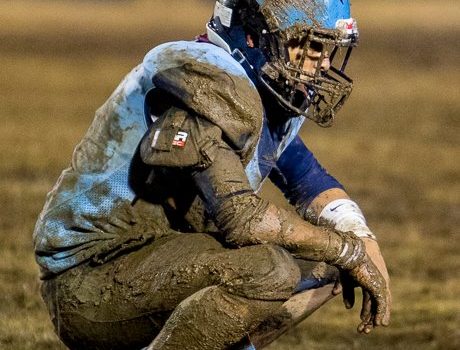 Above: Thomas Dale quarterback Jasiah Williams runs the pigskin; Mykael 'Mykey' Anderson kneels after L.C. Bird's loss to Henrico. Manchester 48, Thomas Dale 7 The...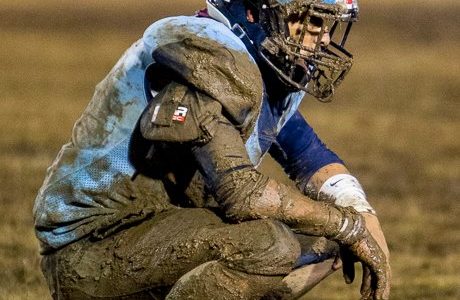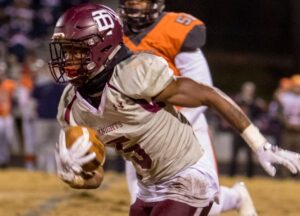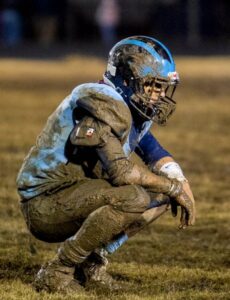 Above: Thomas Dale quarterback Jasiah Williams runs the pigskin; Mykael 'Mykey' Anderson kneels after L.C. Bird's loss to Henrico.
Manchester 48, Thomas Dale 7
The Manchester High Lancers used the arm of quarterback and Notre Dame commit Brendon Clark and the capable legs of running back Isaiah Todd to eliminate Thomas Dale from postseason contention for the second straight year Friday.
Thomas Dale trailed 35-0 at the half and was held to 150 yards of offense for the game.
Manchester (12-0) has built a powerhouse, with three recruits slated to play in Power Five conferences: Clark and linemen Will Pritchard and Hakeem Beamon. The Lancers scored 707 points this season while only allowing 53 points.
Thomas Dale enjoyed their fifth straight nine-win campaign despite a litany of injuries. The season saw the Knights use seven different players at quarterback, including playing a couple of games out of a wildcat formation. The team lost top defender and JMU pledge Rick D'Abreu early in the season, and many more ailments caused players to lose time on the field.
Although the season didn't include a deep playoff run, the Knights showed exactly how well developed the program is, having to replace over a dozen players and still finish at 9-3.
Junior running back Chris Tyree put the load on his back and gave Thomas Dale plays all season long when they needed them, especially in close wins over Hopewell and Matoaca. The national recruit has collected over 25 offers, including Louisiana State University this past week. With Tyree back to lead the way next year, it should be another interesting and productive season for head coach Kevin Tucker and the Knights.
Henrico 21, L.C. Bird 7
An early touchdown for L.C. Bird wasn't enough as Henrico advanced to their first regional final since 1999 with a 21-7 win over the Skyhawks.
In the first quarter, L.C. Bird quarterback Jaden Payoute led a 70-yard drive that ended with him finding paydirt on an 8-yard run. A Marco Chavez extra point made it 7-0.
Without starting quarterback and Florida verbal commit Jalon Jones, the Warriors put their trust in Raquan Barksdale to be the signal caller, and that paid immediate dividends. He scored on a 12-yard run to cut the lead to 7-6 in the first quarter. That score was set up by a 28-yard punt return.
The Warriors' second touchdown came in the second quarter after they started in good field position thanks to a short Bird punt. Eric McDaniels' 2-yard run gave the Warriors a 14-7 lead at the half.
The Warriors added a fourth-quarter tally, this one a 3-yard McDaniels run, to account for the final score.
Henrico (10-1) limited Bird to just 190 yards of total offense. Running back Tre Mason – who rushed for 1,860 yards and 15 touchdowns on the year – was limited to 60 yards on 16 carries. Ramon Brown – who rushed for 631 yards this year – totaled 61 yards on 16 carries. That, combined with muddy field conditions, meant doom for the Skyhawks.
Bird improved to 9-3 in head coach Troy Taylor's first year at the helm, compared to 7-4 last year. The team put up better offensive numbers and also showed a penchant for playing better defense.
The program had entered a "reloading" period after winning three consecutive Class 5 state titles from 2012-2014 and winning 22 more games in 2015 and 2016.