A modified route has been selected for the Nash Road Extension, which would connect Nash Road to Route 10. In October, the county transportation...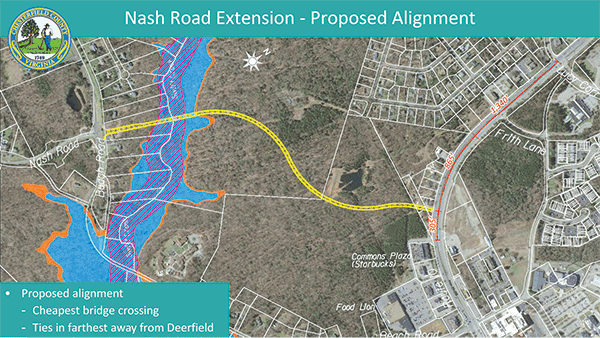 A modified route has been selected for the Nash Road Extension, which would connect Nash Road to Route 10.

In October, the county transportation department chose a combination of alternatives 2 and 3, which are the middle and southerly routes, senior engineer Chessa Faulkner said. The modified route also would use the bridge crossing from alternative 1. That bridge crossing is estimated to be $1.2 million or so less than a more southerly bridge crossing that was proposed with alternatives 2 and 3.

The result is a road that snakes from the bridge to the connection with Route 10 while running south of a stormwater basin on land that belongs to Cogbill Land Associates, she said. The connection at Route 10 was the most popular of the three possible connection points, Faulkner said. Results from a public comment period that closed June 25 show alternatives 1 through 3 received 11, 12 and 21 votes, respectively, with "none/other" receiving 21 votes.

The modified route avoids passing next to and south of Deerfield Estates. Faulkner said that option (alternative 1) would cost more because it would require noise mitigation.

However, some locals do not like the modified version.

Ben Myers represents one of three large landowners – the others are Beverly Wilson and Cogbill – who will be impacted by whatever route is built.

Myers started an online petition on change.org that is opposed to the modified route. The petition is directed to Dale District supervisor James Holland, county transportation director Jesse Smith and others.

Myers – who prefers a combination of alternatives 1 and 2 – wants to make the route straighter, and notes that the modified version the county selected is shaped like a snake. Myers said he wants the county to save money and use it to add a bike trail or sidewalk next to the road, neither of which is currently planned. His petition, which began Oct. 8, has 74 signers.

The project was originally projected to cost $19 million but now is estimated at $30 million, Faulkner said. About two-thirds of that – some $18.9 million – is projected to come from state revenue sharing and Smart Scale funds. The remainder would come from either county, state or federal funds, Smith said.

Four landowners would be impacted by the project including a total of 13 land parcels, according to Faulkner.

Construction is scheduled to begin in the spring of 2021 with completion by spring 2023.

A public hearing on the project is slated for this summer.