BASKETBALL Of the nine high school basketball teams in the Village News coverage area, three made it to state tournaments: Carver Academy's boys and the boys...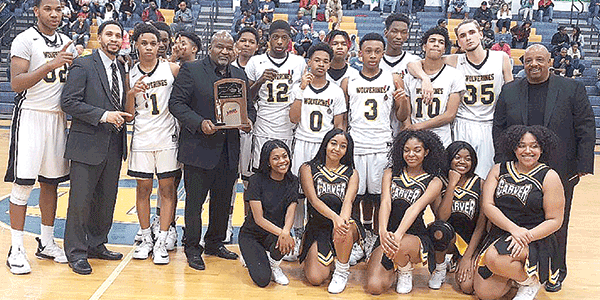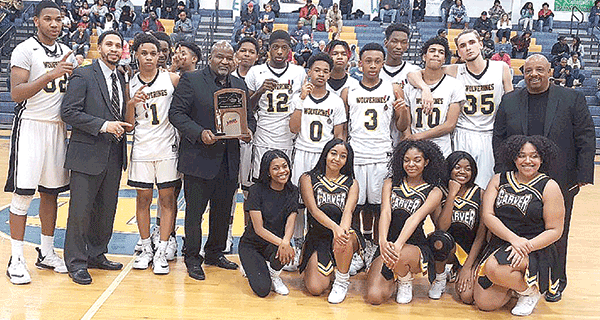 BASKETBALL
Of the nine high school basketball teams in the Village News coverage area, three made it to state tournaments: Carver Academy's boys and the boys and girls from L.C. Bird.

Carver Academy will be a top seed in the state tournament. They improved to 21-5 last week with victories over Appomattox Regional Governor's School, William Campbell and Riverheads for the region championship.

"It was a total team effort," coach Reggie Simon said of the 54-42 win in the final. "Riverheads was a very well-coached team. We had some adversity, falling behind after leading most of the first half."

Zyaire Muhammad made some clutch three-pointers in the second half, and Rome Hudson's career-high 21 rebounds helped the Wolverines overcome.

Carver will face either Surry or Rappahannock on Friday, March 1.  

Both the L.C. Bird boys and girls fell in their regional championship games. The boys lost to Varina, and the girls to Highland Springs.

As lower seeds at state, both teams will likely travel to the Hampton Roads area for games this week.

Teams from Thomas Dale, Meadowbrook and Matoaca saw their postseason runs end this week. Here's how each team fared in the regular season and playoffs:
Thomas Dale girls 
Record: 16-7
Playoffs: Lost in second round of regional tournament to Cosby.
How it happened: In what has been a long rebuilding process, coach Leon Gholson and his group of hard-working girls got the ball rolling, posting the best season that the Knights have had in years. They received recognition in the Richmond Times-Dispatch area top 10 poll, reaching as high as ninth at one point. The Knights dispatched Manchester in the first round of the regional tournament and earlier won their Christmas Classic tournament. A duo of senior guards led the way: Jessica Henderson  (12.9 ppg) and Daizjah Brown (9.6 ppg). Jaidyn Winfield and Aliyah Kellum provided the muscle down low, providing a threat to get a double-double every night out. 
 
Thomas Dale boys
Record: 5-19
Playoffs: Lost in second round of regional tournament to James River.
How it happened: Braxton Byerson's squad was routinely a tough contest for whomever they faced, despite continuing a rebuild. Seniors Jackson Brockwell and Michael Spragley II provided leadership for a team that got major contributions from freshman Miles Phillips and sophomore Kylon Lewis. 
Matoaca girls
Record: 18-6
Playoffs: Lost in second round of regional tournament to Highland Springs.
How it happened: It was another productive season for Glenna Lewis and her Warriors as they won a playoff game for a second straight season. Forward Jordan Carpenter was named first team All-Region, recording 11 double-doubles on the year. Guard Nadja Gray was named third team All-Region and was a senior leader along with Janai Harrison. 
 
Matoaca boys
Record: 14-9
Playoffs: Lost in first round of regional tournament to Varina.
How it happened: Matoaca was unstoppable at home this year, posting an impressive 10-0 record under coach Michael Knight. For the past two seasons, the Warriors have struggled with free throw shooting. The team shot at a 53 percent clip this season. Matoaca lost seven games by five points or less, and held a lead with less than five minutes to play in six of those seven games. Tyrese Tingle averaged 16 points and 11 rebounds and was first team All-Region. Tingle has several offers from Division II and III schools. Junior Kaleb Coleman earned third team All-Region honors, averaging about 8 points and 10 assists. Jalen Hargrove had a tough start to the season, but finished with a flourish. Vadell Hawkins was the team's other senior and a key contributor. 
Meadowbrook girls
Record: 11-11
Playoffs: Lost in the first round of region tournament to Highland Springs.
How it happened: The Monarchs will lose two seniors in first team All-Region performer Taiye Johnson – commited to play at Longwood University – and Jayahna Jenkins. They had two additional All-Conference performers in Alary Bell and Maya Ellis. Johnson had two games this year where she collected 22 rebounds and had 14 double-doubles. Sophomore Ellis had nine games where she scored 20 points or more, and Bell complimented her nicely by averaging a double-double with points and rebounds on the year. 
 
Meadowbrook boys
Record: 10-12
Playoffs: Didn't qualify for regional tournament.
How it happened: A senior-heavy Meadowbrook team lost several close games over the course of the season and fell short of goals set by first-year coach Sam Bryant. Six young men are scheduled to graduate from the program: Alfonzo Mason, Isaiah Richardson, Darion Harris, Darius Saunders, Kelly Jones Jr. and Duane Watkins. Bryant said that completing his first season at the helm of the Monarchs was exciting, but he's more excited to continue building the program with improved off-season conditioning, weight training and fundamental skills development.