The Chesterfield Board of Supervisors last week unanimously authorized the county to begin the designing and permitting process to add a water treatment facility...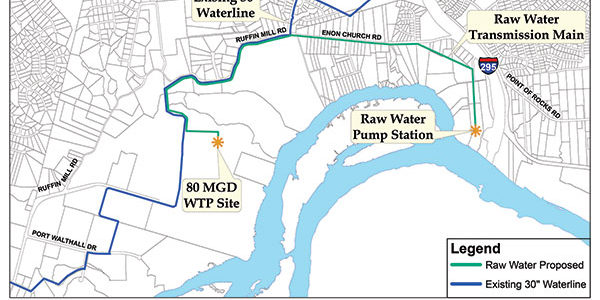 This location at 1600 Ashton Park Drive in southeast Chesterfield could be where a new water treatment plant is located.
The Chesterfield Board of Supervisors last week unanimously authorized the county to begin the designing and permitting process to add a water treatment facility on the Appomattox River.

County staff believes that a fourth water source – in addition to Swift Creek Reservoir, Lake Chesdin and the James River – would provide additional flexibility to meet long-term water demands as the county continues to grow. At an estimated cost of $121 million, another water treatment plant would initially provide 10 million gallons of water a day.

The project will be funded with connection fees and revenue bonds, according to George Hayes, the county's director of utilities. The first phase of the process would take 10 to 15 years, including two to three years for permitting and testing.

Hayes said the county is "extremely fortunate to have three water supplies," but added that they could become strained by 2040 due to population growth.

During a Feb. 27 work session with the supervisors, he noted that a recently completed study by Arcadis Consulting of Richmond considered 11 potential sites for the water treatment plant and recommended one in the Ashton Creek Business Center in southeast Chesterfield off Ruffin Mill Road and Ashton Creek Drive.

Referring to the site in the business park, Hayes said "one clearly rose up" and called it "a diamond in the rough." Some 70 to 80 acres would be needed for such a site, in addition to 2 acres for a nearby pump station and intake facility at an undetermined location west of Interstate 295 and east of R. Garland Dodd Park at Point of Rocks.

In addition, Hayes noted that the site is already zoned I-2 industrial. "There is an existing 30-inch water transmission line that traverses the property," he said in an email. "If this is the selected site, we could directly connect the existing potable water transmission line to the treatment plant, reducing the length and cost of the new potable water transmission lines needed."

He said the recommended site has high water quality and depth of channel in the tidal Appomattox River.

The water treatment plant could initially handle 10 million gallons a day but could be upgraded to capacities of 40 million and 80 million gallons years later. The pump station would initially handle 40 million gallons a day but could also be upgraded to handle 80 million.

The county will now begin the permitting, land acquisition and easement process, Hayes said, adding that when a site is designated as a drinking water supply, further environmental protections would be added within 5 miles of the site.

During public comment on March 13, Bob Olsen said he built an expansion to the water treatment plant in Petersburg and is familiar with the river. "Some of the channels can be slow during low tide and low rain periods," he said.

He encouraged the county to build more than one facility on the river. "Divide up where we're taking our water from," he said. "An 80-million-gallon facility on Ashton Creek would only benefit the [George] Emerson family." He advised the county to build a 25-million-gallon-a-day facility near Point of Rocks. "Don't put all of your eggs in one basket," he said.

Ettrick school, fire station, park
In other news, the supervisors approved a request to rezone 22.8 acres in Ettrick for a new Ettrick Elementary School, a new fire station No. 12 and a new park. The land previously was zoned commercial and residential but is now corporate office.

Plans include a 100,000-square-foot school, a 16,000-square-foot fire station and a park, the latter on three-quarters of an acre on Chesterfield Avenue between River Road and Paine Street.

The current Ettrick Elementary was built in 1967 and the fire station in 1929.

The school is slated to open in the fall of 2021.

TDHS sidewalk project
The supervisors also gave the go-ahead for Casey to request that the Virginia Department of Transportation transfer $24,000 from a completed Beulah Road project to Old Centralia Road by Thomas Dale High School. According to a staff memo, the funds transfer would allow the right-of-way acquisition phase to begin.

According to county planner Barbara Smith, the sidewalk will be extended 260 feet along Old Centralia Road from Route 10.

"We plan to build the project next summer (2020) and the construction duration will be about a month and a half," she said in an email.
The project is estimated to cost $380,000.