By Josh Mathews, Soren Rutherford and Joe Short Thomas Dale 75, Meadowbrook 12 The Knights beat up on the winless Monarchs this Friday, scoring...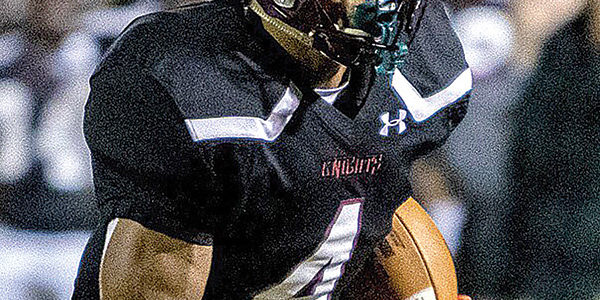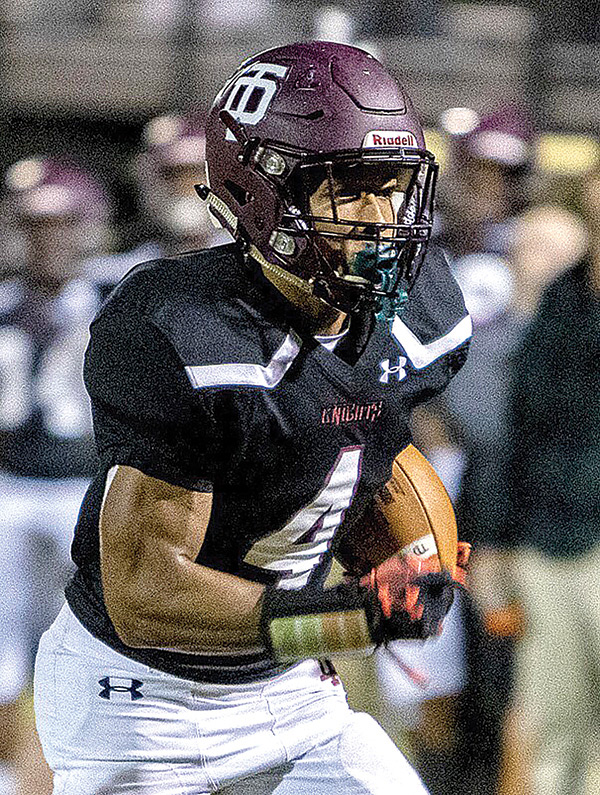 By Josh Mathews, Soren Rutherford and Joe Short
Thomas Dale 75, Meadowbrook 12
The Knights beat up on the winless Monarchs this Friday, scoring a season-high 75 points by way of a season-high 11 touchdowns.

With the return of 247Sport's No. 28-ranked player for the recruiting class of 2020, Chris Tyree, Thomas Dale dominated the first half offensively. In just a quarter and a half of playing time, the Notre Dame signee punched in three rushing touchdowns, including a 66-yard yard blast to the end zone.

All three of Tyree's touchdowns were on the first snaps of their respective drives, and Tyree totaled 150 rushing yards before being taken out of the game.

Along with Tyree's first half outburst, DeAngelo Gray returned a 75-yard punt to the house at the end of the first quarter and Jasiah Williams grabbed two passes for touchdowns, including a 6-yard score and a 22-yard one-handed catch over a defender in the endzone, both in the second quarter.

In the second half, the Knights continued their dominance over Meadowbrook with a 4-yard rushing touchdown from Lamondre Smith, a 1-yard punch-in from Jordan Branch, a 35-yard run from Dewayne Calloway, and finally, at the very last second of the game, an 85-yard punt return from Division I recruit Crishaun Saunders.

Thomas Dale was on point defensively as well during the game, with defensive end Bradley Ford and linebacker Corin Gabbard both pulling down interceptions in the second half. Hazon Ellis registered 10 tackles and two sacks. Saunders added eight tackles.

The Knights put a heavy amount of pressure on Meadowbrook during the game. In the pass rush, defensive end Bryce Carter and linebacker Shamus Jones each recorded a sack in the first half.

"To carry this momentum, we have to cut out the penalties. We had way too many tonight," Thomas Dale coach Kevin Tucker said. "There's times we look really good, and there's times we look really bad."

Friday, Thomas Dale (4-2) – ranked sixth in 11-team Region 6A –matches up against Prince George while Meadowbrook (0-6) battles Petersburg.
Dinwiddie 20, Matoaca 15
Matoaca suffered its first loss in almost a month, falling to the Generals, 20-15.

The Warriors' offense sputtered against a talented Dinwiddie defense, only putting up two touchdowns and turning the ball over on a pair of Marcus Dreher interceptions, one of which was returned for a touchdown by Dinwiddie's Javonte Hobbs.

Kicker Aidan Redmon booted a field goal that countered an early Dinwiddie touchdown by Robert Barlow. Then, Matoaca took a 9-7 lead on a touchdown catch by Daquan Vann, who hauled in 14 passes for 73 yards on the evening.

From that point, Dinwiddie built a 20-9 lead. Dreher rushed for a touchdown to bring it to 20-15.

In the closing minutes, a fourth-down pass by Dreher was batted away by a Dinwiddie defender in the end zone.

Wide receiver Jacob Coleman caught five passes for 64 yards, and wide receiver Troy Lewis had six receptions for 105 yards.

Dreher completed 25 of 40 passes for 242 yards and a touchdown, and added 15 yards and a touchdown rushing.

The Warrior defense played another strong game, only surrendering two touchdowns to Dinwiddie, which typically has a high-octane offense. Matoaca was led by senior linebacker Juleon Pointe's 11 tackles.

"We have to establish a run game early and communicate better," coach Jay Praker said. "In high school football, one loss can quickly turn into two or three if you begin to feel sorry for yourself. We will make sure there is no hangover heading into next week."

In terms of the playoff race, the Warriors are ranked No. 7 in the 17-team Region 5B.

Matoaca (4-2) travels to Colonial Heights (1-6) to take on the Colonials on Friday. After that, they play Thomas Dale, Hopewell and Petersburg.

Clover Hill 8, L.C. Bird 0
In a game that was close to a defensive stalemate, Clover Hill got the better of L.C. Bird.

"Clover Hill played a great game and did a good job against us Friday night," Bird coach Troy Taylor said. "They have a great defensive line and linebacker core."

The Cavaliers scored on the opening drive of the game.

In the third quarter, a bad snap on a punt resulted in two points and a safety for Clover Hill as punter Quentin Elliott had to fall on the ball in the end zone.

Bird was able to generate some offense on the ground, as K.B. Miles finished with 69 yards rushing and Chris Barfield added 37 yards. The Skyhawks were without the services of running back Ramon Brown.

Defensively, Bird played one of their most complete games of the season. Dominic Gray led the way with nine tackles, including three for a loss and a quarterback sack.

Sophomore Mike Allen tallied nine tackles, Kristopher Trinidad added seven tackles, and Tyler Henderson intercepted a pass and blocked Clover Hill's extra-point attempt.

Henderson, a senior, chose to focus on basketball when he started at Bird. The basketball team's point guard, he texted Taylor the night before football practice started to see if he could come out for the team. He has been one of the team's best defenders, intercepting four passes and making many other plays.

"When he plays basketball, he just runs," Taylor said. "He runs the whole game covering guys in man to man. He is a high energy player with a high motor. He's also a high character kid – the 'yes sir' and 'no sir' type of student-athlete."

The victory was a big one for Clover Hill, as it was the first time they have beat Bird on the football field since 1987.

The loss was a big one for Bird in terms of playoff implications. In the VHSL's power points system, the Skyhawks are currently ranked 11th out of 17 teams in Region 5B. The top eight makes the playoffs, so Bird likely needs to win three of their last four games.

"As the head coach, I just want to make sure that we get better every day," Taylor said. "And try to get better every week, we are focused on Cosby."
Bird's tilt with Cosby is at Dutchman Field at 7 p.m. Friday.
After that, they play Monacan, James River and Manchester.