A woman who calls herself a "liberal Christian" and campaigned last week with Alec Baldwin in western Matoaca is challenging an incumbent gun-toting woman...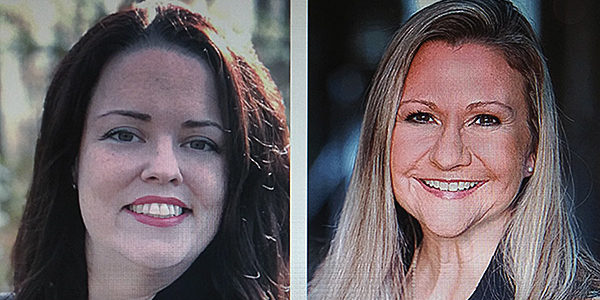 Pohl


Chase
A woman who calls herself a "liberal Christian" and campaigned last week with Alec Baldwin in western Matoaca is challenging an incumbent gun-toting woman who defied party politicos and recently got kicked out of a county Republican Party committee.

The Senate District 11 race pits Democrat Amanda Pohl vs. Republican Amanda Chase in a district that includes most of Chesterfield County along with Colonial Heights and Amelia County.

The district leans Republican, and Chase said her campaign's internal polls have her up by 4 percentage points.

On Oct. 16, Pohl told Joe Morrissey on his 100.5 FM WJFN radio show that she won't comment on her internal polls, but said the 4 points is within the margin of error.

Pohl has worked as a social worker and hospital chaplain. She favors background checks for would-be gun purchasers along with a red-flag law that could prevent someone with a mental issue from buying a gun. She does not support an "assault weapons" ban, however.

If re-elected, Chase said she will introduce a bill to outlaw gun-free zones "so people aren't sitting ducks." Chase said she would be open to a compromise that allows armed security guards or law enforcement in such places.

Chase won the Republican Party primary in 2015 by defeating incumbent Stephen Martin 40.5 to 35 percent, with Barry Moore garnering 24.6 percent.
She and Pohl have at least a couple of things in common. Each has a bachelor's degree from Virginia Tech, and both have defeated Ernest Wayne Powell. Chase defeated Powell in the 2015 general election by 27.4 points, while Pohl beat Powell in the Democratic Party's June primary by 56.2 points.

This is Pohl's first run for office. During a recent radio interview with VPM's Roberto Roldan, Pohl talked about a book that had an impact on her: "The Poisonwood Bible" by Barbara Kingsolver, a novel about a missionary family who moved from Georgia to the Belgian Congo in 1959. Pohl, who grew up in a more conservative household, said the book helped her become a more liberal person and a liberal Christian.

Pohl has been endorsed by a variety of left-wing groups, such as Democracy for America, a political action committee founded by former Vermont Gov. Howard Dean; Emily's List, which seeks to elect pro-abortion choice Democratic women; and People for the American Way, which was formed by TV and film producer Norman Lear and others in 1981 to counteract religious and social conservatives.

According to progressivevoterguide.com, Pohl supports policies to expand access to "reproductive health." On Morrissey's show, Pohl was asked about Del. Kathy Tran's bill earlier this year that would have made it easier to get a late-term abortion and allowed it up until the moment of birth. Pohl said late-term abortions don't exist in Virginia, although Morrissey said there were two last year.

In contrast, Chase has been endorsed by the Virginia Farm Bureau and Virginia Society for Human Life, according to votesmart.org. Although generally conservative, Chase has received mixed ratings from some left-wing groups. Her ratings from the AFL-CIO, for example, have ranged from 10 to 73 percent, and her ratings from the Sierra Club have ranged from 0 to 78 percent.

Chase notes that she has worked across the aisle with Democrats such as Sen. Scott Surovell on a coal ash cleanup remedy and Del. Mark Levine in the Transparency Caucus. According to Levine's website, he and fellow freshman legislator Chase founded the caucus in 2016. An effort led by the caucus required all subcommittee votes to be recorded for the first time in 2018.

She was removed from the Chesterfield GOP on Sept. 30 following what it considered an in-kind contribution to independent sheriff's candidate Rahn Kersey. Chase told the Richmond Times-Dispatch that her campaign paid to boost a Facebook post with an image of her with Kersey after he endorsed her. That came after Sheriff Karl Leonard said that he was not endorsing Chase.

"I think Pohl is silently cheering you on for [the Chesterfield County Republican Committee] kicking you out," Morrissey told Chase on Oct. 1.

"I've never had the support of my own GOP," Chase said, referring to the oft-used moniker that represents her party. "I will not back down." She said she has the support of the rank and file, and said the committee only consists of five people.

Chase has designs on running for governor in 2025, but first, she must get past Pohl.

Pohl – who did not return a phone call for this story – told Morrissey that she's been outraising Chase since entering the race. As of Sept. 30, Pohl had raised $453,287 compared to $424,682 for Chase, according to the Virginia Public Access Project.