By Josh Mathews, Soren Rutherford and Joe Short Thomas Dale 35, Granby 0 It was senior night for the Thomas Dale Knights as they...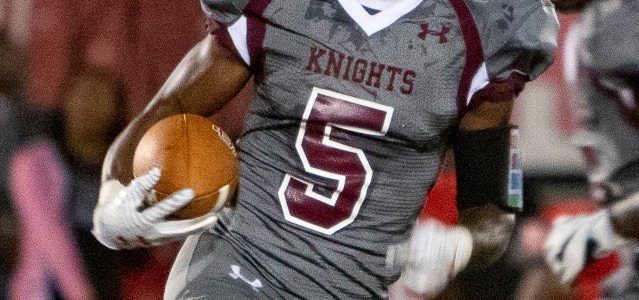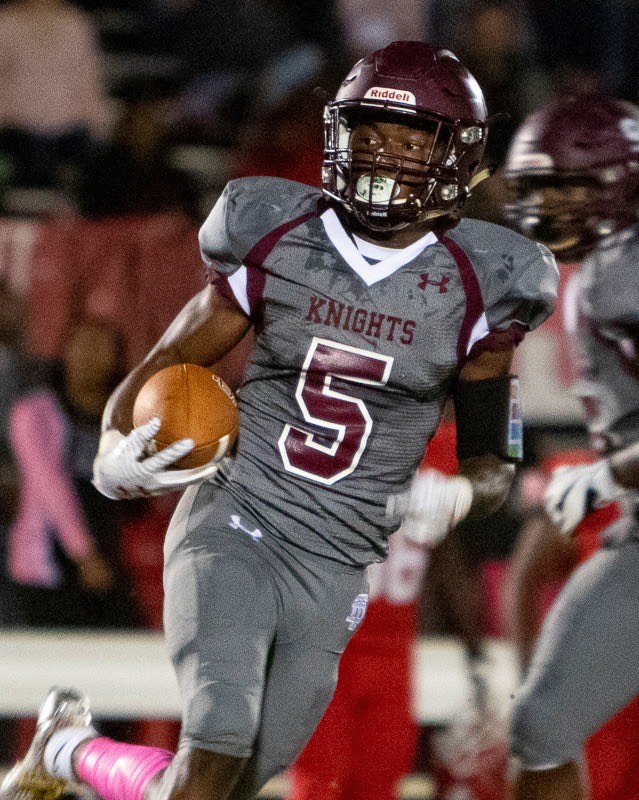 By Josh Mathews, Soren Rutherford and Joe Short
Thomas Dale 35, Granby 0
It was senior night for the Thomas Dale Knights as they improved to 6-3 on Friday after defeating Norfolk's Granby High School.

Although the Knights got their third win in four games, they had some road bumps along the way against the 3-7 Comets.

"We fumbled the ball six times tonight, and that's just unacceptable," Thomas Dale coach Kevin Tucker said. "We cleaned up our penalties last week, but we got right back into it this week. It's very disappointing." 

Despite miscues made by the offense, University of Richmond commit Jasiah Williams posted a dominant performance, completing 5 of 8 passes for 119 yards including a 75-yard touchdown to DeAngelo Gray. 

Williams was even better on the ground, carrying the ball 13 times for 102 yards and three touchdowns, all on quarterback keepers. One was a 35-yard scamper in the third quarter to put the Knights up 28-0. 

The only touchdown that wasn't connected to him was a 14-yard rushing touchdown by running back Jordan Branch at the end of the first half.

Defensively, free safety Judah Jones and defensive back Kemauri Hewlett led the way, each grabbing an interception on passes by Granby quarterback Irshad Parker. 

Overall, the Knights forced Granby into seven fourth downs.

Thomas Dale converted two of their fourth downs, including a 4th-and-20 pass to wide receiver Shamus Jones. 

Granby kept the game closer than it probably should have been by forcing four fumbles, recovering two. 

With the win, Thomas Dale's outlook in the Region 6A playoffs looks bright. The Knights clinched a playoff berth. Now, they'll look to achieve a higher seed with a win on the road at Dinwiddie against the Generals.
Petersburg 34, Matoaca 28
Following a heartbreaking loss against Thomas Dale last week, Matoaca found itself in a must-win game and fell short against Petersburg, 34-28.

The game started with a kickoff return touchdown by the Crimson Wave that put them up 6-0 with a missed extra point.

Matoaca sophomore Daquan Vann returned the favor on the ensuing kickoff, taking the ball back 81 yards for the Warriors.

Minutes later, Vann took off on a 20-yard run for another score. The Warriors led 14-6 after the first quarter. 

In the second quarter, Shaun Kindred caught a tipped ball for an interception and returned it 45 yards to the Petersburg 30, setting up the Warriors' offense. Dreher followed with a 2-yard rushing touchdown to make it 21-6. 

After Petersburg answered, Dreher extended the lead once more, passing to Jacob Coleman to make it 28-14 at the half. 

The Warriors kept the ball moving on the strength of Ricarlos Taylor's legs. While he didn't score a touchdown, he was a workhorse, carrying the ball 27 times for a career and season-high 200 yards. 

The Warriors were shut out in the second half, however, as Petersburg took advantage of Matoaca mishaps to score 20 unanswered points. 

Warrior ball carriers had a difficult time holding onto the ball, fumbling three times. Two were recovered by the Crimson Wave. A Dreher interception on a drive deep into Petersburg territory hurt, along with a blocked field goal attempt. 

Dreher finished 13 of 23 passing for 168 yards. He also ran for 18 yards.
Matoaca's playoff hopes are in jeopardy, and the path is directly blocked by undefeated Hopewell.

In order to have a chance to make the postseason, the Warriors must win. They'll host the 9-0 Blue Devils on senior night.
Manchester 40, L.C. Bird 19
Bird was faced with the task of slaying a giant last week in playing the defending Class 6 state champions. Despite a late rally, the Skyhawks fell short.

"I'm proud of how our kids played tonight and kept playing," Bird football coach Troy Taylor said. "We're looking forward to our next game against James River, and we want to finish the season on a positive note."

Manchester built a 40-0 lead over the first three quarters in a game that featured nearly 400 combined yards of penalties. Bird's offense remained quiet, as it has been apt to do this season at times, until the final four minutes of the game. 

Bird struck late as quarterback Quentin Elliott threw three touchdown passes. The first two were to Elijah Rivers and the third to Daylan Gregory. 

Angel Hines, the first girl to ever play for the Skyhawks football program, further etched her name in the record books by kicking an extra point and booting a successful onside kick that set her team up for a late touchdown. With the successful extra point, Hines became the first girl to score points in program history. 

"Angel stepped up tonight and kicked well," Taylor said. "She really is probably our most improved player on the team. To see her step up on senior night was great to see."

The loss dropped L.C. Bird's record to 4-5 on the season. With injuries to key offensive players such as running back Ramon Brown, it's been a challenging season for both the coaching staff and Skyhawks fans.
However, Bird has a chance to go out on a positive note as they'll face a James River team that's just 1-8 on the year.

The Skyhawks' playoff chances have dwindled to the thinnest of chances in Region 5B. They are outranked by teams such as Prince George, Clover Hill, Douglas Freeman, Henrico and Matoaca. Of those teams, only Matoaca has five wins. All the rest have six or more.

Bird looks poised to finish ninth or tenth in the region. The top eight teams qualify for the postseason.
Kick-off will be at 7 p.m. Friday at "The Swamp" at James River. 
Dinwiddie 63, Meadowbrook 0
The Monarchs fell to 0-9 as Dinwiddie blew by them.
Meadowbrook will host Prince George this Friday for its senior night.