Will play Oscar Smith for region title Thomas Dale traveled to Ocean Lakes for the second round for the Region 6A playoffs and brought...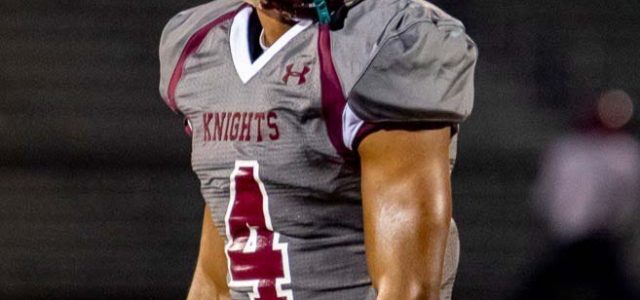 Will play Oscar Smith for region title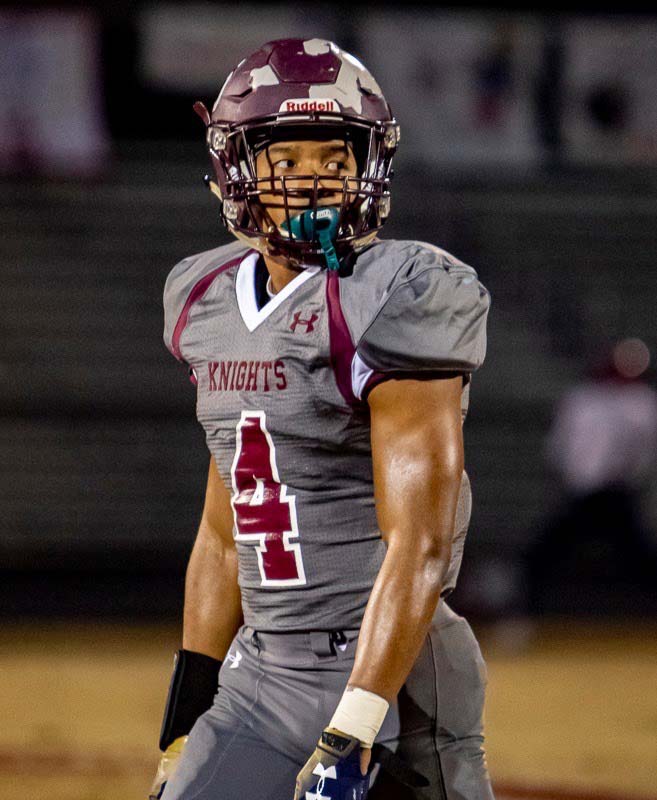 Thomas Dale traveled to Ocean Lakes for the second round for the Region 6A playoffs and brought a storm the Dolphins couldn't withstand. The Knights scored early, the defense clamped down, and special teams made plays as the maroon and gray dominated in all three phases, beating the Tidewater powerhouse 36-6.
"On offense, we controlled the front line early in the game, which allowed us to have success running the ball," said Thomas Dale coach Kevin Tucker.
"On defense, we were flying around to the football, smothering them," Tucker said. "We had only given up a few screen passes for a first down."
"On special teams, we got a turnover off a punt and then returned a kick for a touchdown," he continued. "We never gave them the ball past the 20 on the kickoff."
It was a decisive victory.
Quarterback Jasiah Williams scored his first of three touchdowns with 4:15 remaining in the first quarter on a 16-yard run. Early in the second quarter, Notre Dame signee Chris Tyree ran it in for a 50 yard score, making it 13-0.
Just before the half, a fumbled snap in the end zone gave Thomas Dale a safety, making it 15-0. Then, Williams, a University of Richmond signee, returned the ensuing kickoff 45 yards for a touchdown to make it 22-0 at the half.
A dazed Dolphins team aimed to regroup at the break, but they were promptly met with a second helping of what they experienced in the first half.
An interception by Shamus Jones gave Thomas Dale a drive opportunity that fizzled out, but the Knights' special teams visit was able to recovered a muffed punt and that set up Williams to score for a third time from three yards out. An extra point courtesy of Chris Kuda made it 29-0.
In the fourth quarter, Jordan Branch broke off a 42-yard touchdown, escaping from a pile of bodies to find the end zone, and that made it 36-0.
Ocean Lakes finally found the end zone with 12 seconds left in the game, when Devon Allen broke away on a 42-yard run.
Tyree, who's been nursing a high ankle sprain for the better part of the season, proved to be a valuable weapon, finishing with 110 yards rushing on nine carries and a score.
"If he lines up in the backfield, he deserves the respect of the defense. If he lines up in the slot, he deserves the respect of the defense," Tucker said. "He's a home run threat every time he touches the ball."
Williams continued his streak of torrid play. Over the team's current five-game winning streak, he's scored 22 touchdowns. Against Ocean Lakes, he totalled 143 yards passing and rushing to go with his three.
Thomas Dale advances to the Region 6A championship game, where they'll face a familiar opponent, Oscar Smith. In 2009, the Knights defeated Oscar Smith in a game that wouldn't be forgotten. In a mess of sleet and snow, Thomas Dale emerged victorious 20-17. They went on to defeat Lake Braddock for the state championship the following week.
In their last meeting, in 2015, Oscar Smith kept the upper hand all game long, winning 21-3. This years' version of Oscar Smith is much like other year's teams- chock full of college level talent. The Tigers boast an 11-1 record.
The game will be played Friday, November 29 at 7p.m. at Oscar Smith
High School in Chesapeake.