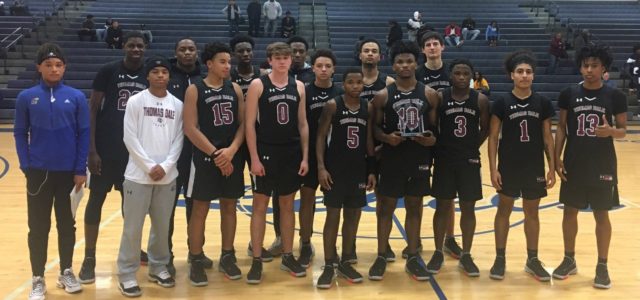 Knights start their season 3-0 As the basketball season got underway for seven of nine Chester-area teams, there was plenty of good news. After...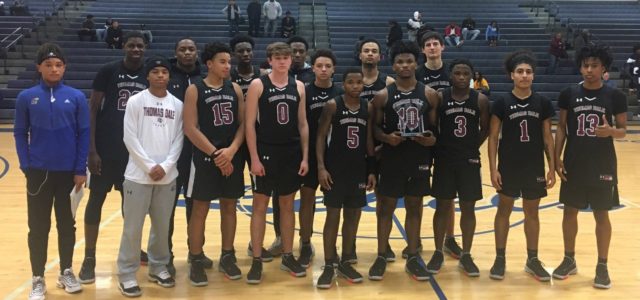 Knights start their season 3-0
As the basketball season got underway for seven of nine Chester-area teams, there was plenty of good news.
After winning just five games last year, Thomas Dale already has 60 percent of that win total in the season's first week. Under first-year head coach Keyode Rogers, Thomas Dale won the Rebel Invitational and started its season 3-0 by defeating Douglas Freeman, Mills Godwin and Meadowbrook.
"We played good team basketball," Rogers said. "We are being very unselfish on the offensive end and playing team defense on the other end. This is a good start, but we have more work to do."
Kylon Lewis scored 19 points in the championship game of the tournament to help sink the Monarchs, and he averaged 15 points per game over the week to lead the team. Brothers Neal and Miles Phillips contributed in a big way on both the offensive and defensive ends, as did with Jahmeel Campbell and Luke Ogle, a senior who scored eight points and grabbed six rebounds against Mills Godwin.
The Matoaca girls started their 2019-20 season with a bang, hanging up two blowout wins over Hermitage and Varina to start the campaign.
Sophomore Maia Pettaway led a balanced effort in the victory over the Panthers, while Jordan Carpenter was the star of the show against the Blue Devils. In that 79-16 win, Carpenter stuffed the stat sheet with 16 points, eight rebounds, seven steals and seven blocks. Over the summer, Carpenter took visits to several Division III colleges, including Averett, Ferrum, Bridgewater and Mary Baldwin.
The Meadowbrook boys, L.C. Bird girls and Carver Academy boys finished their week with as many wins as losses.
The Monarchs played a tough four-game week, beginning the week with two wins, and ending it with two losses at the hands of Thomas Dale and Maury. James Patterson and Lamondre Gregg had excellent weeks, as Gregg was named the MVP of the Rebel Invitational. Patterson had a 15-point, 15 rebound performance against the Knights, and led the team with 18 points against the Commodores.
Kameron Brown, a senior guard for L.C. Bird, scored 28 points in the team's victory over Huguenot early in the week. A balanced effort followed her, with five other Skyhawks scoring six points or more. After a tough loss to James River, the team looks to rebound with games against Powhatan and Manchester this week.
Carver Academy got a boost when Zyaire Muhammad hit a late three-pointer to sink Colonial Heights, 45-42. However, they didn't fare as well against Churchland, falling 83-45.
A young L.C. Bird boys' team lost its only decision of the week to Huguenot, 67-64, but received promising performances from a team leader, and a potential star of the future. Senior point guard Tyler Henderson dropped 23 points and dished out seven assists, while sophomore Yuri Manns, son of head coach Troy, scored 14 points, hitting four three-pointers.
The Matoaca boys didn't play their scheduled game against Prince George, as it was rescheduled to Jan. 12. They'll play Hopewell, Meadowbrook, and Deep Run this week. The Thomas Dale girls will get started too with games against Dinwiddie, Mills Godwin and Petersburg on the docket.