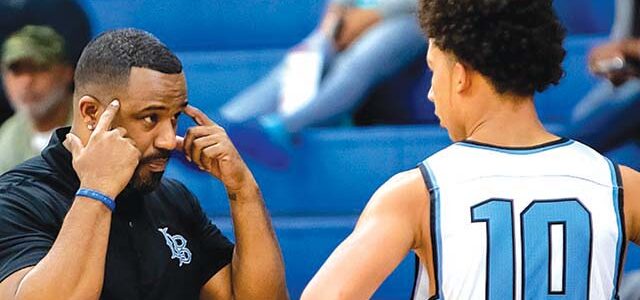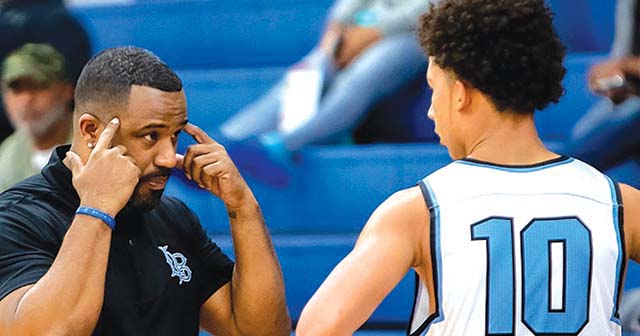 Skyhawks coach drives development through hard work Actress Priyanka Chopra once said: "I believe destiny and hard work go hand and hand." Not only...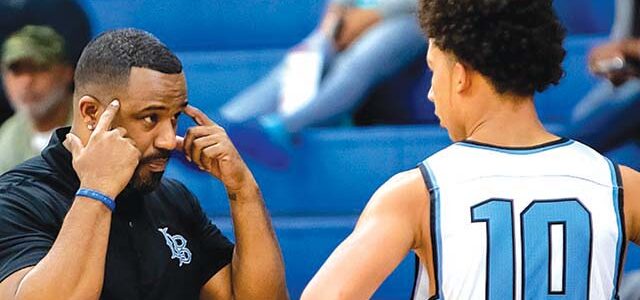 Skyhawks coach drives development through hard work
Actress Priyanka Chopra once said: "I believe destiny and hard work go hand and hand."
Not only that, it can shape our futures.
For L.C. Bird boys' basketball coach Troy Manns, living the Chopra formula has made him one of the most successful high school basketball coaches in Virginia over the past decade.
The 2019-20 rendition of the Skyhawks team featured only one proven player before the season started: senior point guard Tyler Henderson. The roster also includes eight sophomores and a freshman, the youngest team since Manns' second year at the school. After Robert Johnson transferred to Benedictine, that squad featured sophomore Kenny Williams (UNC) and players such as C.J. Miles (Roanoke College) and a lone proven senior, Javonte Reddick, who went on to play at Hampden-Sydney.
This year, the Skyhawks have played to an 11-4 record despite that youth, and are hoping to continue towards the success of that 2012-13 roster that made the regional semi-finals.
For Manns, the success has been years in the making.
In middle school, where he was already a basketball player, Manns told his parents that he wanted to become a basketball coach. His father brought home a VCR for him. Troy, who was always a student of the game, recorded and worked through hours upon hours of game footage, drawing up plays he saw. If you accuse him of being a "basketball nerd" he embraces it.
"I'm definitely a nerd," Manns said. "I read a lot," he explained. "There's this ongoing joke that if I come to your house and you have old basketball books, I'm borrowing them and never returning them."
All of that studying paid off for Manns as a player first. In 1992, he was a part of a state championship for Patrick Henry-Roanoke in high school. Then, he moved on to play basketball at George Mason and Virginia Tech, appearing in the NCAA tournament in 1996 for the Hokies, where the team defeated Wisconsin-Green Bay before falling to the eventual national champions, Kentucky, in the second round.
It was also in college, after a loss to VCU while playing for George Mason, that he met his biggest coaching influence and basketball mentor, George Lancaster. Lancaster won 704 games and two state championships as a high school coach, mostly at Highland Springs. He gave Manns his first assistant job as a Springers coach in 1999. Manns served as more of a practice player that year, but as always, was a sponge to all of the basketball knowledge he could gather.
"He showed me step-by-step … how to create a team and how to strategize," said Manns. "I don't do anything coaching-wise until I run it by coach Lancaster."
It was L.C. Bird and Manns who handed Lancaster a loss in the Conference 12 tournament in what became Lancaster's last game. Many of Lancaster's teachings are still present in Manns' coaching style today, such as preferring to play a zone defense. Also present is an approach to the game that goes beyond athleticism.
"Athleticism is very important," said Manns. "But what do you do when the person you're playing against is just as athletic as you?" he often asked. "Basketball is chess, not checkers. We teach our kids that it's a thinking man's game."
Building a successful basketball program is more about the X's and O's, however. For Manns and his staff, it's all-encompassing: academics, family life and basketball. Without good balance in all three areas, reaching the college level is difficult.
"Our success is a testament to the kids that we've had, and [to] my coaching staff," said Manns. "The reason we've had success is because we've had kids who bought into what we do. And we've had kids transfer out, too, but the kids [who] have stuck it out have gone on to play college basketball."
For example, Kenny Williams, who is now playing for the Austin Spurs in the NBA's G-League, averaged just six points a game as a sophomore. It hasn't always been easy to get student-athletes to buy in either- an example would be Charles Falden, who's now playing NCAA Division I basketball for Winthrop University.
Falden was a tough kid, and an extremely skilled scorer, averaging 25 points per game as a sophomore on JV. However, sometimes he didn't follow Mann's standards, for example, being on time for practice. Manns had a conversation with him.
"I said: Look Charles, you're a very good basketball player," he said. "But if you can't buy into our program, you're going to have to go somewhere else because you won't play varsity for us."
Falden being more of a quiet individual, Manns recalls Falden looking him in the eye and simply saying 'All right.' Falden, the eventual 5A state player of the year, changed, and his 35 points as a senior in the 2015-16 state championship game almost single-handedly brought the Skyhawks back to win a title. The following season, they went on to win it all.
"I don't see how we could win any games without knowing everything about our kids," said Manns. "Each kid's situation is different. We train individual skills, we work hard in practice, as a coach, if you need to feed someone, they need to eat," he continued. "We try to put the program first in everything we do and every decision that we make."
That mantra, along with the team's "We Over Me" motto has amounted to 18 players from Manns' tenure playing college basketball and, as of press time, 190 wins. That puts Manns just 22 wins behind legendary Skyhawks coach Chuck Tester. Manns should surpass Tester sometime next season, in seven fewer seasons coached.
This year, several players have developed under Manns' leadership with Henderson as their floor general. Promyse Ferguson played about 20 minutes on varsity last season, but this year has become one of the team's top performers, including a 23-point outburst against Monacan where he hit seven of eight three-pointers.
"My coaches help the team as a whole with academics and basketball," said Ferguson. "They make sure that we're focused on what we are trying to achieve on this team and in life in general. Our coaches have helped me become a better man."
For Manns, it's really about keeping things consistent with a young core that will largely play together for the next two seasons. His son, freshman Yuri Manns, along with players like Brycen Blaine and Aubriel Wingfield, have developed by leaps and bounds this season and are sure to keep the program competitive in the short term.  "If you create a standard for your players, they will meet it and exceed it," he said. "And that will help them become better people. That's all we are trying to do."
College basketball players under Manns
Javonte Reddick- Hampden Sydney (D3)
Kenny Williams- UNC (D1)
C.J. Miles- Roanoke College (D3)
Tahkey Williams- Chowan (D2)
Charles Falden- Winthrop (D1)
Pinky Wiley- Delaware State (D1)
Mario Haskett- Harvard (D1)
Cam Henry- Lincoln Memorial (D2)
Jaylen Dillard- Chowan (D2)
Jyles Webster- Fayetteville State (D2)
Chris Ford- Norfolk State (D1)
Rahim Jenkins- Anderson University (D2)
Jamon Battle- UNC Asheville (D1)
Mack Burgett- Anderson University (D2)
Lance Monteiro- USC-Aiken (D2)
Corbin Slayton- Richard Bland (D1 JUCO)
Maliek Conaway- Alleghany (PA) (D3)
Everett Rivers- Ferrum (D3)