L.C. Bird  L.C. Bird boys track has put together a dynasty, winning four straight track championships, spread between two indoor and outdoor seasons. Now,...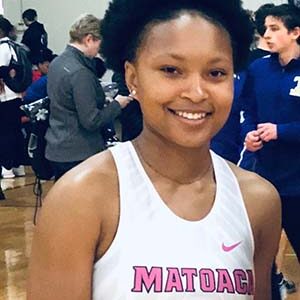 L.C. Bird 
L.C. Bird boys track has put together a dynasty, winning four straight track championships, spread between two indoor and outdoor seasons. Now, they've built one of the best programs in the state, and they are once again expected to contend.
Sophomore Jayson Ward ranked first in the state in both the 300 and 500 meters. His performances this year have earned him an individual invite to the Millrose Games. Junior Jacob Plummer, Village News track athlete of the year, has continued that level of success. He runs the 1000-, 1600-, and 3200-meter runs, he is the top ranked in Virginia in the 3200 and has won the 1600 in two meets this indoor season.
Senior Brendan Taylor runs both the 1000 and 1600 meters, state qualified in both events. Luke Affolder, a junior, also runs the same events, and both athletes are ranked in region 5A.
Elijah Rivers, also known for his skills on the gridiron as a defensive back, is ranked in the top five in the 300 meters. He's a member of Bird's 800 meter relay team, which is also ranked.
Ward, Plummer, Taylor, and Affolder are all on the top-ranked distance medley relay.
To win state championships, you have to score points at every level. Winning events is nice, but it's not all about just winning. Consistently good performances drive teams to titles, too. Coach Adam Canning expects his top runners to score points, but will welcome points from other candidates. Rivers could be a top performer in regional and state meets, as could Darrel Edmonds, who could serve as a dark horse to earn points in jumping events.
Meadowbrook
Meadowbrook track, under coach Kyle Fuller, is working hard to gather the momentum needed to generate some noise in the region and state meets.
The team has a trio of girls that could do some damage in both region and state. Maya Gary participates in long jump, triple jump and the 55-meter dash. Haley Pitchford, the younger sister of Hampton track standout and James River grad Mallory Pitchford does the long jump and triple jump. Chris-Ann Nelson is a sprinter, performing in both the 300 and 500 meters. Nelson and Pitchford have qualified for state in their respective events.
Fuller, who took over for longtime track coach Rickey Brown, inherited a talented roster, but the team has been hit hard by injuries. Seven different athletes have missed time due to injuries.
"Myself, along with my assistants coach Miles and Sims are looking to develop higher caliber athletes," Fuller said.
In addition to three top-flight girls, the boys could surprise a few people. Fuller highlighted two juniors, Rashaii-Enoch Bailey and AJ Spruillin. Both 55-meter runners are very athletic. Fuller says if they can put the pieces of the race together, they can contend.
Thomas Dale
Jay Price and Thomas Dale track took a more practice-oriented approach to the season, focusing more on it than meets this indoor season. That approach could pay dividends come region and state time.
Two girl hurdlers, Jordyn Henderson and Amareyah Monterio, have had big years, running personal bests of 8.27 seconds for Henderson and 8.33 for Monterio. Both have broken the school record held by Titiana Marsh and are ranked 6th and 8th in the state. Madison McConico is ranked 7th in the state in the triple jump, and should contend. Briana Jackson is ranked 6th in the high jump. All of the previously mentioned names are state contenders. A freshman, Daria Parham is the second-ranked shot putter in the state among her class.
In total, 10 girls have qualified for regional events for Thomas Dale, and there have been four state qualifiers.
On the boys' side, the Knights are led by Marvin Marsh, whom Price called the workhouse of the team. He has qualified for state in the 55m hurdles, long jump and triple jump, and he is on the 800-meter relay team. A familiar name, Chris Tyree, who signed with Notre Dame to play football is a state qualifier in the 55 meter dash and is a member of the 800-meter relay.
The boys 1600-meter relay team, made up of sophomores Mason Steinbraker and Chris Goode and juniors Patrick Lewis and Kimani Allamby, qualified for state in their only race of the year.
Along with Tyree and Marsh, Zaquan Wallace and Goode round out the 800-meter relay line-up.
Other possibilities for point scorers are Faith Wood and Mikayla Williams in the triple jump and Shantell McAfee and Kylah Gray in the long jump. On the boys' side, look for possible breakout performances from Dylan Shepard in the shot put, Steinbraker in the triple jump, and Wallace in the long jump. "The kids have done extremely well to not only adapting to new events, but tackling the rigor of the workouts that come with it," said Price.
Matoaca
Matoaca track is led Charles Bailey, a former track star himself. A variety of athletes could contend for region or state titles.
Sophomore Deyvn Collier was a top performer last year, winning the regional title in the 55-meter hurdles. She is also state qualified for the triple jump, where he leapt 36 feet, 11 inches. Senior Amaya Harris hit a personal record in the 300 meters with a time of 43.62 seconds, very close to state qualification. Bailey said that Harris is one of his strongest athletes on the team and that he is working hard to qualify for states.
Junior Trey Willis has also set two personal records – one in the 55-meter dash (6.74 seconds) and 300 meter dash (37.24). Another junior, football standout Troy Lewis, ran a 6.81-second 55-meter dash, and 37.24 300-meter dash, and he has shown improvement in every meet. Junior Kashaun Holmes is state qualified in the shot put.
The boys' 800 relay team, Wills, Lewis, Harvey Jones and Christian Cotman. They are state qualified. Bailey says they have put in the work and are striving to improve before regional and state.
Bailey has a young team this year, and has been doing a lot of teaching to help his athletes improve. One other athlete to watch is senior Camille Bridgewater in the triple jump, as a possible point scorer for the Warriors.
"So far this year as the season has gone on, they have gotten stronger and their times have gotten better," Bailey said. "I am very proud of the success that they are having."