Over three-seasons, Skyhawks have won five track championships For L.C. Bird boys' track, championships have become an almost constant occurrence. Over the last three...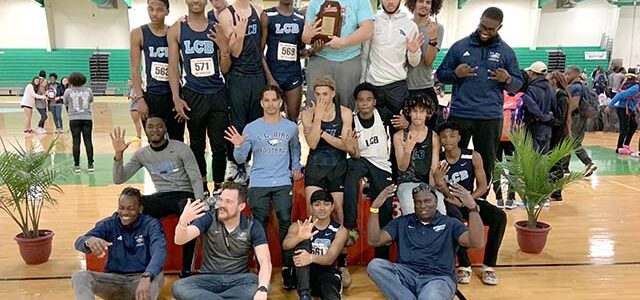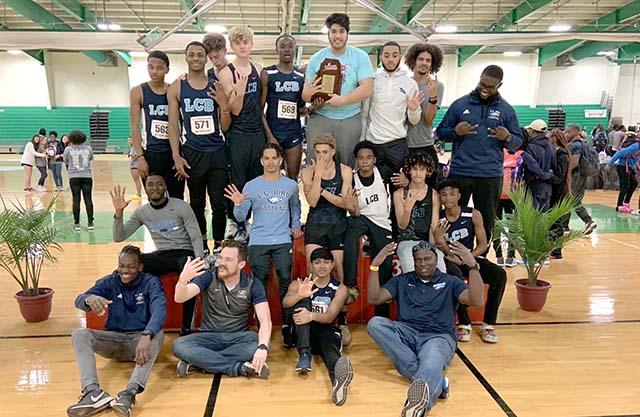 Over three-seasons, Skyhawks have won five track championships
For L.C. Bird boys' track, championships have become an almost constant occurrence. Over the last three years, including this past weekend, the Skyhawks have five straight titles: three during indoor season and two during outdoor.
"Every year is a different group, but the message is still the same," said L.C. Bird coach Adam Canning. "We are the returning champions, and we keep that goal of winning big, and to top what we did last year."
The Skyhawks were just one point off their team total from last indoor season, among all the challenges the team faces. Injuries mean other athletes have to step up. Each team is different.
"We scored a lot of quality points in the relays and that has carried us through this season," Canning said. "Our jumps weren't as strong; we got more points in field events last year."
This year, among the many standouts, sophomore Jayson Ward might have risen above all the rest. Despite his youth, he won the 300-meter dash, and then just 90 minutes later, competed in and won the 500-meter dash.
"His goal was to win both events, and he did," said Canning. "That scored us major points."
Football standout Elijah Rivers did his part, too. Competing in his first state track meet, he went out and helped the 4×200 relay team to a 4th place finish.
Luke Affolder filled in for an injured Brendan Taylor nicely. He scored third in the mile run in the state, then helped the 4×800 relay team place second.
For Canning, in his 12th season as outdoor coach and 7th as indoor coach, it didn't always come easy, and building the program had its bumps along the way. Canning started coaching at L.C. Bird after finishing grad school at VCU. For the first five years, he worked outside of the building, which made it more difficult to judge the culture of the school and to recruit athletes. Once he got inside, he got to work.
"It helped that when I got the job we had strong distance runners," explained Canning. "I ran those events in college- the 800 meters, 1500 meters, 3000 meters and even some cross country. It played to my strengths."
The strength of the program grew over time, and five championships in, it will continue to be business as usual.
"We plan around what meets we're doing, try to get in two quality practices a week," explained Canning. "The older kids help the younger kids and they all kind of fall into line. Once we won a state championship, the kids want to be a part of it, and they buy in."
It wasn't just the boys who enjoyed paramount performances. The girls got in on the winning, too. The girls 4×400 relay team won a title. The team is comprised of L'Nyah Carpenter, Jaida White-Diaz, Brianna Coleman and Jessika Pellot-Rosa.
Of that group, Carpenter, who is committed to run track at East Carolina University, is a jack of all trades, and a master of a few, too.
"Carpenter is an awesome young lady who could do any event," Canning said. "ECU is getting someone who can do many events, she can run everything from the 100 meters to the two-mile [run,] and [she] is one of the best jumpers in the state."
Carpenter could serve as a heptathlete for the Pirates once she arrives in the fall. She competed at the state level in five different events for the Skyhawks.
Meadowbrook, though they didn't attain the team accolades that L.C. Bird did, had several standouts as well at the state meet.
Perhaps the biggest star for the Monarchs was senior Maya Gary. Gary took 5th place in the triple jump with a leaps and bounds better personal record of 37 feet, 11 inches. That leap qualified her for nationals. She also took 8th place in the 55-meter dash and competed with a 4×200 relay team that placed 11th in the state.
"Her six months of dedication under a new system has made her one to look for already in the triple jump outdoors," said Meadowbrook track coach Kyle Fuller. "We're coming to win in June."
Back to the boys', Thomas Dale's Chris Tyree took home his second consecutive 55-meter state championship. One of the fastest athletes in the nation, Tyree, will of course be headed to play football at Notre Dame this fall. 
Top performers in state track meets:
L.C. Bird:
Carlos Quijano, State Champion, shot-put
Jayson Ward, State Champion, 300m
Jayson Ward, State Champion, 500m
Girls 4×400, State Champion (Brianna Coleman, Jessika Pellot-Rosa, Jaida White-Diaz, L'Nyah Carpenter)
Jacob Plummer, 2nd place, 1600m
Jacob Plummer, 2nd place, 3200m
Boys 4×800, 2nd place (Luke Affolder, Evan Powell, Ivan Biju, Jacob Plummer)
Boys 4×400, 2nd place (Ivan Biju, Darryl Edmonds, Elijah River, Jason Ward)
L'Nyah Carpenter, 3rd place, triple jump
L'Nyah Carpenter, 3rd place, 500m
Luke Affolder, 3rd place, 1600m
Elijah Rivers, 4th place, 300m
Boys 4×200, 7th place, (Jeremiah Wills, Kalebh Boone, Elijah Rivers, Jaylen Jones)
L'Nyah Carpenter, 7th place, 300m
Thomas Dale:
Chris Tyree- State Champion, 55m dash (6.31 seconds)
Boys 4×200- 2nd place, (Chris Tyree, Zaquan Wallace, Chris Goode, Marvin Marsh)
Jordyn Henderson- 2nd place, 55m hurdles
Marvin Marsh- 3rd place, triple jump
Shantell McAfee-5th place, long jump
Chris Tyree- 5th place, long jump
Madison McConico- 6th place, triple jump
Matoaca:
Devyn Collier, 8th place, triple jump
Boys 4×200- 8th place (Trey Wills, Harvey Jones, Troy Lewis, Christian Cotman)
Devyn Coller, 9th place, 55m hurdles
Kashaun Holmes- 9th place, shotput
Meadowbrook:
Maya Gary, 5th place, triple jump
Maya Gary, 8th place, 55m dash
Girls 4×200, 11th place (Chris-Ann Nelson, Maya Gary, Andranae Yarbrough, Janaya Capano
Chris-Ann Nelson, 12th place, 300m