Grant Coffee Company opens in Chester When Trey and Ashley Grant were brainstorming ideas on what type of business they wanted to open, their...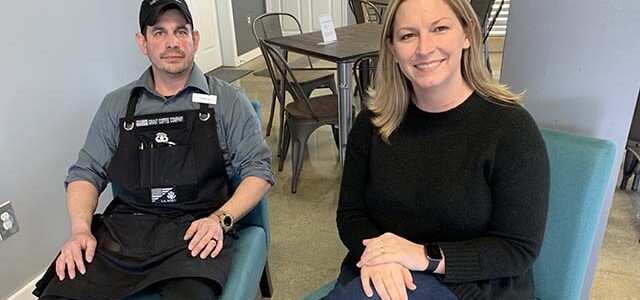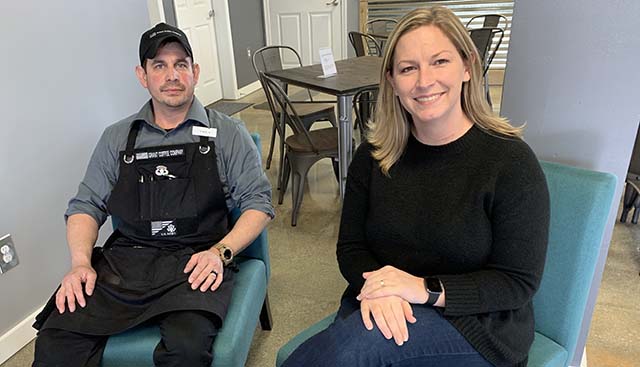 Grant Coffee Company opens in Chester
When Trey and Ashley Grant were brainstorming ideas on what type of business they wanted to open, their options were restaurant, gym and coffee shop. The couple chose the latter and opened Grant Coffee Company in the village of Chester last month.
Ashley said when they were discussing things they couldn't live without the most and broke it down further to where their two children will be successful in the future, they learned coffee has specific steps. This plays into the field she's currently working in (she is the Intellectual and Developmental Disabilities program development manager at Good Neighbor Community Services), and the steps can be broken down for the learning purposes of their 10-year-old daughter, Cailin's, who is on the autism spectrum.
So far, business has been steady, and the community has been receptive. Ashley said she is open to having more locations in the future and hopes the coffee shop is a friendly one.
"Ultimately [our goal is] to have a place to gather where everyone feels welcome, [and] hopefully [see it]use it for a place to teach, especially individuals like our daughter, and other people who obviously may be interested in learning about coffee," Ashley said, "but [mostly it would be] a place to gather, [to see]a friendly face on a rainy day or a moment of peace during someone's busy day."
Trey said opening Grant Coffee brought on a new 
kind of stress. Before, everything was on them, but now it's on the customer and they're at the mercy of the public. He made it known the coffee shop is a local, veteran-owned (he was in the military for four years) organization that is not a part of a franchise or chain, and everything was started and built by a single family.
The families Ashley supports at her job want to see the coffee shop succeed, and she said having contacts and connections will play a role in their ability to get the word out there and offer training to the disability-specific community. She hopes the partnerships she has will be helpful in developing other ways to educate and include the community.
The couple has received applications from those diagnosed with intellectual and developmental disabilities, and as the business grows, Ashley said they would love to include those applications in more carved job opportunities so they will be either working or training. There are sensory toys in the coffee shop (her childhood friend owns Bannor Toys and has sent them toys) to keep busy kids busy, and she said they have been playing with them.
"What we hope to do is bring coffee cupping and training to people in the community who would want to sign up for a class like that, but also to break down the pieces of the operations overall and invite kiddos in who may be transitioning from high school to adult-age services with that I/DD designation," Ashley said, "and let them do job assessments with their job coaches or even say, 'Hey, if you're interested in coffee or working in a coffee shop, this is some practice that you can get,' and partnering with their job coach[es] or their transition coordinator[s]."
For the coffee option, the couple went with an espresso-based medium roast from Legacy Roasting in Hopewell. Ashley said it's not too offensive for light coffee drinkers, and dark coffee or dark blend enthusiasts are happy with it as well.
"It's not a full flavored, overwhelming taste, [so] there's no need to fill it with anything else," Trey said.
Grant Coffee also offers breakfast and lunch sandwiches, as well as pastries from Cakes and Moore Bakery in Colonial Heights. Ashley said the community has been raving over their "any sandwich on a croissant" option, and the muffins and croissants have been best sellers.
While Trey joked that their kids love having free doughnuts, Ashley said they love the coffee shop and that the couple includes the children in the day-to-day activities.
"We obviously don't want them having to just be lugged around from place of employment to place of employment," Ashley said, "but we think it's important that they learn those respectful interactions with community members, [for] one day they probably will be running those counters or making the drinks."
Grant Coffee Company is located at 11884 Chester Village Dr, Chester. Their hours are 6 a.m. to 2 p.m. Monday through Friday, 8 a.m. – 2 p.m. Saturday, and closed on Sundays. Visit www.grantcoffeecompany.com or call 804-454-0234 for more information.