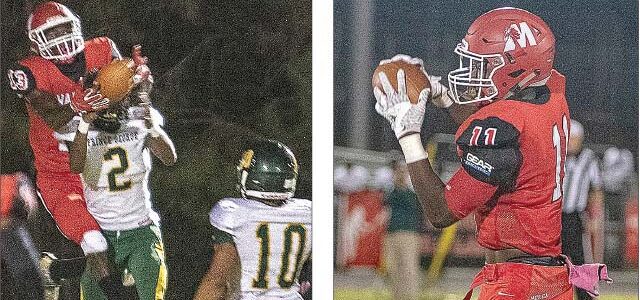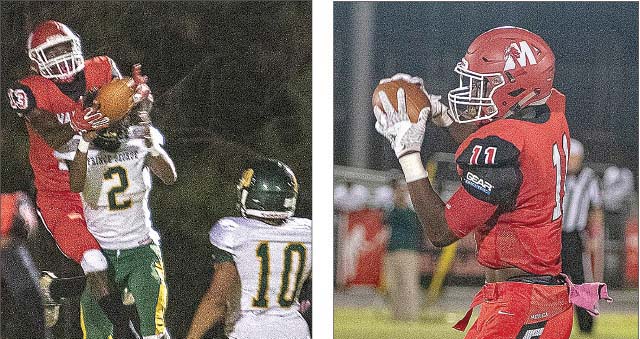 By Walter Scott Jr. Matoaca's dynamic duo, Troy Lewis and Jacob Coleman are a part of the culture change that's been ushered into the...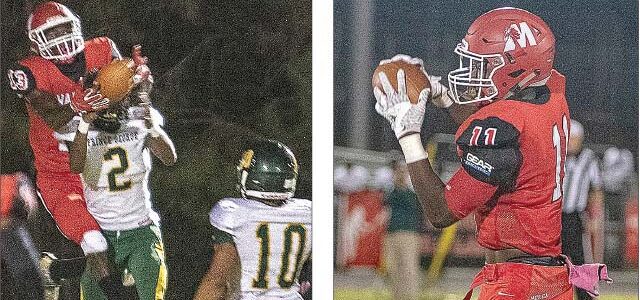 By Walter Scott Jr.
Matoaca's dynamic duo, Troy Lewis and Jacob Coleman are a part of the culture change that's been ushered into the school's football program.
"It's easy to say these are the two top recruits we've had in a long time in general for school," said Matoaca football coach Jay Parker.
Brandon Brown (JMU), Michael Birdsong (JMU/Marshall/Tennessee Tech), Immanuel Hickman (East Carolina), and Jonathan Coleman (East Carolina) have all gone Division I recently.
Now, it's this combo that should wreak havoc on Region 5B this coming fall's turn.
"We've had guys getting recruited this quickly from when it started until now. It's the culture of our program now: we get guys into school. Seventeen guys from the last two years are playing college football right now."
The fact that they're building not only great athletes, but people of great character can sometimes go unnoticed.
"We've got guys that are reading to kids, volunteering with me, playing with kids at elementary schools," Parker said. "It's about community. They make plays on Friday nights, but they also have to be good young men."
"When we first got the job a couple [of] years ago, our first priority was to change the culture, improve big time; now we need to make big waves in the region," said Parker. "We constructed [a] staff [of these who have] played college football or college athletics. We surrounded the team with guys [who] have been there or done it before."
Lewis and Coleman have also noticed the culture change.
"[I've noticed it] in how hard [Coach] Parker pushes us, way higher levels than seen before; it gives us confidence," said Lewis.
"I've played varsity since freshman year, it was more like an 'I,' not a team," Coleman said. "We weren't a family. I've seen the difference, it makes me work harder, but it also prepares us for life after football too."
Lewis's skills on the football field are parallelled by his strong academics.
His 3.9 GPA has been key, as it's earned him Ivy League offers from Dartmouth, Yale, Princeton, Harvard, and Penn.
"I don't think about my offers that much. Towards when I decide to commit, I will," Lewis explained. "I'm focused on trying to make a run with my team," he continued. "Yes, Yale and Harvard are a big deal, just being able to graduate and get any job I want."
Although football and school are a huge part of his life, they are not the only thing that drive him.
"I love God, I have two younger brothers, I go see my grandparents every day, and I hang out on weekends with friends, and go bowling," said Lewis.
That well-roundedness just earned him his 23rd offer, from Delaware.
In 2019, Lewis had 672 all-purpose yards with five touchdown receptions and six total touchdowns. He also made plays on defense, as he had 16 tackles and one interception.
Colleges are lining up for Coleman, too.
Like Lewis, Coleman is also a young man of faith who lives by the motto of "KG1," which means "Keep God First." He is a big family person who also loves to fish and hunt.
Coleman has had the unique experience of having an older brother w plays college football.
"He [Jonathan] gives me advice on how to handle recruiting. I also do high-level workouts with him." Jacob Coleman said. "We compete out of love.We don't need to see who's the best. My mom tells us that we need to compete against the world."
His talent and work ethic on the field have gotten him 13 offers. Boston College, East Carolina, Temple, Rutgers, and Massachusetts are a few who made these.
"I've always had high standards and high goals, staying humble, continuing the grind. Doing what I'm doing to make an impact on my teammates," Coleman said. "I want my teammates to get to where I am right now."
He had 391 yards on 35 catches and four touchdowns as a tight end or wide receiver.
Parker has noticed similarities between his two weapons.
"They're both pretty mature, they've grown a lot, two big and physical kids. I like the way they compete against each other. Two kids I can trust and I can count on. It goes beyond football, I trust them off the field as well." Parker said.
"On the field, Troy has really stepped up and started to become a great outside-of-the-hashes football player," Parker continued. " Maybe a little faster, has more wiggle than Jacob does, less physical than Jake. He has good hips, he's very quick and long, and [he] makes good plays."
"Jacob plays between the hashes, makes more plays from the slot, backfield, tight end, linebacker or in-box type of safety," Parker explained. "Different skill sets, but both are playmakers."
The two athletes, also best friends, still have another year left before they head off to college.
One thing has proven true: the offers will keep coming. For now, they'll focus on preparing for the 2020 season, where they hope to make a racket in a ultra-competitive Region 5B.