When it comes to field hockey, Clover Hill has been knocking on the door for sometime now. One of the most competitive teams in...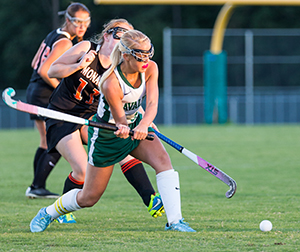 When it comes to field hockey, Clover Hill has been knocking on the door for sometime now. One of the most competitive teams in the Central Region, coach Rhonda Clopton believes her Cavaliers will get over the hump this year, meaning they plan on making some noise in the postseason.
"I've had some teams with powerhouse players," Clopton said, a Meadowbrook alum. "But this is a very coachable group that wants to be together as a team. I think that shows on the field."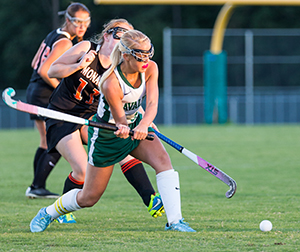 A star from the instant she transferred her sophomore year from Powhatan, senior Maddie Lindsay gets a lot of the attention and deserves her share. The forward is the Cavaliers' leading scorer and one of the top scorers in the region with 21 goals.  Another strong senior leader is Mae-Linh Bennett, an All-Conference 12 defender. Senior sweeper Jessica Brown is a formidable presence on defense as well.
When Clover Hill graduated two all-state players in center mid-fielder Sarah Walshak and defender Mikayla Woodley that were in a group of nine seniors, a lot was lost. It might be a surprise to some that the Cavaliers are even in contention.
A big part of the youth movement is defensive point and sophomore Alee Silva. Silva bridges the gap between the defense and offense in transition. Clopton said that by the time she's a senior, she could be a superstar. Young, but talented, center-midfielder Callie Yost  and forwards MaryCamryn Simes and Camryn Ing are all sophomores. Makayla Clemmer contributes on defense as a freshman.
"Most of us on the team this year grew up together playing travel, so we know how each other play," Lindsay said. "We want it more this year, we have been so close and that makes us want it that much more."
Clopton also attributed the team's success to having players that play year-round. Clover Hill's goalie, Marquie Wright is a junior, but she's been playing field hockey since she was 8.
With a 9-2 record and a victory over Midlothian this week, that avenged an early season loss, things are looking good for a terrific stretch run.
"We've always been the underdog," Clopton said. "We'll give everyone a good game, but we're never the champion."
Clopton's crew is out to change that this year. Clover Hill's path through Conference 3 will be difficult in a single-elimination tournament. The Cavaliers' thrilling shoot out victory over Cosby was very encouraging and a loss to James River (1-0) could be easily turned around.
Time will tell if a new champion will be crowned in an area that's long been dominated by Cosby, James River and Midlothian. One thing's for sure — Clover Hill appears ready to take the throne  — or at least sooner rather than later.