"We have a duty to make our environment safer. Tonight we are making a stand. Enough is enough. We will not be next."...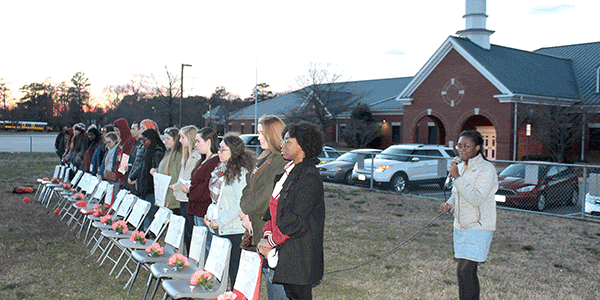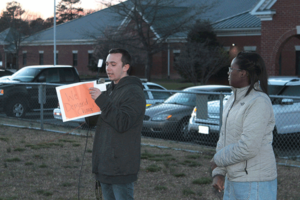 "We have a duty to make our environment safer. Tonight we are making a stand. Enough is enough. We will not be next."
With those words, Thomas Dale High School senior Makayla Callender may have summed up the feelings, thoughts and emotions of some 75 students who stood on the field in front of the school on a cold, windy March 14 evening to commemorate the 17 people killed Feb. 14 at Marjory Stoneman Douglas High School in Parkland, Fla.
Callender said she was one of the students from the newly-formed National Social Studies Honor Society who organized the event.
Seventeen students took turns reading the names of each of the deceased along with a short biographical sketch. A flower was placed on each of 17 empty chairs.
"I just came to show solidarity with the 17 souls lost," senior Sebastian Evans said, adding that the death of football coach Aaron Feis touched him. It struck a chord, he said, "because I have very many wonderful coaches who have impacted me. I would hate to lose them.
"Arellana Bacon encouraged her classmates to "talk to people at lunch who are sitting by themselves."
A girl who did not want to be identified described having four school resource officers at Thomas Dale as not being enough, adding that there are 33 doors in the 2,500-student school. She noted that Chesterfield County is proposing cutting the real estate property tax 1 cent for Fiscal Year 2019, but asked, "Why not keep it and put it toward school safety?"
Thomas Dale government teacher Laura Deck organized the new Rho Kappa Honor Society last month. It has 20-25 students, she said.
Deck, who has been a government teacher at the school for 23 years, said the kids are amazing. "They put it all together. I'm just kind of their cheerleader. It speaks to the character of these kids that they take the time to remember these 17 kids," she said.
The evening event followed one held at 10 a.m. that day at various high schools across the nation.
At Thomas Dale, government teacher Miles Frederick monitored the morning event and said he supported the walkout. "I am for students voicing their opinion. I think it is good," he said.
A bomb threat was called into L.C. Bird High School around 9 a.m. that day, resulting in students being evacuated to the Courthouse Tech Center and a building at the fairgrounds. At the fairgrounds, the combination of the sound of a stack of falling chairs and someone saying something that sounded like "get on the ground" caused some students to run out of the building, according to a press release from Chesterfield County Police. Three students had minor injuries. A sweep of the school which included canines was completed, nothing was found and students returned to the building. The investigation is ongoing.