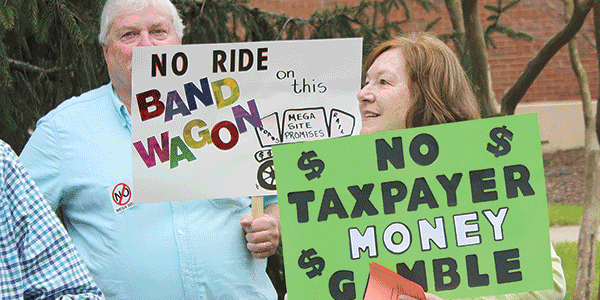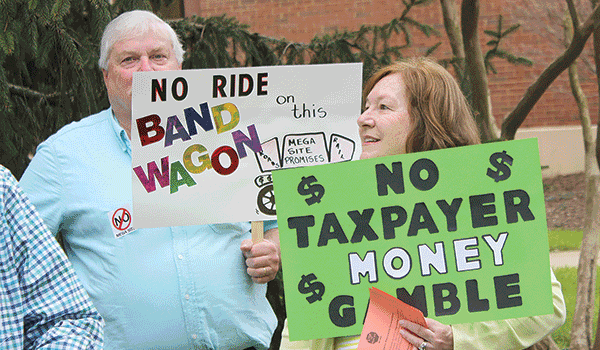 Some 85 people rallied outside the Chesterfield County Board of Supervisors meeting March 28 to protest a proposed megasite in the southern part of...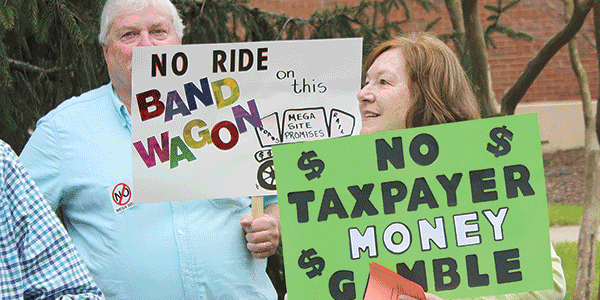 Some 85 people rallied outside the Chesterfield County Board of Supervisors meeting March 28 to protest a proposed megasite in the southern part of the county.
Inside, the supervisors took public comment about a proposed 3.5-percent increase in water and sewer rates and about a $711 million budget that represents a 3.3-percent increase. The budget would cut the real estate property tax rate 1 cent to 95 cents per $100 of assessed value. But even with a 1-cent rate cut, county officials predict they will pull in an additional $15 million in local real estate tax collections over the next fiscal year.
Four people spoke against the utility-rate increase that county budget and management director Meghan Coates said will be used to plan for future infrastructure needs. She said the rate increase – which would result in the average user paying $3.92 more every two months – would be one of the lowest among comparable localities in the state.
However, Fred DeMay said that county residents' water and sewer rates have skyrocketed over the past several years, although noting that rates are now competitive with Henrico County.
Julie Ranson called the 1-cent real estate tax rate cut a tax increase because the county would be pulling in more revenue. "It's getting awfully tiring to hear we are a low-tax county," she said. She asked the supervisors to cut the real estate tax rate 2 cents per $100 of assessed value.
Kim Marble, president of the Jefferson Davis Highway Association, requested $94,000 so the organization can hire three part-time employees to reach out to some 12,000 residents. The funding would be used for training, for disseminating information and to let business owners know about facade improvement funds that are available.
Noting that the budget proposal doesn't include any Community Development Block Grant funds for the association, Marble said the Jefferson Davis revitalization plan has been under way for three years. "We feel it's a prototype for other areas of the county," she said. Marble and others also requested funds for a streetscape pilot project for the upper Jefferson Davis corridor.
In general public comment at the end of the meeting, Branders Bridge Road resident Allen Wilson said he and his wife put their house up for sale three weeks prior to Gov. Terry McAuliffe's announcement last August about the county Economic Development Association's plan to buy 1,675 acres and develop it for industrial use.
"We dropped the price already twice," Wilson said. "We had a full-price offer a few months ago, but the buyer backed out when they found out about the megasite."
Wilson said there are some 1,000 to 2,000 homes located within a half-mile of the site. If each home were to lose $50,000 to $100,000 in value, that would cost the county real estate tax, he said. "Who's going to pay for that?"
Wilson said the land where the proposed megasite is located was rezoned residential about 10 years ago. He encouraged the supervisors to leave it residential instead of rezoning it for industrial use.
The supervisors will consider adoption of the fiscal year 2019 budget April 11.