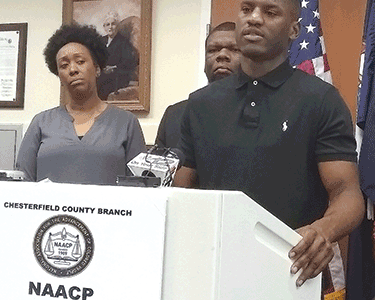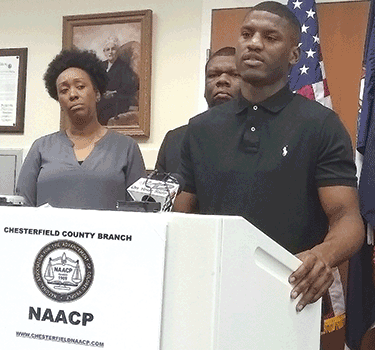 CHESTER – A March 28 incident near Virginia State University resulted in the Chesterfield NAACP's legal redress committee hosting a press conference last week...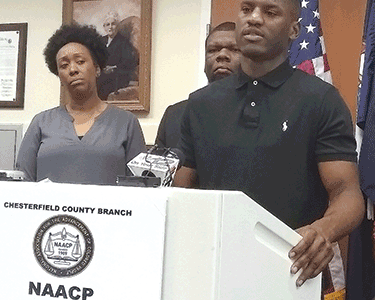 CHESTER – A March 28 incident near Virginia State University resulted in the Chesterfield NAACP's legal redress committee hosting a press conference last week at Chester Library.
Committee chairman Tavorise Marks called the press conference to protest the treatment of 21-year-old James Monk, who was pepper sprayed twice and Tased once after failing to comply with police officers' orders. Monk was detained so that police could search the vehicle he was driving after an officer said he smelled a "strong odor" of marijuana. At the press conference, Monk said he doesn't smoke weed and nothing was found in the vehicle.
Monk said he didn't do anything wrong. When asked if he takes any responsibility for what happened, he said, "I feel like I did everything I could to make everything as smooth as possible."
Monk was charged with misdemeanor obstruction of justice and illegal window tint, the latter of which police say is the reason he was stopped at 12:30 a.m. at Second Avenue and James Street.
When asked for his driver's license and registration, Monk said he had a license but didn't have it with him.
Chesterfield police Capt. Randy Horowitz said the unidentified white police officer's use of a Taser in the incident was not in accord with department policy and was being reviewed. Several officers went through additional Taser training following the incident, he said.
The county branch of the NAACP did not support Marks' May 31 press conference, chapter president L.J. McCoy said. McCoy said Marks did not discuss the issue with him prior to the press conference, but was informed about the press conference. Last week Marks said he held off on making an announcement at the conference at the behest of the state chapter. On Friday, the organization's state president Kevin Chandler said he would be reviewing the information about the case. "There needs to be some kind of reform [on the use of Tasers]," he said.
As seen in the video – which the Village News reviewed last week – Monk moved his arms toward the front of his body after they had been behind him while he was being detained so that an officer could search the vehicle. A struggle then ensued between Monk and two officers and Monk was taken to the ground. He was lying on his back and told to get on his stomach numerous times by officers yelling at him. The voice of a woman – whom Horowitz said was a passenger in the vehicle – could be overhead saying, "What the hell?"
Monk was pepper-sprayed twice and Tased once while on the ground. He then rolled onto his stomach and was handcuffed. The incident – from the time officers tried to detain Monk until he was handcuffed – lasted three minutes and 11 seconds.
Horowitz said the police department would make a decision about corrective measures within two weeks. "We see this as an improper tactic," he said of the Tasing.
Police can search a vehicle in accord with the Carroll doctrine as long as an officer believes there is contraband or evidence of criminal activity, Horowitz said, noting that's what happened in this case. In essence, the officer believed he had "probable cause" to search the vehicle.
During the scuffle, Marks said that an officer jabbed Monk four times. "We rewound [the video] several times to make sure it was jabs," he said.
"Ninety-eight percent of law enforcement there today are great men and women. A small percentage just aren't truthful and aren't there for the right reasons," Marks said. "We expect more from them … to treat [those they stop] with dignity and appropriate restraint."
He asked that three reforms be made: that Chesterfield police release body camera video when requested and take disciplinary action against the officers involved; and that the board of supervisors establish a community review board to review complaints that involve excessive force. He suggested the board be comprised of three community members, one law enforcement officer and one retired law enforcement officer.
During the press conference, Monk said he believes he was treated differently "because I am a young black male and they automatically expect something."
"Saying they smell marijuana gives them the right to do whatever they feel," he said.
Monk said he heard the woman in the vehicle tell him to get on his stomach because they were about to Tase him. "But it all happened so fast," he said. "I was scared because I was pepper-sprayed before."
Monk's mother, Christina Booker, said her son is "not aggressive. He's cool and laid back and follows rules."
Marks said Monk does not have a criminal record.