ABOVE: Matoaca District school board rep Rob Thompson, center, speaks while state Sen. Rosalyn Dance and House Speaker Kirk Cox listen. Adding school resource officers...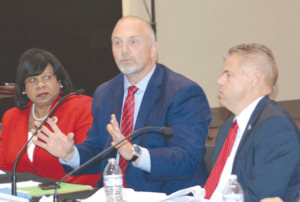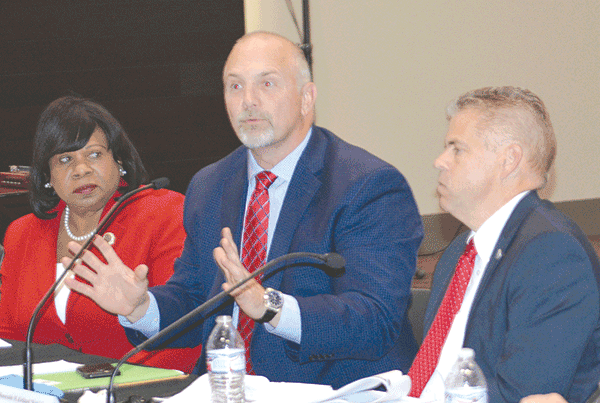 ABOVE: Matoaca District school board rep Rob Thompson, center, speaks while state Sen. Rosalyn Dance and House Speaker Kirk Cox listen.
Adding school resource officers at each of the 38 elementary schools in Chesterfield County was one topic discussed at a joint meeting of school board members and local state legislators last week.
The school board made some of their requests known during the Nov. 27 meeting with seven state legislators at the Chesterfield Career and Tech Center.
"We would be grateful for any help," board member Dianne Smith said.
The SRO funding is part of a list of recommendations from the district's School Safety Task Force, which the board is scheduled to consider for adoption at its Dec. 11 meeting. Adding a school resource officer at each elementary school is recommended as part of a five-year budget plan. Also at the Dec. 11 meeting, the board will consider adopting its list of requests for next year's state legislative session, which begins Jan. 9.
Providing more school districts with the ability to set their own calendar – such as starting school before Labor Day – is a request that legislators have been working on for some time, including state Reps. Lee Ware Jr. and Roxann Robinson.
Referring to such a bill, "We came within one vote of it passing onto the floor this year in the Senate Health and Education Committee," state Sen. Amanda Chase said.
Chase said she is thinking about introducing legislation to require schools be closed on election days and not have parent-teacher conferences. This idea was likely spurred due to parking issues that occurred at some area elementary schools Nov. 6 this year. Chase said she is also concerned about allowing additional people into a school when students are present.
Chase said she recently realized that, according to a 2002 state law, each school is required to prominently display the nation's motto, "In God We Trust," which was approved by Congress in 1956 and reaffirmed in 2011.
School board chair John Erbach said the motto is displayed in some of the district's 64 schools, but he was unsure how many.
Chase said having the motto on display helps reinforce spiritual values taught at home. "It's important that our kids realize they can bring their faith into schools," she said. Chase noted that teachers have some restrictions on how they can express their faith, but students have more freedom to do so.
Filling some teaching and other education positions is another problem that was discussed. School board member Rob Thompson said the district's biggest vacancy is for special education teachers.
Board member Carrie Coyner said the district has had a hard time recruiting career and technical education teachers since the Great Recession ended. Attracting bus drivers is another issue, she said, adding that adopting a floating pay scale that is tied to private sector wages would help.
Coyner said the district would like to have the flexibility to spend more money on support staff for counselors and psychologists.
As a result of federal regulations, Coyner said some students get their full daily allotment of sugar in their school breakfast. She explained that the culprit is sugar added to foods, and noted that the state health advisory board needs to focus on the issue because a single school district can't necessarily expect food producers to tailor food choices to one district.
District spokesman Shawn Smith said he is at the Legislature every day that it is in session. State Sen. Glen Sturtevant Jr. complimented Smith for being "one of the best [school district] representatives [at the Legislature]," and House Speaker Kirk Cox jokingly took some credit for Smith, noting he taught Smith when he was a high school senior.
The joint meeting was catered by culinary arts students from the Chesterfield Career and Tech Center.