Twirling a baton isn't as easy as one might think. Judges are continuously looking for routine content, difficulty, speed, smoothness and showmanship. The 12th...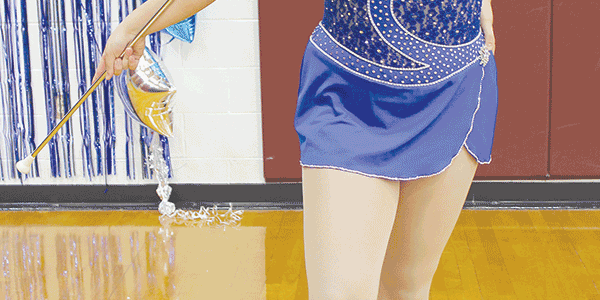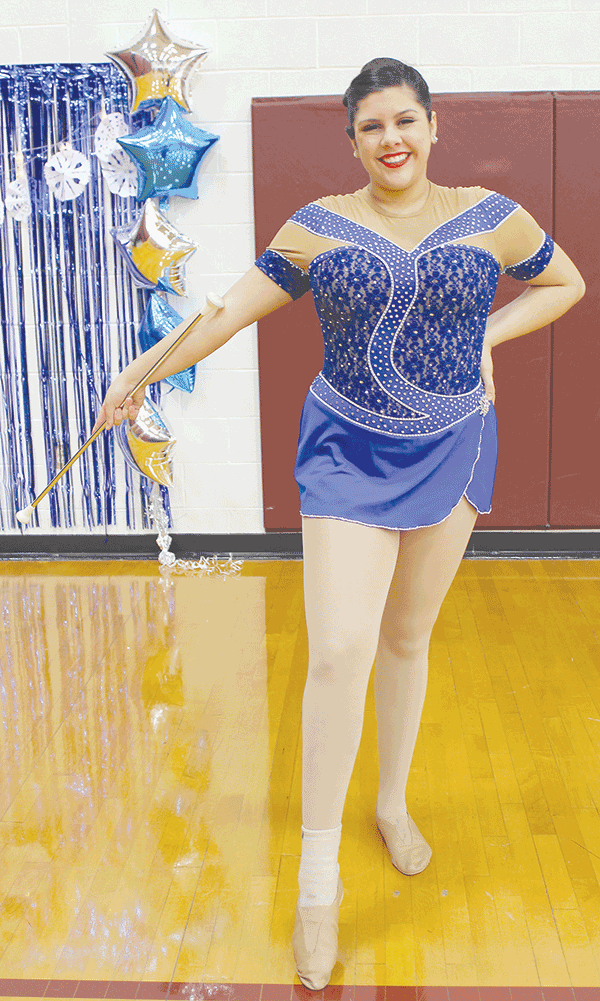 Twirling a baton isn't as easy as one might think.
Judges are continuously looking for routine content, difficulty, speed, smoothness and showmanship.

The 12th annual Snow Festival baton competition was held Saturday, Jan. 26 at Thomas Dale High School. More than 90 twirlers, representing North Carolina, Maryland, Pennsylvania, and Virginia, competed.

"Twirlers must master twirling skills, be flexible, and physically fit," said Diane Gunnels, director and coach of the Royalettes. "Showmanship is also very important and twirlers work to be confident in performing."

Gunnels has been working with the Royalettes for over 40 years. She originally became interested in the art while in college.

"I fell in love with [baton] and ran around the country to learn twirling from everyone I could," she said. "I love coaching twirlers to be the best they can be. I am fortunate to have my former twirlers now coaching with the Royalettes."

The Royalettes – who practice at Bailey Bridge Middle School – compete in six to eight events around the world each year. However, this was the first year the Snow Festival was held in Chester.

"I started the Snow Festival to have a competition in January so we could get our routines out in front of judges early in the twirling season," she said.
"This year we had more competitors on the advanced level than usual. We also had a lot of new novice twirlers."

"We are always interested in teaching anyone interested in learning to twirl," she said. "The Royalettes promote the enjoyment of … baton twirling.
We emphasize goal setting, teamwork and physical fitness. We have a recreational program for beginners and a national level team."

Chesterfield resident Korina Singh, 16, has been through her fair share of hard times and injuries during 14 years of twirling.

"The most important thing I've learned from baton is to keep pushing," Singh said. "I had a concussion (in my) freshman year and a second degree burn on my leg from a competition. There are also a lot of twirlers [who] have been doing this for a long time. It is intimidating, but you need to use seeing them twirl as inspiration for you to try to do better," Singh said a few minutes before she was due to perform.

"Being a Royalette is an honor," she said. "It's kind of like a privilege. People hear that you're a Royalette, and they think, 'Wow, they're poised and kind.' I think when you're a Royalette, you uphold a certain requirement. You're not supposed to be mean to people. It's awesome to be a Royalette," she said, smiling.

Ally Duda, 16, of Maryland, twirled her way into learning some important life lessons.

"I've learned perseverance. Never give up, it takes a lot of hard work," she said. "Speaking from experience, I have been twirling for basically as long as I can remember. I could've stopped baton when I was younger and wasn't winning much. It would hurt a lot when I would get hit [by the baton], that stuff is so hard sometimes. But it has taught me a lot about pushing through everything. Even though it doesn't seem good one day, it'll always get better."

Duda has had the opportunity to explore the world by participating in several different competitions overseas.

"My favorite thing about baton is traveling because I love seeing the world. I've been to so many different countries purely because of baton," she said.
"It's been insane, but it's also so amazing. You get to see so many different cultures and meet so many different people. I've put tons of hard work into everything and especially last year with nationals, it finally felt like it was paying off."

The Royalettes were founded in 1979. For more information, go online at royalettesbaton.com.