By Heather Seaman Located on the corner of Route 10 and Jefferson Davis Highway, Gabe's Barber Shop is celebrating 40 years of business in...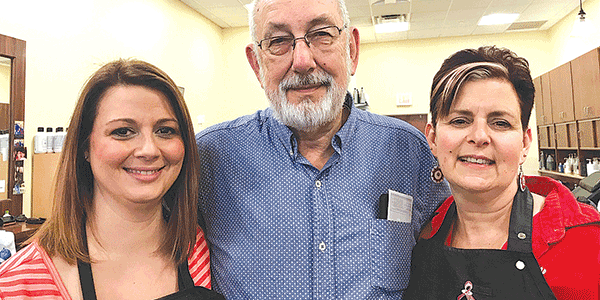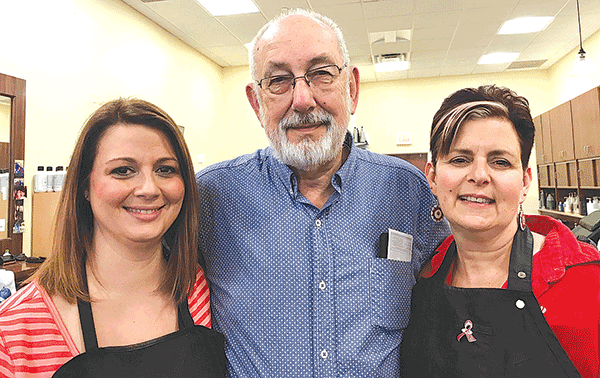 By Heather Seaman
Located on the corner of Route 10 and Jefferson Davis Highway, Gabe's Barber Shop is celebrating 40 years of business in Chester on Feb. 26.

The unisex shop opens at 8 a.m. Monday through Saturday and is closed Sunday. The business currently employs 12 stylists and can make appointments or take walk-ins.

Gabe's has a claim to fame in the community for being the longest business standing in the Bermuda Square Shopping Center. Gabe Harrah moved his shop of seven years from 72 Broad Rock Road in Richmond — the place where Branches Church is now — to its current location.

Gabe's is one of the last shops of its kind in the county continuing to offer a straight razor shave.

Harrah sold his successful business three years ago in April to friends Sarah Zammett and Lauren Searles. Having been employed by Gabe for a combined 48 years, it appears the transition has been a smooth one. Searles remembers her own first haircut which was done, of course, at Gabe's.

Both women are married with children; Sarah's daughter Emily also works at the shop.

The ladies take good care of their stylists, including Cassie Rowlett and Steve Gallion, who've been working for Gabe's Barber Shop for 39 and 40 years, respectively.

It takes more than just a paycheck to keep quality employees. Retention takes the stability of a good business, the tools to provide the best service possible and knowledge of how to change to keep up with the times. The owners believe in in-store education and hair shows for their employees. "You just can't quit learning!" is an important ingredient to healthy employment relationships.

Customers are treated with attention and warmth. Zammett said that providing good service includes asking questions. Sometimes customers don't know what they want or do not know how to describe it.

Zammett and Searles bring in homemade cookies to serve with hot flavored coffee on cold days.

The staff cares about the happiness of everyone who walks through the door, even the boy who must have "strategically put his bike in a place on the sidewalk for an easy getaway" years ago who didn't want to pay for his haircut; he was gone so fast! (Sir, if you're reading this, time to fess up! It's one of the group's favorite stories.)

Love and kindness waiting for customers is evident in Gabe's Facebook presence, where one can find testimonial after testimonial and a cover photo of Maya Angelou and the quote, "I've learned that people will forget what you said, people will forget what you did, but people will never forget how you made them feel."

Customers can schedule appointments on the business' Facebook page. It's even been done from Ethiopia!

Zammett's original plan was to purchase the shop on her own, but she decided she could use a little help. Zammett – who is a survivor of a cardiac arrest and breast cancer – said that what she likes most about Gabe's is the feeling of family, which may have helped her get through her challenges.

The ladies inherited long-term customers, including four generations from one family alone!

One long-termer, Jim Severson, didn't let Harrah's retirement turn him and his wife Karen away from the shop. "All I can say [about the change] is the staff is a whole lot better looking!" he said. Joking aside, he loves the shop and always has. He remembers Rowlett's pregnancy and notes that her son has been on the Chesterfield police force for 10 years. He remembers Zammett going through her trying times too. "She just keeps coming back tougher than anything, like the [Energizer] bunny!"

The shop has seen all styles of haircuts over the years. "Beehives and roller sets were bread and butter," Zammett said. "The same women would have them done every week."

Gabe reminisced about "man-hugs" from a veteran who comes in regularly and other special customers. Searles talks about it feeling like family.

There is a story about the shop and Hank Williams Jr., but you're going to have to take the time to pay a visit, sit up in a chair and hear it for yourself.
If you go in on a Tuesday or Thursday morning, you may even get to see Gabe, who continues to help with cuts when he can and with anything else that is needed. Many people who say they're going to retire never really retire!

"Come celebrate with us! Drop in!" Searles said. Forty years is definitely worth celebrating.

Gabe's will be celebrating their entire anniversary week with food and fun.
The store is located at 12519 Jefferson Davis Highway in Chester.