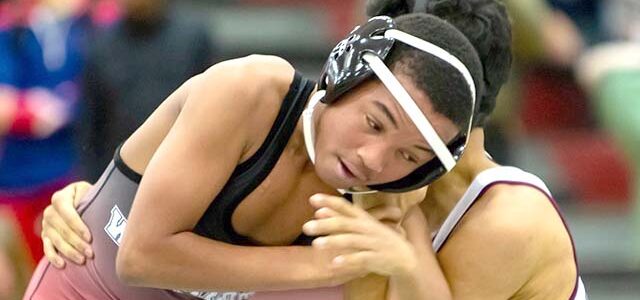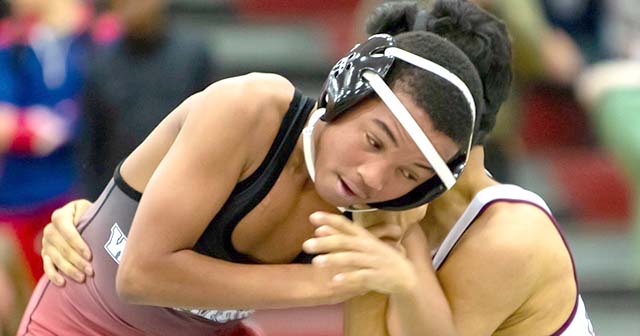 Matoaca wrestling is one of the most successful programs in recent times, winning three straight state championships from 2014 to 2016. This year, with...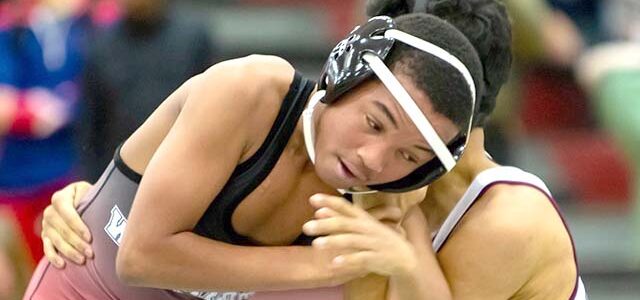 Matoaca wrestling is one of the most successful programs in recent times, winning three straight state championships from 2014 to 2016.
This year, with a talented roster that's gotten better as the season has gone on, Daniel Clingenpeel and company are pushing for a state title.
A quintet of wrestlers leads the way for the Warriors. They are sophomore Miles Woody (29-15 record, 106 pounds), senior Nick Garcia (43-2 record, 126 pounds), senior Elijah Garcia (35-6 record, 138 pounds), senior Jayden Burgos (35-6 record, 195 pounds) and sophomore Keyshawn Burgos (34-7 record, 220 pounds).
Of the group, Nick Garcia is the biggest contender to win a state title at 126 pounds, but, Garcia and the Burgos brothers are not far behind.
Nick Garcia, in the words of his coach has dominated every tournament and meet he's entered in, and is peaking at the right time. The senior won the Northampton Jacket Invitational, the Norfolk Academy Classic, the Toys for Tots Invitational, the Ocean Lakes Invitational and Wolverine Invitational this year. He looks to put his name to wrestlers such as Blake Roulo, Neal Richards and Brandon Woody as individual state champions.
Elijah, with only five losses on his record offers a physical style of wrestling and Clingenpeel said that he's a tough match-up for anyone. The 138-pounder has been consistent, placing in the top four of every tournament he's entered this year.
The Burgos brothers have both improved greatly and both figure to challenge opponents deep into regionals and states. Clingenpeel cites Jaydon as an experienced wrestler that's tough in all positions and is a strong pinner. As for Keyshawn, his coach called him a "pure brawler" and said that, every match of his has an "air of excitement."
Miles Woody, the younger brother of Brandon, a two-time state champion is a tough draw at 106. Despite having more losses than other wrestlers highlighted, Clingenpeel has been impressed with how he's wrestled top competition.
"Quality over quantity has been the theme of the year for Matoaca," said Clingenpeel. "We do not have a full line-up but everyone on the team is a tough and dangerous wrestler," he continued. "The difference this year is seeking out some of the toughest tournaments and competition in the state. The entire team has risen to the occasion and challenges and are coming into the postseason with a lot of positive momentum."
Both L.C. Bird and Meadowbrook had young and inexperienced teams to start the season, but have seen improvements. Coaches Marvin McKinney (Bird) and James Reilly (Meadowbrook) have worked hard to instill good team concepts. Both teams could produce some surprises in the regional bracket and possibly beyond.
Junior Cayla Rivera-Mayen (106), junior Spencer Dabney, senior Alex Anderson, and senior Savion Parham have combined for 63 wins this year in what's been a tough season for Bird.
Rivera-Mayen placed fifth at the girls' state championship and gained 15 of her victories by falls this season. Overall, she's won 22 matches. Dabney has won 16 matches this season, and Anderson placed fifth in his weight class at the Stephen Altorfer Memorial Tournament at Mountain View High. Parham, also a football recruit has posted a 15-5 record.
McKinney has been pleased with the team buying into the mantra of "Focus on scoring points, winning will take care of itself. Focus on the process, not the outcome."
"The season is not over yet," McKinney said. "We are training and focusing on improving and wrestling our best at the regional tournament and hopefully the state tournament. We're excited for the opportunity to compete and improve."
As for Reilly and the Monarchs, he started the season with a small roster, and unfortunately, ended it with a smaller roster. Despite that, he's got a solid core of four wrestlers who have stuck with the program during one of its most challenging seasons in recent memory.
All are underclassmen. Brandon Broadie (soph, 106), Trevor Falconer (soph, 138), Eric Mawyer (soph, 145) and Brian Miller (soph, 152) are Reilly's top options.
"These guys have put in quality time and hard work despite knowing that the team will have very little chance of winning a dual or a tournament," Reilly said. "They've put in the time and all shown progress, even though the team results don't show it, and we're all looking forward to some successes at regionals."