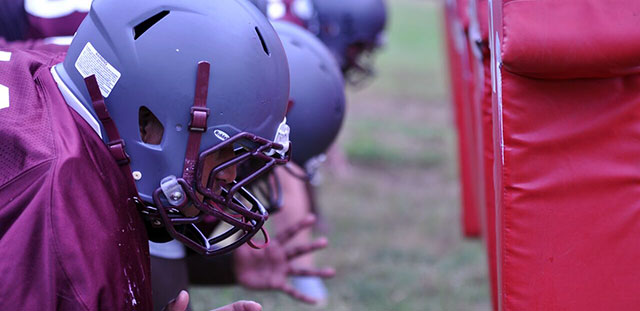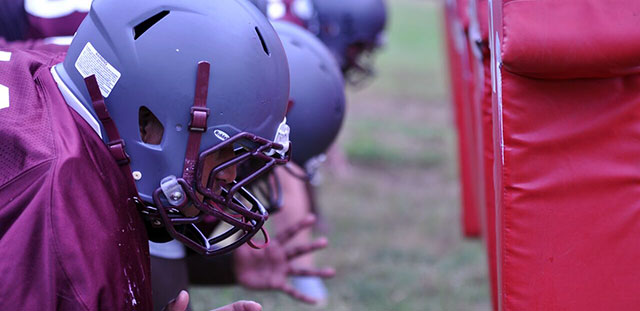 Thomas Dale, showing improvement in each of the last three seasons, hopes to continue that trend this year. In 2012, the Knights uncharacteristically struggled...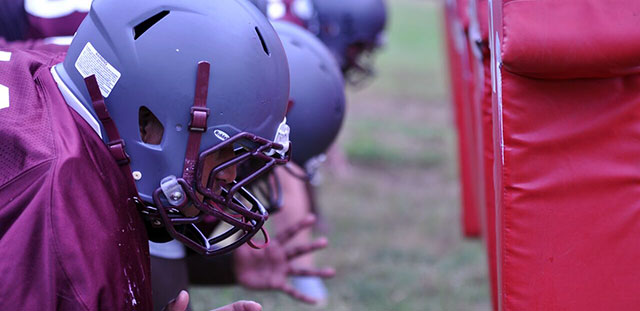 Thomas Dale, showing improvement in each of the last three seasons, hopes to continue that trend this year. In 2012, the Knights uncharacteristically struggled to a 4-6 record. In 2013, a 6-4 squad made the playoffs. Last season, a talented bunch won nine games, including a first round triple-overtime playoff thriller against Riverbend (Spotsylvania) 45-42. The Knights fell in the second round to Colonial Forge (Stafford) 38-28 after holding a halftime lead.
"We made some progress while dealing with a lot of injuries," said sixth-year coach Kevin Tucker. "We were an unknown entity coming into last season."
Thomas Dale graduated an abundance of talent including quarterback Khalid Morris, running back Eric Finney, tight end/defensive end Marco Carrabotta (Army), Darvin Taylor II (Florida State), Keith Anderson (Morehouse College), Justin Amagoh, Bryce Sizemore and Corey Leonard. Among those, Amagoh, Finney and Taylor II all missed significant time last year.
Despite the losses, the Knights will rely on an experienced secondary, a tough linebacking core and two-way sensation and recent University of Richmond commit Trent Williams at running back and safety.
Not atypically, the Knights' offense will need to catch up with their defense, and early games could be grind-it-out affairs. Thomas Dale opens at home against Cosby on Aug. 28, then plays host to L.C. Bird for the Battle of Chester before heading east to Varina for a showdown with the Blue Devils.
Quarterback: There's a position battle between two juniors – Gabe McCollum, an athletic option and read style of quarterback and Matt Lawton, more of a pro-style type of player. Last season, McCollum started the Bird game and nearly led the team to victory while Lawton got reps when Thomas Dale was up late, throwing for about 400 yards. Tucker said leadership will weigh heavy in the decision while controlling the huddle and game flow is vital too.
Running Backs: Strong running backs and the Knights are like peas and carrots. Trent Williams will get the lion's share of carries, while 5-7, 169 pound Davon Malone, is the primary back-up. Malone ran for 100 yards against Hopewell last year. Tucker described him as "undersized, but fast as lighting," comparing him to former L.C. Bird running back Yahkee Johnson.
Wide Receivers: Senior Brian Bullock returns as the team's leading receiver, scoring 10 touchdowns and hauling in several big catches last year – including a fantastic grab in a 20-13 victory over Dinwiddie and a huge touchdown catch against Colonial Forge. Mariel Jennings (6-4,160) is long and lanky, but athletic.
Offensive Line: James Madison University commit Robert Snead anchors the unit in 2015. All-Conference guard Trevor Reed, who bounced back from injury as a sophomore returns as a second year starter, drawing college interest. Max Evans (6-4, 255) who played basketball last year will play guard. Talvis Robinson, Shane Carter and Willie Covin round out the group, which is not as big last year but will be more mobile.
Defensive Line: The losses of Amagoh, Carrabotta and Taylor II deplete this unit. Robinson (sophomore), Devin Williams (junior) and Trevor Amato (senior) will play on the line. Roderick "Main" Wilson, a standout wrestler, will play defensive end in a speed rush role.
Linebackers: Senior Sam Stark (5-10, 230) has drawn interest from many schools including North Carolina State and Virginia Tech and returns as perhaps the most fierce linebacker in the Central Region. Leading the team in tackles last year, he will be the defense's quarterback. 6-1, 190-pound junior Max Oxendine, (nephew of Ken Oxendine) is developing into a Division I talent. Trequan Booker and J.C. Coy will also start.
Defensive Backs: Tucker called this defensive backfield the best secondary team has had in years. Williams leads the unit. Both Kyle Alexander (6-0, 190) and Alonzie Carter (6-1, 200) are strong players, returning starters and receiving D-1 AA interest. Shajuan Phillips, who broke his ankle late last year returns.
Special Teams: Plato Eliades was clutch last year. In Thomas Dale's triple-overtime playoff victory, he hit every sudden death overtime kick to tie the game back up. As a sophomore on JV, he kicked seven straight extra points to win a game.
WHO TO WATCH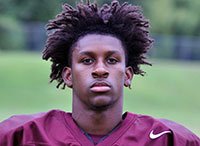 Trent Williams
5-11, 190
Senior
Running Back/Safety
Williams will be an explosive player on the field for the Knights in 2015, and he may have held that title in 2014. Williams ran for 700 yards as the primary back-up to Eric Finney, scoring 14 touchdowns. Defensively, he returned two interceptions for touchdowns and also returned a pivotal kick-off for a touchdown in the team's 21-14 victory over Varina.
On a team that lost much talent, Williams will have to produce a monster season on both sides of the ball and show leadership to his younger teammates for the team to continue the improvement it's seen over the past three years.
See Thomas Dale's game schedule at http://villagenewsonline.com/2015/08/19/varsity-football-2015-schedule/