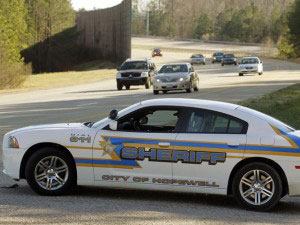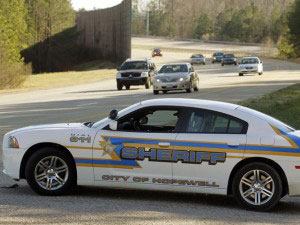 If Chesterfield needs a new plan to increase revenue, the budget office should talk to Hopewell. The city had a way to boost their...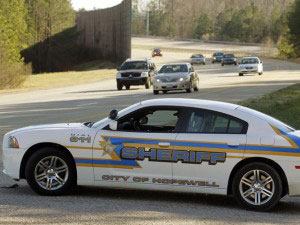 If Chesterfield needs a new plan to increase revenue, the budget office should talk to Hopewell. The city had a way to boost their cash-in – a speed trap or speed traps. Since 2008, the City of Hopewell has been declared one of the most profitable speed traps.
Interstate 295 from Chester to and from the Hopewell interchange, a two-mile stretch, known as the "Million-Dollar Mile," last year, netted $1.8 million, according to CBS News, the National Motorist Association and AAA Mid-Atantic.
Hopewell's yearly budget is about $45 million making the revenue from tickets approximately 4 percent of the city's income. Each person, who lives in the city, saves at least $81 a year on their taxes or receives additional services in that amount.
AAA reports that some cities pay their bills through traffic infractions such as speeding tickets.
According to the CBS report, "For years, Hopewell has used the sliver of highway that runs not through, but along the town's border, as its personal cash register – ringing up [issuing] 1,000 tickets per month."
According to AAA, "it's one of the worst speed traps in the nation, despite the fact that traffic experts say there are no safety concerns along that stretch of Interstate 295."
Charles Dane, Hopewell's assistant city manager, and former Chesterfield director of General Services, indicated that the police along that stretch of Interstate 295 only ticket drivers who are 10 mph over the speed limit.
The drivers most affected are those who drive to Fort Lee or industrial areas in Prince George. Route 10 into Hopewell has also been known to be a speed trap and affects those traveling to the industrial area on Route 10 in Hopewell.
But the speed trap will not be in business for long. Virginia State legislators this year passed a law forbidding speed traps. That law went into effect on July 1.
Capitol News Service, a Village News, news feed, reported: "Currently, localities must return a portion of excess fine revenues to Virginia's Literary Fund, which supports public education.
Hopewell, for example, this year had to give the Literary Fund $86,000 – twice as much as any other locality, according to the Virginia Auditor of Public Accounts.
"However, under the existing formula, the amount of money that localities must remit is so small that it has little impact curbing 'policing for profit,'" AAA said.
"A new formula was included in House Bill 1400, a package of state budget amendments approved by the General Assembly. It is contained in amendments 3-6.05 No. 1c and 37 No. 1c, which were initially proposed by Sen. Charles Carrico, R-Galax, and Del. Matthew James, D-Portsmouth.
"The new methodology will lower the threshold for determining whether local fine collections are excessive and will require localities to remit more of that money to the Literary Fund."