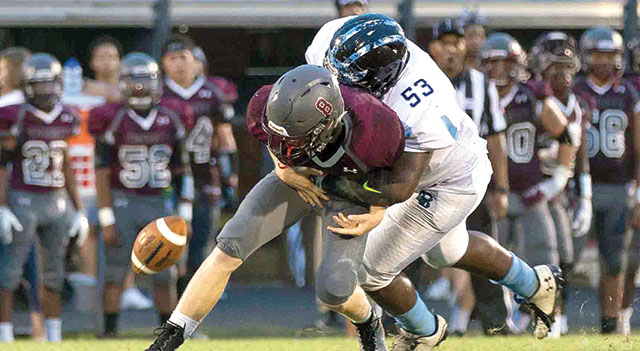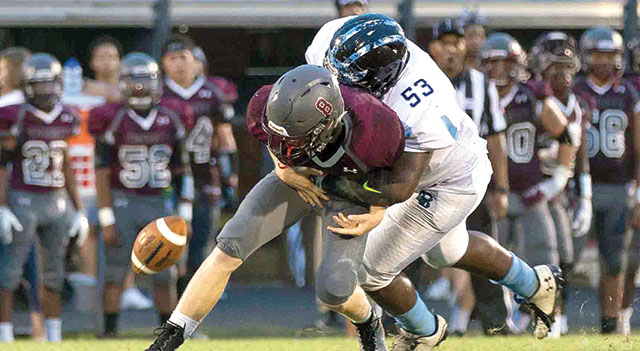 L.C. Bird 35, Thomas Dale 7 In a contest marred with turnovers, the L.C. Bird Skyhawks took care of business, dispatching Thomas Dale in...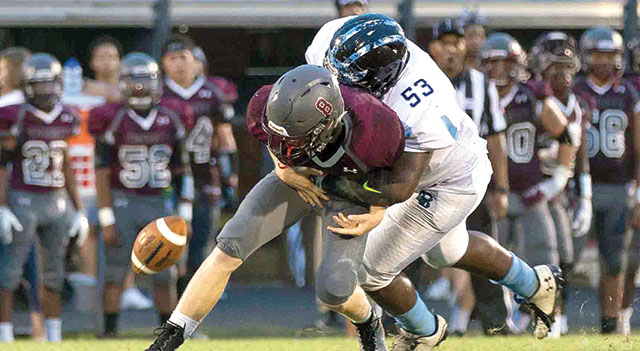 L.C. Bird 35, Thomas Dale 7
In a contest marred with turnovers, the L.C. Bird Skyhawks took care of business, dispatching Thomas Dale in front of a near-capacity crowd at Ed Karpus Field.
Defense was the name of the game for two reasons. First, the Skyhawks' D had a spectacular performance, scoring three defensive touchdowns. Defensive lineman Chris Hayden and cornerback Kumonde Hines returned fumbles for touchdowns, while Jalen Elliott intercepted a pass and took it to the house for six.
The Skyhawks led 28-0 at halftime, but the Knights defense was much more competitive than the score showed.
L.C. Bird gained 472 yards on Meadowbrook last week, but just 266 yards against Thomas Dale. The Knights held Elliott to 0-8 night passing, and take away a 82 touchdown yard run by J.B. Wright, and the Skyhawks didn't generate much offense.
Safety Kyle Alexander finished with ten tackles and an interception. Myles Plummer added six tackles and a pick. Linebacker Sam Stark finished with 10 tackles while cornerback Alonzie Carter had nine tackles and broke up two passes.
However, the scoreboard dictates the results, and a poor offensive performance by Thomas Dale couldn't be overcome. The Knights scored their lone touchdown in the 4th quarter on a 16-yard run by Davonte Russell.
Wright finished his evening with 197 yards on the ground and two touchdowns and was the only Skyhawk with notable offensive statistics. L.C. Bird's linebackers Rayshard Ashby led the way with 12 tackles while Isaiah Moore and Manell Robinson recorded 10 a piece.
L.C. Bird (2-0) hosts Midlothian (0-2) for their home opener on Friday at 7:30p.m. and Thomas Dale (1-1) travels to Varina (1-0) for a 7 p.m. kick-off.
Matoaca 37, Cosby 36
By Cory Van Dyke
In what was easily the most thrilling game in the area Friday night, Matoaca defeated Cosby in dramatic fashion after quarterback Justin Ford connected with wide receiver Terrence Whitfield in the end zone on a hail mary as time expired. Kicker Justin Dyke converted the extra point to give the Warriors the win.
After trailing 24-16 at the half, Cosby quickly exerted their strength in the running game and appeared to have the game wrapped up when Matoaca took over from their own 39 yard line with 17 seconds remaining after a Cosby punt. Ford then found a receiver down the sideline for a 27-yard gain, and after a spike, Matoaca had one last play for the heroics. Ford rolled out and lobbed it up to Whitfield in a crowd of Cosby defenders. Whitfield came down with it just like he would elevate for a rebound on the Warriors basketball team for the 34-yard touchdown.
Ford finished 12-25 passing for 192 yards and five touchdowns, while Whitfield hauled in five receptions for 108 yards and four touchdowns. Zack Cunningham led the way on defense with 18 total tackles.
Matoaca (1-1) hosts Clover Hill (0-1) next Friday at 7 p.m. while Cosby (0-2) hosts a tough matchup against Monacan (2-0) at 7:30 p.m.
Hermitage 37, Meadowbrook 13
The Monarchs scored a touchdown on a halfback pass from Jace Miller to Bajon McCray to make it 13-7 in favor of the Panthers, but that was the closest that Meadowbrook would get to Hermitage.
Last week Meadowbrook played L.C. Bird, the top team in most area polls. This week, it was Hermitage. Next week, it's Highland Springs. That's arguably the three best teams in the Central Region. The Monarchs seem to live by the mantra of what doesn't kill you makes you stronger.
Hermitage (2-0) answered on their next drive to make it 20-7, and then capitalized on a Meadowbrook fumble to make it 27-7 at the half.
The Monarchs added their second score of the game and it was running back Jace Miller again, this time on the ground.
Meadowbrook (0-2) continues their gauntlet of a schedule on the road at Highland Springs. Kick-off is at 7 p.m.