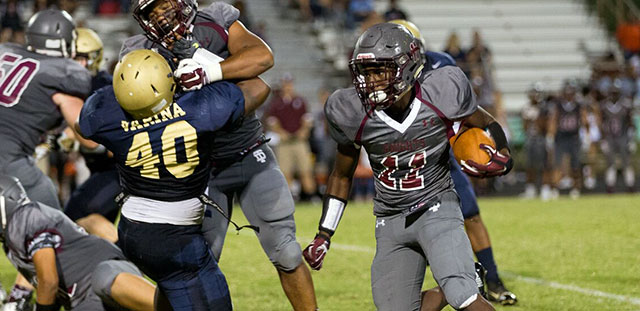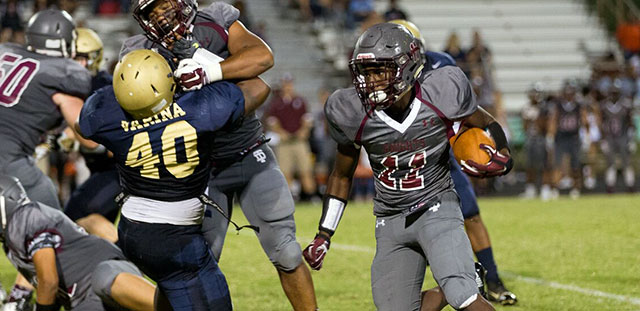 Thomas Dale 42, Varina 7 A week after struggling, Thomas Dale's offense woke up and in a big way as the Knights cruised to...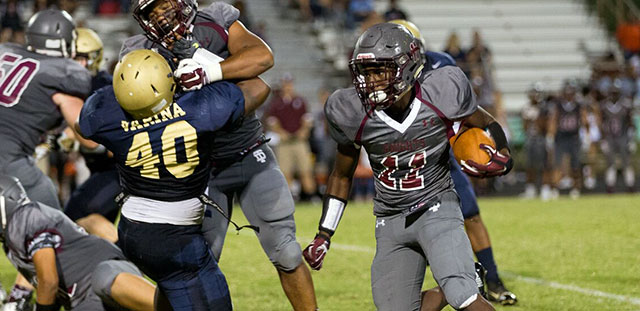 Thomas Dale 42, Varina 7
A week after struggling, Thomas Dale's offense woke up and in a big way as the Knights cruised to a 42-7 victory over Varina in what most thought would be a tightly contested game.
Junior quarterback, Matt Lawton tossed two touchdown passes – one to Christian Faber and the other to Mariel Jennings. Thomas Dale employed several running backs during the evening and all produced solid results.
Grabbing the headlines was junior Max Oxendine, the nephew of Dale alum and former NFL running back Ken Oxendine as he rushed for 103 yards and two scores in the third quarter. Trent Williams added 87 yards and two touchdowns while Devonte Russell totaled 78 yards and a score.
The Knights defense held strong once more as senior linebacker Samuel Stark finished the day with 16 tackles. Thomas Dale got strong play from their front seven and defensive backs in an all-inclusive effort.
With a bye on Friday, Thomas Dale's game is at Colonial Heights on September 25.
L.C. Bird 67, Midlothian 0
The Skyhawks defense ravaged the Trojans and the offense clicked on all cylinders as L.C. Bird cruised to an easy victory.
Historically, the Skyhawks have dominated the Dominion District series with the Trojans, winning by an average of 37 points in ten meetings prior, with this being the fifth shutout of Midlothian in the past eleven years.
Standing out offensively for L.C. Bird was quarterback Jalen Elliott who was 7-9 passing for 165 yards and two touchdowns. Running backs J.B. Wright and Shedrick McCall rushed for 131 and 115 yards. Both scored twice.
Defensively, Rayshard Ashby tallied five tackles and two sacks, Kier Townsend had eight tackles and a sack, Demontre Blowe added eight tackles and James Madison commit Kumonde Hines returned his second interception of the season for a touchdown.
The Skyhawks travel to face a young, but offensively capable Manchester team this Friday at 7:30 p.m.
Matoaca 42, Clover Hill 7
A pick six by Cavaliers linebacker James Washington started off the game with a bang for Clover Hill. Then, Matoaca reeled off 42 answered points to roll to victory.
While some things were different for the Warriors this week, there was one huge constant – the outstanding play of wide out Terrence Whitfield. The junior hauled in three touchdown passes to bring his season total to eight with seven of those coming in the past two weeks. Quarterback Justin Ford has been rock solid and continues to run the passing game well.
All of this early success comes without the heavy use of the run game, which is potent on its own with the speedy Jamison Harrison in the backfield. Combined with Whitfield and triple jump/track athlete Anthony Warner, this may be one of the fastest trios of skill players in the Central Region.
Matoaca will enjoy a Friday off and hosts Prince George on September 25.
Highland Springs 31, Meadowbrook 14
While the Monarchs have started the 2015 season 0-3, it has been to three of the best teams in the area – L.C. Bird, Hermitage and now Highland Springs.
Senior running back Jace Miller led Meadowbrook on the ground with 115 yards and a touchdown. Quarterback Michael Hodges was 12-17 passing for 115 yards, gaining 30 yards on the ground. Defensively, linebacker Jesson McCray made a big play, recovering a fumble and returning it 65 yards for a score.
Coach Adam Tiller noted some improvements on offense against a very athletic Springers squad and said that he hopes his defense will continue its growth as district schedule goes on. A healthy Adonte Braxton on the line for the Monarchs will spell improvement and freshman Jevonte Tuppince has played well early at center.
Meadowbrook has this weekend off and will hit the road to Petersburg on September 25.