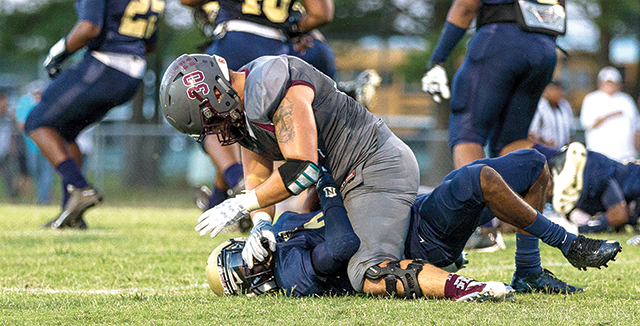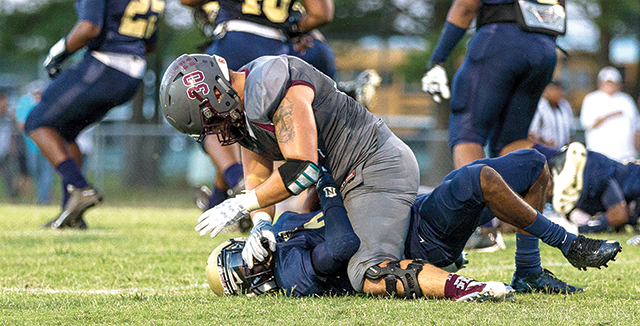 Christopher Artis, MBK 6-3 305 OT Senior No Offers A big, physical blocker, Artis is imposing on a high school field and has a...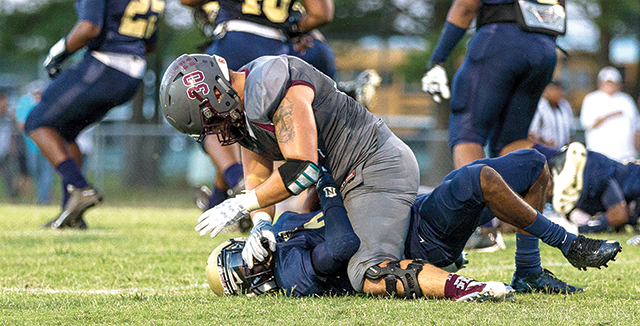 Christopher Artis, MBK
6-3 305
OT
Senior
No Offers
A big, physical blocker, Artis is imposing on a high school field and has a body that can easily translate to the college level. Howard University is very interested in Artis and dipped into the area last year and nabbed Monacan's Isaiah Fludd to play on their line. Meadowbrook is no stranger to producing quality lineman, and Adam Tiller has a big time anchor in 2015. Artis has handled early assignments well against top tier teams in L.C. Bird, Hermitage and Highland Springs and should be considered a slam dunk to play for an FCS school. Where's there's one school interested, another will surely come calling.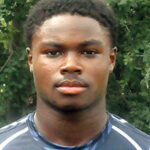 Matthew Hodges, MBK
6-0 200
OLB/RB/QB
Junior
No Offers
While Hodges figures to ascend to the next level as a linebacker, he is a versatile athlete that plays both quarterback and running back for Meadowbrook. Strong and well built, at 16 he has more time to grow, and that could be a scary thing for opposing offenses and defenses. At running back, he keeps his head down and runs hard. At linebacker, he's a hard-hitting player with good instincts versus the run and the athleticism to cover a wideout. Last season, when injuries struck, Hodges filled in nicely at quarterback down the stretch for Meadowbrook, and nearly led his team to what would have been a shocking first round upset of top seeded Highland Springs.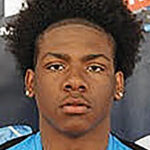 Shedrick McCall, LC Bird
6-1 235
RB/FB
Junior
No Offers
To put it bluntly, McCall is a bulldozer of a back. While he's not incredibly fast (4.7 40-yard dash) he's a classic bruiser back and is surprisingly light on his feet, running with 'touch.' A big running back is something that's highly sought after with high-level Division I football teams. UNC and Marshall are just a couple of the schools that have expressed early interest in the junior, who figures to attract a lot more attention. He's rushed for 345 yards and three touchdowns as back-up to senior J.B. Wright. McCall has landed at L.C. Bird after starting in Benedictine's prep program, and playing for Meadowbrook and Matoaca in his freshman and sophomore seasons.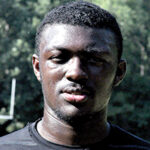 Kumonde Hines, LC Bird
6-3 205
OLB/Rover
Senior
Committed to JMU
Hines has played defensive back most of his career at Bird and plays it very well. However, his growth over the past two years has changed the perspective of college coaches. At 6-3, 205 pounds his frame can be filled out and you've got a beast of a linebacker. His size also lends him to play a rover type position at the college level. Hines committed to James Madison and is similarly built to Marquis Culver (6-2, 220) who plays linebacker for James River and figures will do the same for the Dukes. A playmaker, Hines has returned a fumble and an interception for a touchdown in his first four games.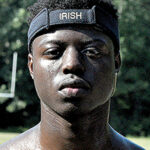 Jalen Elliott, LC Bird
6-1 177
DB/QB
Senior
Committed to Notre Dame
Elliott is a true athlete. Also a skilled basketball player, Elliott chose Notre Dame this summer over a slew of interested schools. His 3.8 GPA was certainly an attraction along with his 4.43 40 yard dash speed. Agile and quick, Elliott is physical enough to play safety in high school, but could see time at cornerback in college. He's L.C. Bird's starting quarterback and has an excellent team behind him as the Skyhawks gear up for a possible four-peat. Coach David Bedwell has also said that if Elliott didn't play quarterback, he'd be pegged at wide receiver due to his supreme athletic ability.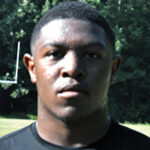 Rayshard Ashby, LC Bird
6-1 210
LB/FB
Junior
Offered by Virginia Tech
Ashby put together a freshman year that turned everyone's heads, if not broke everyone's necks. As a sophomore, he won state defensive player of the year. If his junior season is any indication, the best is yet to come for the skilled linebacker. With perhaps the best football instincts of any player on the field in the state, Ashby is versatile enough to line up at outside linebacker, or man the middle. The junior possesses decent size, but has time to grow more into his position. Thus far in 2015, he leads L.C. Bird in tackles (25), sacks (5) and tackles for loss (6).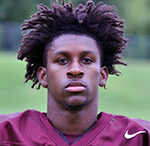 Trent Williams, TDHS
5-11 190
RB/SS
Senior
Committed to U of R
While Williams hasn't gotten going as much in the running game statistically in 2015, he's still been an effective threat. Scoring 14 touchdowns like he did in 2014 is no easy task to repeat. As good as he is running the ball, he's the best member of a secondary that's loaded with players that could be mentioned in this article with FCS hopes. Williams has a knack for making plays, and returned two interceptions for touchdowns and handles kick-off return duties for the Knights. The best of 2015 is likely yet to come for Williams as Thomas Dale's offense is still looking to adjust to a new quarterback and new offensive line members.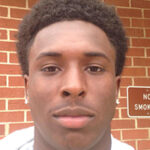 Max Oxendine, TDHS
6-1 190
RB/LB
Junior
No offers
With a family pedigree of that includes an NFL running back in former Atlanta Falcon and Washington Redskin in his uncle Ken Oxendine, Max is difficult to overlook. In what may be the first of many big games, he rushed for 103 yards and a touchdown in the third quarter against Varina. Coach Kevin Tucker said that the team knew he'd eventually end up at running back, but wanted to give him time to season and mature. As it turns out, Oxendine is a skilled linebacker as well, making several big plays last season as Thomas Dale went 9-3 and won a playoff game in the 6A South tournament.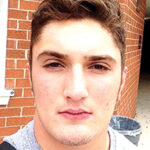 Sam Stark, TDHS
6-1 230
MLB
Senior
Offered by Dayton University
Bigger, and able to at least match strength with Rayshard Ashby, Stark is another excellent linebacker in the area. While the senior has just one offer, he recently visited Towson University. Air Force, Davidson, East Carolina, Holy Cross, VMI, William and Mary, which have been in frequent contact with the senior. Starke possesses a 3.8 GPA, so schools in the prestigious Ivy League have come calling as well. Stark has a calm, level-headed demeanor off the field, but on the field he's everything you'd want in a linebacker – big, mean and nasty. Stark's size would most likely keep him slotted at middle linebacker at the next level.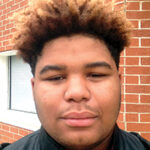 Talvis Robinson, TDHS
6'1 270
DT/OL
Sophomore
No Offers
Robinson, like Darvin Taylor II who's now at Florida State was Kevin Tucker's best kept secret for a while – but if he continues his development, he has the potential to create a buzz similar to the now-Seminole. Profiling similar to Taylor in his sophomore season, Robinson is a big boy. He's got strength to boot, too. As with any sophomore, there are aspects of the game to be learned and maturity to grow, but as a sophomore he deserves merit for the what he could become over the next two years.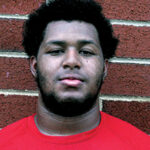 Elijah Rivers, Matoaca
6-5 290
OT
Senior
No Offers
Though Rivers is a huge human being, he remains athletic and quick on his feet. A recent highlight film features him wreaking havoc on the secondary, pancaking players on run blocks. A summer full of camps raised his stock and has schools such as Applachian State, Delaware State and Norfolk State interested in his services at the next level. Rivers has been working through the early part of 2015 to develop consistency from the start of the game to the finish. While both Rivers and White are raw, they both have the potential to develop into dominant lineman in the college ranks.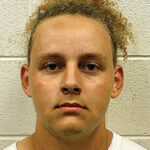 Charles White, Matoaca
6-5 280
OT
Senior
No Offers
A strength of Matoaca's history is developing offensive lineman, and it's no surprise that White is the second of two lineman in this article. One of two big bookend tackles that can set the edge and give the Warriors offense to work, White has drawn interest from both James Madison, Delaware State and Virginia Military Institute. White hasn't played football for very long, so he's still grasping the nuances of playing his position according to coach Derrick Johnson, who played offensive line as well. Johnson also applauded White's footwork, which is absolutely essential to being a sound offensive lineman.