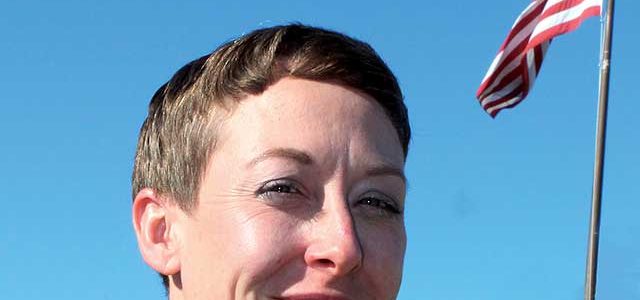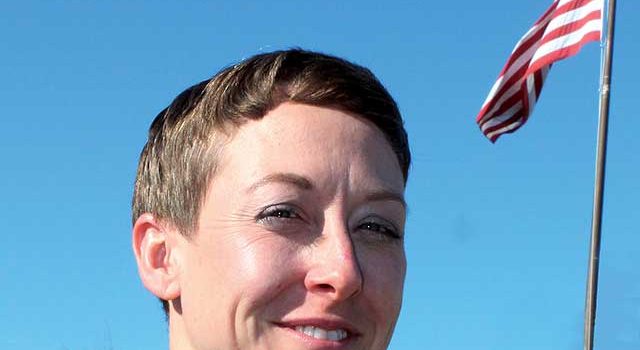 Katie Sponsler is not a name that comes to mind when you are talking politics. Until 2015, she was busy serving her country in...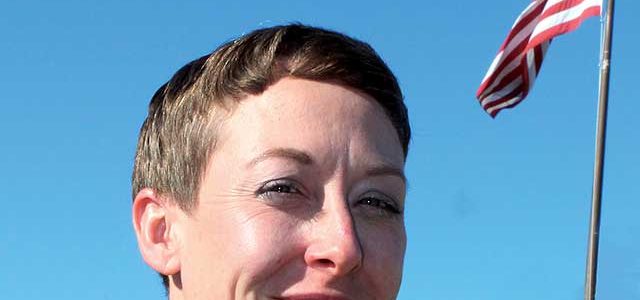 Katie Sponsler is not a name that comes to mind when you are talking politics. Until 2015, she was busy serving her country in other ways.
She is still taken aback by being described as a politician, "I don't feel like a politician," she said.
Sponsler worked for 15 years in several government agencies. She served 11 years in the United States Air Force as an aircraft armaments specialist, completed a combat tour in Afghanistan and Guam, served with the Ohio State Police and most recently she received a commission as a Park Ranger from the National Park Service. She filled out her time at the Petersburg Battlefield when her second child was born.
"I've been bound by the Hatch Act (Federal employees cannot run for political office) for most of my adult life so after I decided to run after spending time in the military and the National Park Service and when [I left the Park Service] I said, 'Oh, I can run against Kirk Cox,'" she said. "I've been writing in my dog's name in for years."
Having been a park ranger, Sponsler has a genuine concern for the environment – she talks about how her son enjoys fishing and her own enthusiasm for the sport.
"In this area it's difficult to balance the environment with the economy; we see those as completing forces. When we look at expanding the economy and development, those are not dirty words. We just want to celebrate what we have, and tourism is such a huge industry," Sponsler said, explaining the first plank of her campaign.
Sponsler says that when we continue to allow coal ash to be dumped into our water and trash to be trucked in from out of state, she says, "it lowers our property values and area tax revenue."
"We continue to give tax credits for Dominion [Virginia Power] and the legislature is not following through on what these credits are supposed to do." And the hunters and fishermen have to deal with mercury, lead, and arsenic in the water because of what Dominion is doing, as they are one of the biggest contributors to members of the General Assembly.
The planks in Sponslor's platform seem to be issues that voters in the 66th district are concerned with.
"Although I like her ideas about education just about everything she says, I think I like her the most because she is brave enough to take on a guy that has been in office ever since I can remember," said Nancy Klick, a Colonial Heights resident.
"I run into so many educators in the 66th district that are just furious that are represented by an educator for the last 27 years and he doesn't take meetings or he doesn't look you in the eye, or checks his watch, or kicks you out." Sponsler said
K- 12 and Headstart are important to her. You need to have a good beginning to your school career if you're going to make a go of it, and especially in lower income areas. "You don't need to win the lottery to make it through school," she said.
Is the economy of Virginia sluggish? Sponsler said she wants to know. Why would Cox say that our growth in Virginia slowed to 3.5 percent when it should be about 5 or 6 percent. He said he would fix that as Majority Leader.
"I said why didn't do that before when you were one of the top Delegate in the Republican-controlled Hhouse?
Can Sponsler make a dent in Cox's armor? Some say it's time. In 1990, he wrote the book on how to get reelected, a primer called "The Never-Ending Campaign: An Incumbency-Protection Manual."
That manual not only got a lot of Republicans elected to the General Assembly but made most of them beholder to Cox building his war chest to a staggering $1 million. Quite a sum for a state held office, which he has held partially due to gerrymandering.
But Sponsler wants to change money in politics and so she can promote her value-based programs to help veterans with localized clinics and expanded healthcare. Cox claims to help veterans but was never in the military.
Transportation is also a wide plank in her platform; she imagines transit on existing rail tracks from Norfolk to Richmond and eventually to Washington D.C.
As she campaigns, Sponsler said she will bring forward the same ideas she espouses that in her discussions with voters. She promises not to be sullied by the office.