Hello and welcome back to the wonderful world of the Dogpound. When was the last time you went to a demolition derby? You know…where...
Hello and welcome back to the wonderful world of the Dogpound.
When was the last time you went to a demolition derby? You know…where you are allowed to take your car and ram it into someone else on purpose, and without penalty? The last one I attended was many years ago. I was 20-ish, and our county fair had a demolition derby out on their horse racing track. It was the final event of the week-long fair, and it was a big draw, filling the grandstands to overflowing with hundreds more standing along the fence or in the infield to watch the ensuing carnage. However, it became too successful and too big. Soon they had so many entries they had to line cars on each side of the track, facing each other with a spacing of maybe two car lengths apart, which meant the drivers were pretty much boxed in and could only tangle with the cars next to them or directly across from them. They should have had broken it down into several heats…however, for some reason they decided not to do that, and the resulting show was needlessly boring as none of the cars could get any momentum, and cars that were still running on one side of the field could not get to the cars that were still running on the other side. That was my last experience until we traveled to a small fair about 40 minutes northwest of where I live. It was much smaller than my county fair, but they did have a nice trotting horse race track to hold the event in, and get this: they were offering $13,000 in prize money, so it was a big draw for cars and for the fair attendees. It was on a Saturday night, and of course on one of the hottest days of the year so far, even under the grandstand it had to be 95 without any breeze. Unlike my past experience, they broke the contest into a number of individual events. One was for 5- and 6-year-olds. Yes, boys and girls, they were competing in those little battery cars…and they put balloons on the front and back of the cars with the objective to burst everyone else's balloons before both of yours were busted. It was a hoot to watch these little kids driving with big helmets that made them look like wobbling bobbleheads, and there were like 12 adults on the field making sure everyone was safe and headed in the right direction. Next up was the lawn mower demotion. Yes, your regular yard riding mower. Then they had, like, five other classes, small cars, trucks, horsepower, etc. Events ranged from as little as four vehicles up to eight in an event, which allowed plenty of room to get a good running start at your opponent. One car actually had its front axle rammed back up under the front door panel. But it was all in good fun…with country boys getting out of their cars after the event, shaking hands and admiring their handiwork. Speaking of country, to start the event was the presentation of the flag by the local American Legion, and the playing of the national anthem. Just prior to their entrance, the emcee came on stage and this was what he said, with a little paraphrasing; "I know there has been a lot of discussion lately about kneeling when we play the national anthem, but here in this county, here in this city, here at this fair, we proudly stand and take our hats off in honor of those who are serving in the military and in honor of those who have died so we can have this event tonight!" He was met with a rousing roar of approval, and every individual stood up and doffed their hat when the Legion came onto the stage. What a refreshing breath of country air!
With that being said…the Fourth of July is just around the corner. Unfortunately, it is in the middle of the week this year. On a Monday, you get a three-day weekend. If on Tuesday, sometimes my employer will give us an extra day off, figuring everyone will be out late anyway, but in the middle of the week, that is kind of pushing the limits. So be safe out there in your travels and when firing off those firecrackers. But most of all, please take time to reflect on the birth of America's independence and the resulting freedom we are blessed with each and every day. Happy Fourth!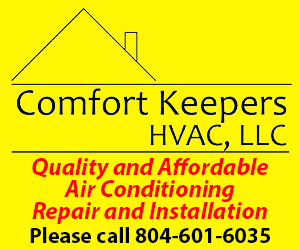 U.S. Rep. Abigail Spanberger came to town Friday, Oct....

Running each week through Oct. 30, the Village News...

A "brunch at Tiffany's" fall fashion show and champagne...

The Friends of Chesterfield County Public Library will host...

In the race for state Senate District 10, which...