With school out for the summer and the weather forecasters predicting hotter and hazier days ahead, families can look to the Chester Recreational Association...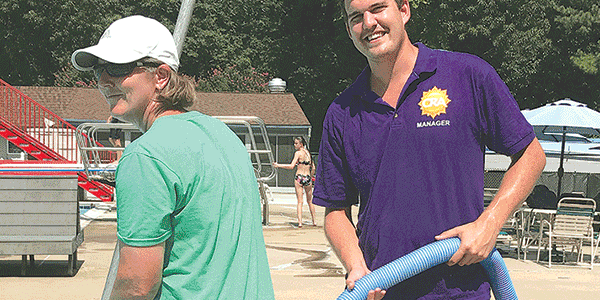 With school out for the summer and the weather forecasters predicting hotter and hazier days ahead, families can look to the Chester Recreational Association as a place to cool off and make new memories.
The association has three swimming pools – a Z-pool with a diving area and a 12-foot water slide, a 25-meter lap pool and a kiddie pool with covered deck – six lighted tennis courts, three tennis walls, tennis teams, two volleyball courts, a children's playground, a basketball court, a sand soccer field, horseshoe pits, a snack bar, a gazebo and two pavilions.
The private, nonprofit, member-owned organization offers swimming and tennis lessons and tournaments, a championship youth swim team (Dolphins), volleyball clinics and tournaments, and holiday events. The pool season started the Friday of Memorial Day weekend and ends on Labor Day.
Despite being around for 55 years, the association's manager, Brenda Vay, said many may not know about it.
Vay was born and raised in Chesterfield County, and started working at a pool when she was 12. She spent three years as assistant manager, and this is her first year as manager.
During the pool's off-season, she works as a Phonological Awareness Literacy Screening, or PALS, tutor at Curtis Elementary. She said that she decided to go back to her roots and manage a pool after realizing she needed something to do in the summer.
"It's a fun job for me because I like being down here. And if I didn't enjoy being at the pool, it wouldn't be fun, [since it's] so hot right now," she said. "All the kids that are down here are great kids. It's just a good group. I like working with them and watching them grow up."
Assistant manager Austin Crouch became a member when he was 1 year old. He has worked the association for eight years and was a swim coach, lifeguard and head guard before being promoted to his current position.
He considers the organization a staple of the community.
"CRA's been around for the last 55 years. Kids learn how to swim here, and they grow up here with these amazing individuals that we surround ourselves with," he said.
"It's mostly people's first jobs as a lifeguard or a snack bar cook, and some families even bring their families here, so it's a lifestyle."
Crouch credits Vay for emphasizing teamwork, hard work and coming together to create a better atmosphere for Chester residents.
He said her main focus is on safety, cleanliness and having fun.
They revamped the kids program so there is an event for kids twice a month, whether it's a movie night or a black-light party. For adults, they have a live band once a month and adult socials like "Margaritaville."
In addition, Crouch said they revamped their rules to make sure they have one of the safest pools in the area and started doing lifeguard certification in house so the staff gets to practice their skills at the pool.
Vay is a certified pool operator, Crouch said, noting they have been experimenting with new food items at the snack bar so members don't have same food offerings all the time.
Vay and Crouch said that off-season manager, Dennis Laprad, is a "jack of all trades" who makes sure everything is running smoothly.
Over 40 members have joined so far this summer, Vay said, adding that she hopes more families keep coming to the pool.
"We have families who have been here forever, and now their children belong to the pool. It's a great family atmosphere," she said. "It's a great place to bring your kids for the summer."
The complex is located at 11740 Chester Road.
Hours are 10 a.m. to 9 p.m. Monday through Thursday and Sunday, and 10 a.m. to 10 p.m. Friday and Saturday.
For information on membership and initiation fees, call (804) 748-4397 or go to chesterrec.org.