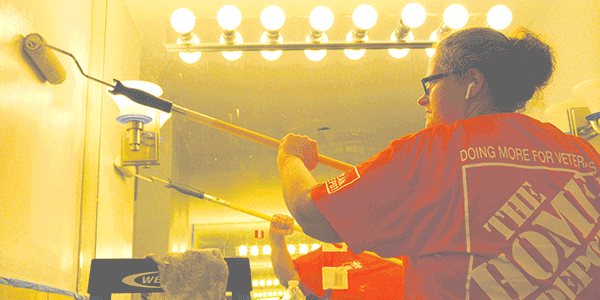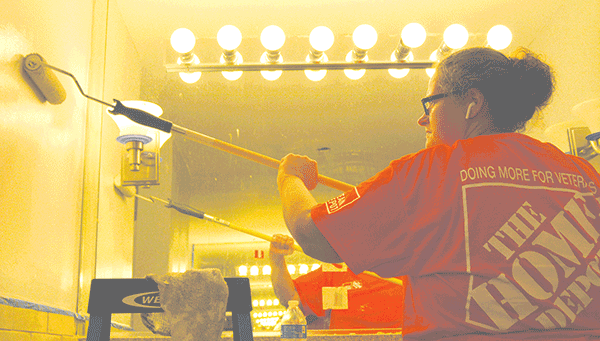 ABOVE: Stacy and Chris Lane stand in the gazebo where they and their family prayed before relocating their ministry to the former Baptist college....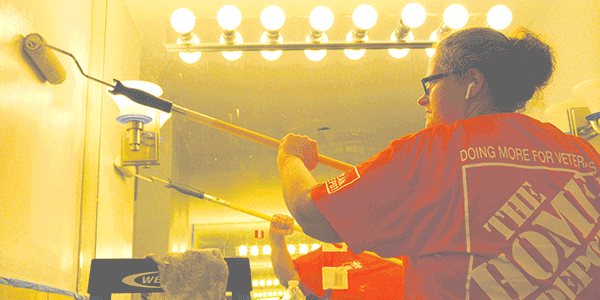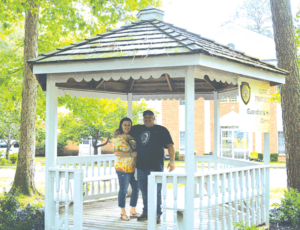 ABOVE: Stacy and Chris Lane stand in the gazebo where they and their family prayed before relocating their ministry to the former Baptist college.
An organization that's been helping others recently received a hand.
The Guardians HOPE Center, which has been providing food and services to the poor and veterans since February 2016, had help from more than 100 volunteers rehabilitating a building on its 39-acre campus last week.
Half of a 7,154-square-foot building was flooded in January when a water pipe burst, said Chris Lane, who with his wife Stacy, founded the nonprofit Guardians Inc. in 2012.
Lane said the building had received an energy efficiency upgrade from Dominion Energy prior to the water pipe bursting, so help from the Home Depot Foundation and the Mercy Mall was welcome. Volunteers painted, put in new landscaping, and installed drywall, flooring and light fixtures.
"God connected the dots," said Lane, who credited Ken Zell, store manager of a Home Depot near Hull Street and Route 288, with bringing it all together. Zell said 80 employees from nine Home Depot stores volunteered.
There are six buildings on the campus, which had been vacant when the owner, David Lee of Fairfax, began allowing the nonprofit to use the property in February 2016. The Guardians began rehabilitating some of the buildings and signed a renewable five-year lease in January 2017, Lane said.
"My wife and kids and I would come here and pray at a gazebo every year for four years," he said, noting the family, which had lived in Chester since 2011 and Chesterfield since 1998, wanted to use the property for ministry.
Lane has been reaching out to the community through various ministries since 2008. "We did the mission out of my garage prior to this," he said, noting that he lost his house in 2011.
"I read a couple of books and went to a training clinic at Chester United Methodist Church about 'toxic charity,'" he said, noting the Guardians do things with people instead of just giving to them.
A former member of the U.S. Marine Corps, Lane and his wife decided to go into full-time ministry when their son Dakota was killed in Virginia Beach in March 2015.
"We were doing these things before his death, but [afterward] we decided to make it our full-time mission in life because that's where he found his joy," Lane said, noting the family serves those in need in the Jefferson Davis corridor and the Fairfield Court and Gilpin Court apartment communities in Richmond.
"Our goal is to bring multiple groups, nonprofits and ministries together," he said.
The Guardians are currently undergoing a legal battle with Chesterfield County over the use of the campus. A lawsuit that the county filed in Circuit Court in an attempt to stop the Lanes from using the property at 500 Baptist Drive as a church – which the county says violates zoning – was subsequently moved to U.S. District Court at the behest of the Guardians.
County supervisor Dorothy Jaeckle said that some neighbors complained about the Guardians' use of the property. Some complaints were apparently about the site being used as a temporary homeless shelter. A statement on the church's website says, "Love of Life Fellowship and the Guardians program do not provide direct services such as housing or case management. If you are homeless, at risk or know someone in need of services, please contact your local 2-1-1 hotline."
Jaeckle said the county had been working with Lane in an attempt to bring him into compliance with zoning. "He was going to bring us a plan and never did," she said.
Jaeckle said that Lane did not initially say that he had a church on the property in 2016. (The property was formerly Atlantic Baptist Bible College, which moved to Winston-Salem, N.C., after it merged with Piedmont International University.)
Last week, Lane – who said the ministry began having worship services on site in August 2016 – said the U.S. Justice Department is now involved.
"You can be a church in your house in Chesterfield," he said. "We continue to hope that it will be resolved the way it's supposed to be, but regardless, we'll continue to serve the homeless, hurting, veterans and children."
The Guardians have a home school co-op on the campus, Lane said, and also operate a vocational resource center for veterans, other adults and teens. The nonprofit – which consists of the Lanes, their four children and volunteer Robert Larsen – goes to trailer parks and extended stay motels and provides relief and offers personal development, Lane said.