ABOVE: Dominga Murray, on right, is pictured with the three runners-up in the beauty pageant, from left, Brianna Johnson, Cary Cordova and Brandilynne Barber. It...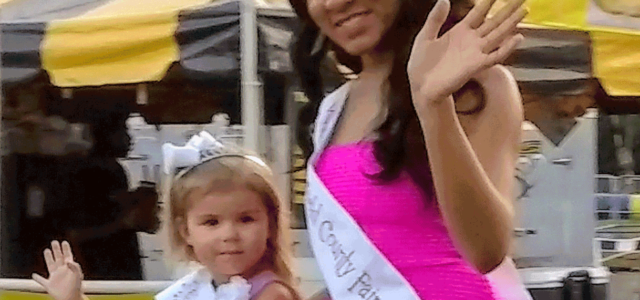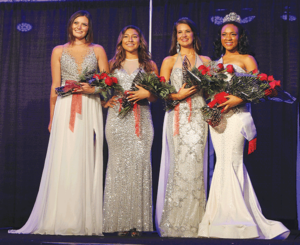 ABOVE: Dominga Murray, on right, is pictured with the three runners-up in the beauty pageant, from left, Brianna Johnson, Cary Cordova and Brandilynne Barber.
It was a night filled with glitz and glamour.
On Monday, Aug. 27, four contestants battled each other in interviews and ball gowns in hopes of being crowned this year's Miss Chesterfield County Fair Queen.
Dominga Murray, winner of the Miss Chesterfield County Fair, received $500 and a trip to Omni Homestead Resort. Throughout the coming year, the queen has the responsibility of being a county fair ambassador, riding in the Christmas parade with the Kiwanis and supporting the local food bank.
The charitable aspect is nothing new for Murray, who 10 years ago founded the nonprofit Helping Hands, whose purpose is to donate food to local organizations and groups.
"When I was a little girl, I was being picked up for ballet lessons in the city," Murray said. "There was a man on the side of the road asking for financial help, and it was the first time seeing that that really spoke to me. I asked my mom what he was doing, and [she said], 'Go over there and talk to him.' So we pulled over, and he explained his situation. I asked him if he wanted to go to McDonalds, and he was so overjoyed that someone took the time to pull over and ask him how his day was. From then on out, I knew I wanted to run my own non-profit organization."
The morning of the pageant, Murray donated 300 pounds of food to the local food bank. "Working with the food bank is right up Dominga's alley," said Brenda White, the general manager of the fair who has run the pageant since 2011.
"I told them when I took this job [four years ago] that I was going to keep my pageants. I worked hard on them, and I tried to get them to a higher level," White said. "I'm a certified Mrs. Virginia judge, so I knew how I wanted to change the pageant. I didn't want a random celebrity to just pick the prettiest girl, because it's not just about that. There's a lot of different criteria that we judge our contestants on."
Contestants are critiqued even before the pageant begins.
"They have a private interview with the judges where they prepare a 10-minute speech prior to the contest," White said. She noted that women are judged based portions involving an opening dance number, a "fun personality wear" outfit, an evening gown and answering a question while on stage.
When it comes to pageants, White knows the ins and outs of the event. Even though she personally hasn't competed in one herself, she is often referred to as "Pageant Mom" by all of the princesses and queens. White spends a lot of her time training and supporting the contestants outside of running the county fair.
"Being a pageant winner is work. The prep work that goes into a higher level pageant is a hard job. We will spend a lot of time with mock interviews, trying on clothes, learning how to walk with a train on your dress or stilettos on your feet. It's not easy," she said. "I feel like I'm their mother … to know that their hard work, their mom's hard work, my hard work will pay off."
White lives by a piece of advice that she received from one of her previous queens. "Our queen in 2012 taught me one of the best things. She said 'when you do a pageant, you either win or you learn. You never lose.' I tell the girls that every pageant."
This piece of advice was also shared by the 2018 winner, Murray.
"Sometimes when we walk away without a crown, we go through this phase of feeling like we are not good enough or maybe that we did something wrong," she said. "I've learned a lot more walking away without a win. You learn tools and how to not be discouraged about who you are, and you learn to focus on what you need to do next time."
Murray, who was raised only five minutes from the Chesterfield County Fairgrounds, was overjoyed to become queen. "I'm so excited to represent a place that has been home to me for the last 20 years," she said.
Coming from a family with a background of pageantry, Murray found herself walking in the same footsteps as her mother.
"My mom used to model for Victoria's Secret, and she used to do pageants herself. She used to ask me if I wanted to get into pageants, and I would always say, 'No, Mom.
That's your thing, not mine.' But then one day, I broke down and I did one, and here I am today, and I'm really thankful for it."