ABOVE: Ron Navroski is pictured in his art studio. A love for art is blooming later in life for Ron Navroski. Although the northwest...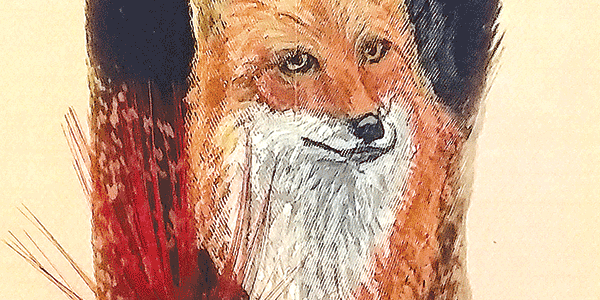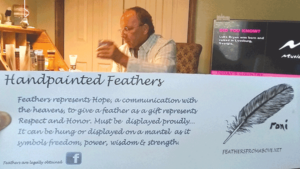 ABOVE: Ron Navroski is pictured in his art studio.
A love for art is blooming later in life for Ron Navroski.
Although the northwest Massachusetts native painted when he was in high school, Navroski didn't begin painting in earnest until seven years ago.
The 58-year-old Ampthill resident said he got the idea to use acrylic paint on feathers from a woman he encountered while driving to Nags Head. The idea "flew," he said, smiling.
"It's very symbolic," Navroski said, adding that the woman learned about feather painting at a powwow in Minnesota. "A feather is precious to Native Americans. They use them to communicate with the heavens. If they find a feather, it means a prayer has been answered."
He gets most of his feathers from the Sylvan Heights Bird Park in Scotland Neck, N.C., which he said is the largest exotic bird park in the U.S. He uses a lot of macaw feathers from the park.
He also uses quite a bit of guinea and pigeon feathers, noting that one can't legally use feathers from certain birds, including eagles, hawks and owls, for example. "It took me a while to figure out which ones [I could use]," he said.
He usually paints animals on the feathers, but also does lighthouses and other inanimate objects.
After high school, Navroski stopped painting for more than 20 years, but started again because it helps him relax. "It's more than what medicine can give," he said, noting that he had some health issues.
After working as a successful salesman for 30 years, Navroski was looking for a change. With his marketing skills, he decided that he could paint and market himself.
"If it wasn't for my sales and marketing [experience], I would be like your average artist sitting in a tent," he said.
Navroski is selling his framed feather art in gift shops and museums in Virginia and South Carolina. Last week he attended an event on the Jersey Shore.
Things have been getting busy lately. Last week he said he had 240 feather art requests lined up.
It takes about an hour to paint, matte and frame a piece of artwork, which he does in a small art studio.
"I'm not going to work for anyone anymore. I'm going to live forever with my artwork," he said, adding that he wants his two grandchildren to talk about who their "pappy" is.
He plans to go nationwide within three years.
"My feathers are flying all over this world," he said, adding that they are already in homes in Canada, China, England, France and Turkey.
His website is feathersfromabove.net.