ABOVE: Matoaca's Nick Lanier stiff arms a Colonial Heights defender. Thomas Dale 28, Petersburg 24 In the end, it was defense, a signature of the...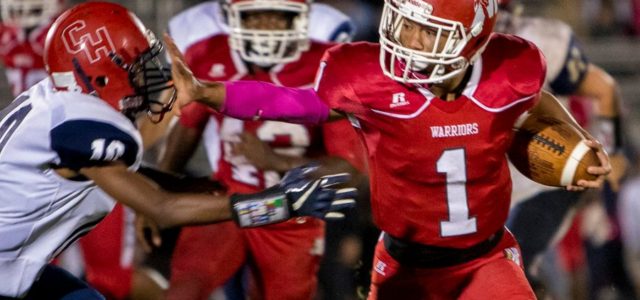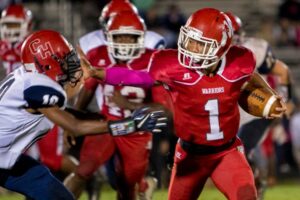 ABOVE: Matoaca's Nick Lanier stiff arms a Colonial Heights defender.
Thomas Dale 28, Petersburg 24
In the end, it was defense, a signature of the Thomas Dale High School football program, that won out. Defenders converged on Petersburg quarterback Meziah Scott, stopping him a yard short of a score to give Thomas Dale the ball back with just seven seconds left.
The performance proved Thomas Dale to be gutsy in the clutch, but proved that the Crimson Tide sports one of its best teams in recent memory. The four-point margin was the closest between these two teams since 2010, when the Knights won 12-8. Since that game, Thomas Dale has dominated the series, winning by no less than 21 points each season.
The Knights roared out to an early lead in the first 3 minutes, capped by a touchdown by Chris Tyree to make it 14-0 early. But Petersburg answered, quickly making it 16-14 before a field goal gave Thomas Dale a 17-16 advantage.
Injuries again made getting a win a greater challenge for the Knights, as senior quarterback Ejay Walker left the game, making way for junior Courtenay Burrell to see his first varsity game action.
"I'm proud of this team … they keep losing leaders to injuries and finding ways to win," Thomas Dale coach Kevin Tucker said.
Petersburg led a healthy portion of the second half, but Thomas Dale broke through on another touchdown by Tyree that made it 28-22. Petersburg added a safety after Scott was stopped just short of the potential game-winning touchdown, but ran out of time.
Tyree finished with 173 yards rushing, two touchdowns and a two-point conversion. Defensively speaking, Adam Hall had another monster game with a season-high 17 tackles, a forced fumble, a fumble recovery, a sack and three additional quarterback hurries.
Thomas Dale moved to 5-2 on the season, and must prepare for a tough Hopewell team. Petersburg, which is also 5-2, will host Dinwiddie for homecoming. Both games kick off Friday at 7 p.m.
Matoaca 38, Colonial Heights 14
The Matoaca Warriors – who have endured a tough start, but have given opponents a tough challenge finally tasted victory – defeated Colonial Heights 38-14 on their homecoming. The win was the first in coach Jay Parker's career.
"I'm happy for our school, community and team for getting the first win of the season," Parker said. "The guys fought hard in all three phases of the game."
Quarterback Marcus Dreher enjoyed a career performance, going 7 for 13 passing with 130 yards and three touchdowns, and added 42 yards on the ground. Aaron Jones finished with 76 rushing yards and a score. Jake Coleman nabbed five receptions and hauled in two of Dreher's touchdown darts. Gage Simmons also scored twice, one on a pass from Dreher and an 85-yard kickoff return for a touchdown.
With all of the offensive headlines, Matoaca's defense may have been the most impressive part of the game. They held Colonial Heights to just five first downs the entire game and a paltry 108 yards.
"We preach all three phases of the game being extremely important every week," Parker said. "We practice like it, and are looking to have a great week of practice this week and to build on the successes of this win."
Matoaca (1-6) will face off with a hungry Meadowbrook squad that is still looking for its first win.
Manchester 55, L.C. Bird 7
L.C. Bird High's standout Jayden Payoute scored an early touchdown, but it wasn't enough as Manchester rolled over L.C. Bird, 55-7.
Notre Dame verbal pledge Brendon Clark had an outstanding day, finishing 11 for 19 passing with 182 yards and three touchdowns. However, he was not the only portion of the Manchester attack that plagued Bird. For the first time all season, the Skyhawks were beaten in all aspects of the game.
However, not many area teams sport a Notre Dame pledge at quarterback and a Penn State commit on their offensive line, along with a slew of other players headed to the college ranks. Manchester is widely considered the favorite to win the Class 6 state championship. Virginia may be seeing one of the best teams in state history.
The Skyhawks must look ahead to their final three games – first against Monacan, then George Wythe followed by Cosby. With three more wins, L.C. Bird would be a virtual lock to finish in the top four in Class 5 and host a first-round playoff game.
The Lancers improved to 7-0 on the season, while the Skyhawks fell to 6-1.
Dinwiddie 56, Meadowbrook 6
Ky'mon Pope and Dinwiddie improved to 7-0 as they blew by Meadowbrook, 56-6. The Monarchs will face off with Matoaca (1-6) on Friday looking for their first win of the season.