ABOVE: L.C. Bird wide receiver Jamon Battle stiff-arms a George Wythe defender. Thomas Dale 30, Granby 10 The Thomas Dale Knights improved to 7-2...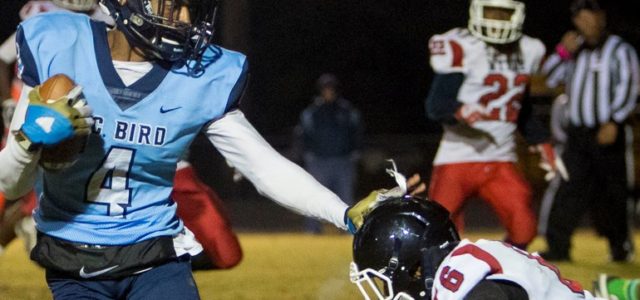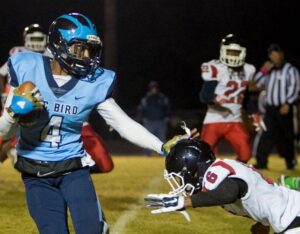 ABOVE: L.C. Bird wide receiver Jamon Battle stiff-arms a George Wythe defender.
Thomas Dale 30, Granby 10
The Thomas Dale Knights improved to 7-2 with a victory over Granby last week in what was a break from the "Central District" schedule.
Thomas Dale got a big performance from its defense, which intercepted two passes and recovered two fumbles to give Granby fits.
The Knights had two running backs gain more than 100 yards, as Chris Tyree finished with 132 yards and A.J. Chavis ran for 103 yards, including an 86-yard touchdown run to finish the scoring. D'Angelo Gray, who started the season at running back, is Thomas Dale's fifth quarterback. He played well, throwing for a touchdown and rushing for another.
In the regular season finale, Thomas Dale will face Prince George, who were thumped by Matoaca last week, 42-6. If they win, the Knights will notch their fifth straight year with eight wins or  more. They are headed to the playoffs for the sixth consecutive season.
L.C. Bird 33, George Wythe 14
The L.C. Bird Skyhawks won their 19th straight game over the Bulldogs.
"George Wythe was tough. They played hard," L.C. Bird head coach Troy Taylor siad. "Coach [Jerome] Jeter does a good job with those guys."
Jaden Payoute returned to run things at quarterback for the Skyhawks, and good results followed, as they have all year with him at the helm of the offense. Payoute completed four of nine passing attempts for 94 yards and a touchdown. Running back Tre Mason went for over 200 yards (202) for the third time this season, bringing his total to 1,608 yards on the year to go with 12 touchdowns.
The win was a rebound for L.C. Bird, as they had recently dropped games to two tough opponents in Manchester and Monacan. After beating the Skyhawks, Monacan fell to Midlothian in the biggest surprise on the schedule, and one of the biggest surprises of the season.
L.C. Bird will look to cement their hold on a home playoff game with a victory over a Class 6 opponent, Cosby, in the regular season's finale.
"They are a good football team," Taylor said.
The Titans will be looking to level their record at 5-5 after losing a heartbreaker to rival James River last week, 12-6.
Matoaca 42, Prince George 6
The Matoaca High Warriors notched their third straight victory with a romp over Prince George last week. The win comes after opening the season with six losses, some of them very close.
"We've learned that when we play for each other, we are a very dangerous team," Matoaca coach Jay Parker said. "When we play for four quarters, we can compete at a high level. Changing a culture is not easy, and will we keep working every day to continue that."
Quarterback Marcus Dreher finished 20 of 27 passing for 105 yards, with 43 yards rushing and a touchdown. Deuce Coleman had 66 rushing yards and a score. Aaron Jones scored twice, once running and the other on an interception return. Emmanuel "Manny" Hickman, a Cincinnati commit, returned a fumble for a touchdown. Matoaca added two other interceptions from Xavier Addison and Gage Simmons.
"I was proud of the way the guys fought for four quarters," Parker said. "The buy-in is more and more evident from each week," he said. "All three phases (of the game) made huge plays for us Thursday night. The defense scored two touchdowns and held a good team in check."
The Warriors will look to keep the good times rolling and end the season with a four-game winning streak as they travel to Petersburg, an improved team at 6-3 on the season. Kick off is set for 7 p.m.
Petersburg 22, Meadowbrook 0 
Meadowbrook High played a strong first half, holding Petersburg scoreless, but ultimately fell to the Crimson Wave and fell to 0-9 on the year.
Petersburg has had its best regular season since 2014. The Crimson Wave won seven games that year, and won playoff games over Kettle Run and Poquoson before ultimately falling to Class 4 power Lafayette.
Still searching for their first win, the Monarchs will travel to face a tough Hopewell team this Friday. The Blue Devils handed Dinwiddie their first loss of the season last week, 7-0, in a Herculean defensive effort. Kick off is 7 p.m.