ABOVE: Ejay Walker looks for a receiver. He found A.J. Chavis on a screen pass that went for the game's only score. L.C. Bird...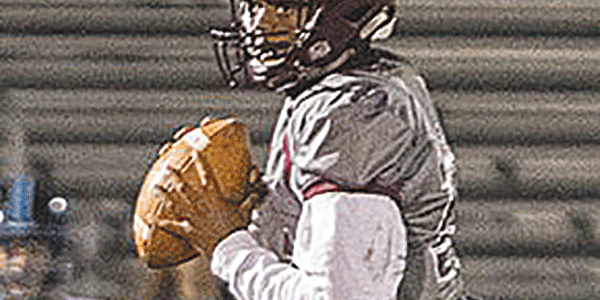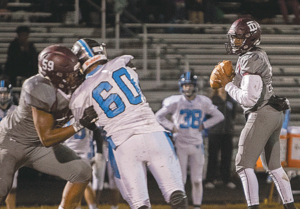 ABOVE: Ejay Walker looks for a receiver. He found A.J. Chavis on a screen pass that went for the game's only score.
L.C. Bird 49, Douglas Freeman 14
The L.C. Bird High Skyhawks cruised in the first round of the Class 5 playoffs by scoring 35 unanswered points to send the Rebels packing.
"Tre Mason and Ramon Brown came up big tonight running the football," head coach Troy Taylor said. "Our offensive line stayed on their blocks, even on the muddy field."
Rain has been an issue for many area teams this year, seeing games rescheduled for many schools six or seven times. Last week, the game went on and it was smooth sailing for L.C. Bird, playing that "ground and pound" type of game to which fans have become accustomed.
Brown rushed for 182 yards and three touchdowns, while Mason ran for 154 yards and two touchdowns. The two running backs accounted for five of the team's seven touchdowns. Quarterback Jaden Payoute ran and threw for one score each. Wide out Mykey Anderson was the recipient of the touchdown throw.
The defense also held. Taylor praised them for containing a typically potent Douglas Freeman offense.
Junior Dominic Gray led the Skyhawks with 10 tackles, and Stevie Jordan added a sack and blocked a punt on special teams. Senior Ahmad Couch recovered two fumbles, and Chris Barfield recovered a third.
Up next for Bird is Henrico, which dispatched Varina last week, 28-13. Henrico features quarterback Jalon Jones, who is committed to the University of Florida.
According to the Richmond Times-Dispatch, the Warriors may be without Jones, who fought with another player during the team's victory last week. After punches were thrown, Jones also removed and threw the other player's helmet into the nearby woods.
Despite that, head coach Gerald Glasco has built Henrico into a consistent winner. The game will still be a challenge if Jones doesn't play, according to Taylor.
"Henrico is very well coached and features both great athletes and players," Taylor said.
Kickoff will be at 7 p.m. Friday at Dutchman Field.
 Thomas Dale 7, Cosby 0
Two historically defensive-minded teams played a defensive game on a field that, in the words of fans, resembled a "mud bog." However, the Thomas Dale High Knights prevailed 7-0, shutting out the Titans in a game where neither offense was able to get an offensive rhythm going.
Chris Tyree led the offensive production with 78 yards. E.J. Chavis scored the game's only touchdown on a pass from Ejay Walker and finished with 59 total yards rushing. DeAngelo Gray had four catches for 44 yards.
Defensively, Thomas Dale was led by Adam Hall with 13 tackles and three quarterback hurries. Brian Davis registered two sacks to go with 12 tackles. Darius Sterling provided six tackles, including a sack, while Bryce Carter tallied eight tackles and a sack.
The victory gave the Knights their sixth straight victory over the Titans, and their second playoff win over their cross-country foes.
Next up for Thomas Dale is Manchester, which is 11-0 and led by quarterback Brendon Clark, who's headed to Notre Dame next season.
A talent-laden Manchester roster has put up 659 points on offense this season, allowing double digit scoring just once, when Clover Hill was able to put up 21 points. Take away that game, and the Lancers allowed just 25 points all season long.
"They are talented on both sides of the ball," Thomas Dale head coach Kevin Tucker said. "They are extremely good up front on the offensive and defensive lines. The quarterback [Clark] is one of the best quarterbacks I've ever seen play high school football."
Tucker said that in order for the Knights to defeat Manchester, they will have to play very sound football and the offense will have to sustain long drives to keep the Lancers' offense off the field.
Tucker added that sound defense will be needed and players will need to follow their assignments well to hope to contain a high-caliber offense.
As the No. 3 seed, the Knights will travel to Manchester on Friday. Kickoff is at 7 p.m.