In its first season as a new organization, Chesterfield Youth Baseball produced a champion at the Hopewell Optimist Club tournament. They followed it up...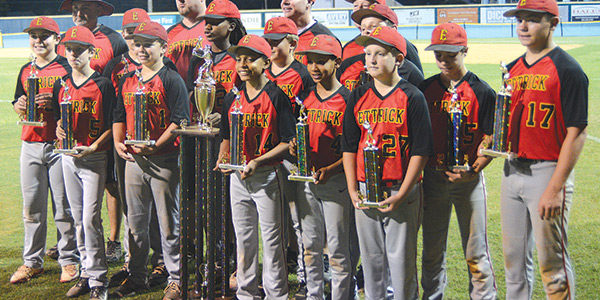 Caymon Wilkinson takes off his helmet following a first-inning grand slam Saturday night.

The team poses with their individual and team trophies following the championship.
In its first season as a new organization, Chesterfield Youth Baseball produced a champion at the Hopewell Optimist Club tournament. They followed it up by winning the 62nd annual Boys Invitational Baseball tournament (11- and 12-year-olds) in convincing fashion Saturday night, beating Dinwiddie National 16-0 in a game called after four innings. 

"It's an excellent group of kids who have all put in hard work to play at the high level they play at," coach Brian Harrison said. "I think it feels good to come back the second year with almost the same group of kids and avenge our first-round loss last year."

After plating nine runs in the first inning, capped by a three-run double by lead-off hitter Lucas Edwards, things were definitely looking up. 

Entering the tournament last season as the Matoaca Indians under Chesterfield Baseball Clubs, Harrison's squad suffered a first-round loss at the hands of Williamsburg in the BIB, which draws teams from all over the state – including Staunton, Sussex and Tidewater.

It was a much different story this year playing under the "Ettrick" moniker – because the CYB played the first baseball played at Ettrick Park in 25 years this past summer. In addition to a 2-1 victory over Tidewater, Ettrick won their opening and semi-final games by scores of 15-0 and 10-0, defeating Staunton and Williamsburg, respectively. 

Two no-hitters were fired in the tournament. Caymon Wilkinson defeated Staunton and Seth Harrison defeated Williamsburg. Wilkinson added a second complete game in the team's nail-biter against Tidewater. 

"The game with Tidewater was kept close with great pitching from both sides," explained Harrison. "We had plenty of opportunities to score. We had the bases loaded a couple of times … We ended up producing two runs and then Caymon was able to hold the lead."

Wilkinson had a MVP-caliber performance and was named as such following Saturday's championship game at Shepherd Stadium in Colonial Heights.

"Caymon [Wilkinson] had a fantastic tournament," Harrison said. "He has grown so much as a player this season. He has a bright future ahead of him."

Fantastic may actually be an understatement for Wilkinson's performance. He pitched 15 innings, struck out 38 batters and walked six while giving up just six hits and only one run. At the plate, he got eight hits in 11 at-bats, good for a .727 average. His biggest hit was a grand slam in a nine-run first inning against Dinwiddie National. He added a inside-the-park homer in the seven-run fourth inning.

The other no-hit artist was Seth Harrison, the son of coach, Brian. Over six total innings pitched, he struck out 15 batters, allowing no hits or runs, and walking just three batters. 

In addition to Wilkinson, the offense that produced four others who hit at least .500, including Edwards (.688), Harrison (.636), Gray Thacker (.500) and Logan Jones (.500). Combined, those five batters went 36 for 58 at the dish, good for a .620 batting average. 

Harrison described it all as a "total team effort."

"I had good help from my assistant coaches, Pete Edwards, Chris Mullins, Jeff Faber and Louie Ostmann," Harrison said.