By Josh Mathews, Soren Rutherford and Joe Short Matoaca 33, Prince George 14 In front of the home crowd for their homecoming game, the...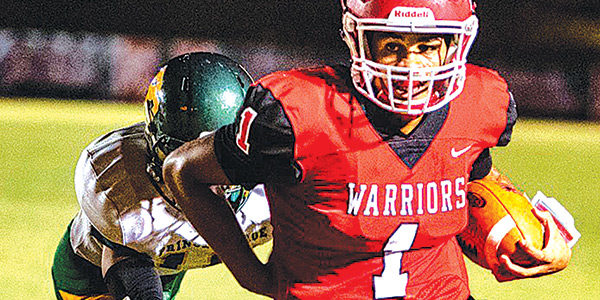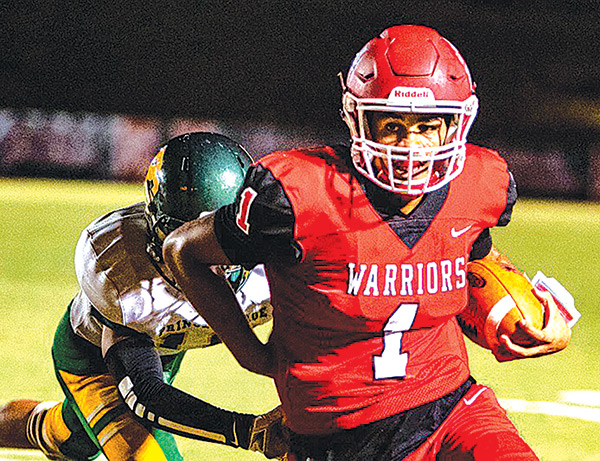 By Josh Mathews, Soren Rutherford and Joe Short
Matoaca 33, Prince George 14
In front of the home crowd for their homecoming game, the Warriors won their third consecutive contest.

Senior quarterback Marcus Dreher torched the Royals defense, showcasing his athleticism. He ran 19 times for 85 yards and scored five rushing touchdowns. He completed 11 of 15 pass attempts for 104 yards.

Ricarlos Taylor left his mark on the ground game, averaging nearly 10 yards per carry with 85 yards on nine totes.

The defense and special teams continued to play well. Devin Bailey recorded an interception and returned it deep into Prince George territory to set up a touchdown. Jaron Howard punched the ball out to force a fumble on a kickoff, and Juleon Pointer recovered the loose ball to set up another score.

At this point last year, Matoaca hadn't won a single game.

"When you win that first game, it sets … the right tone and you're not fighting from behind the entire season," coach Jay Parker said. "It's different. Winning in front of this community is a huge deal."

Dreher is proud of the transformation his team has made in just a year's time.

"We really came together at the end of the year last year. It really gave us confidence to work extremely hard in the summer," he said. "We're very excited about what's to come."

Matoaca (4-1) is ranked No. 5 in Region 5B and looks to stay red hot as they travel to Dinwiddie (2-3) on Friday.
L.C. Bird 21, Powhatan 13
L.C. Bird was able to record its third consecutive victory, holding off Powhatan on the road.

The Skyhawks were able to build a big lead, reeling off all three of their touchdowns in the first quarter.

Justice Eason scored on opening kickoff on an 82-yard TD return. Minutes later, one of the running backs in L.C. Bird's rotation, J.B. Miles, scored on an exciting 49-yard scamper. Then quarterback Quentin Elliott connected with Elijah Rivers for a 33-yard score.

The Indians would answer on a 43-yard run by sophomore quarterback Hans Rehme. They were threatening to go cut the lead further before L.C. Bird's defense made the first of three pivotal fourth-down stands. Powhatan turned the ball over on downs at the 1-yard line and the score stood 21-7 at the break.

The Indians would score again in the second half, but L.C. Bird's defense did not relent.

"Our defense was led by our core of Dom Gray, Tyson Pledger, Mike Allen and Quentin Elliott," coach Troy Taylor said. "Tyler Henderson continues to play well in his first season of high school football."

L.C. Bird still had a major bugaboo as they were flagged 18 times for 187 yards. The Skyhawks have been penalized 873 yards over their five games in 2019.

L.C. Bird (3-2) travels to Clover Hill (3-2) this Friday. In the newly arranged Region 5B, the No. 10-ranked Skyhawks need to beat the No. 9-ranked Cavaliers in order to give a boost to their playoff hopes. The top eight teams qualify for the playoffs.
Hopewell 44, Thomas Dale 7
Thomas Dale couldn't get much of anything going against a top-tier Hopewell team this past Friday night. The Blue Devils won to move to 5-0 on the season.

Hopewell's four-star recruit TreVeyon Henderson was the story of the night as he dominated the ground game, recording 191 yards on just 16 carries in the game and scoring four times. Henderson reached the end zone from distances of 1, 6, 17 and 61 yards.

That wasn't it for the Blue Devils' backfield, however, as Robert Briggs Jr. and Kaiveon Cox also scored.

With the exception of a 99-yard touchdown pass from Courtenay Burrell to DeAngelo Gray, Thomas Dale's offense was locked down.

Hopewell held Thomas Dale to its lowest-scoring game so far in the season and the backfield to just 22 rushing yards.

Notre Dame signee and running back Chris Tyree missed his second consecutive game with an injury.

Thomas Dale, 3-2 and ranked fourth in Region 6A, will take on a struggling Meadowbrook (0-5) squad at home.
Colonial Heights 14, Meadowbrook 11
Meadowbrook nearly pulled off their first victory of the season, leading 11-6 in the third quarter before Colonial Heights scored a fourth-quarter touchdown to secure the win.

The Colonials struck first, but the Monarchs answered with a 32-yard field goal from Trevor Murphy in the second quarter for their first scoring play of the season. In the third quarter, Meadowbrook took the lead on the strength of a 4-yard run by Jordan Evans.

Meadowbrook (0-5) plays at Thomas Dale (3-2) on Friday.