By Luke Krausse Coleman adds a second offer to his resume Jacob Coleman, a standout for Matoaca, received an offer this week, his second,...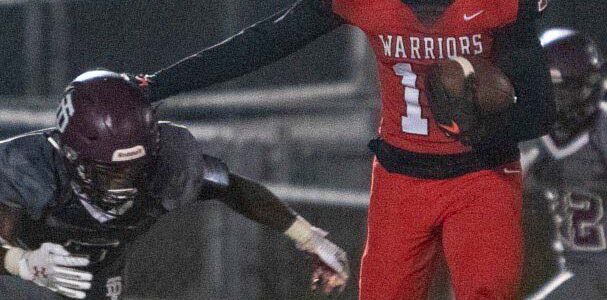 By Luke Krausse
Coleman adds a second offer to his resume
Jacob Coleman, a standout for Matoaca, received an offer this week, his second, from the University of Massachusetts.
"Jacob is a huge piece of what we do," said Matoaca football head coach Justin Parker. "He helps a lot on offense and defense; he is an unselfish teammate and leader over the past year."
The 6-3, 210-pound junior has played many different positions including wide receiver, tight end, punter and defensive back. This past season, Coleman earned accolades in region 5A for his punting and play at tight end.
While on offense, Coleman put up 391 total receiving yards on 35 catches, scoring four touchdowns. His versatility on the football field also earned him an offer from Old Dominion.
Coleman's older brother, Jonathan, signed to East Carolina University earlier this month. While there are similarities between the two Division I athletes, they are also different.
"Jonathan relied on his brain more than his athleticism, while Jake is extremely athletically gifted," Parker said. "Both are great players who played many different positions. Both are great kids, but they play very differently. I am blessed to have coached them."
Matoaca speedster Lewis notches three Division offers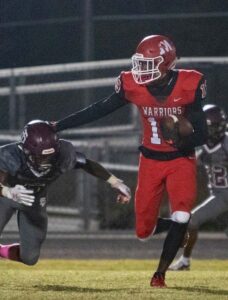 Matoaca football's offensive and defensive weapon, Troy Lewis, received three Division I offers this week. The interested schools included the University of Massachusetts, William & Mary, and Navy.
"Troy is the all-american kid," said Matoaca football head coach Justin Parker. "He has great grades, he is a great leader, he plays his tail off, and being 6-3 190 pounds, he is a big target for us."
The junior gained 672 all-purpose yards last season, with five touchdown receptions and a total of six touchdowns on offense. On defense, Lewis had 16 total tackles and one interception. As good as he's been so far, Lewis still has some things to work on.
"Troy could be better at running routes," Parker said. "If Lewis and his teammate, Jacob Coleman, continue to improve on their leadership and accountability, then they will succeed at the Division I level."
"They have an advantage by working and practicing together, they continue to push each other to complete," continued Parker. "The sky's the limit for them."
Running track in the offseason is very important for Lewis, both to rest from taking hits and to focus on his speed, which has helped him and other area athletes like Thomas Dale's Chris Tyree (Notre Dame signee) and L.C. Bird's Jayden Payoute (Virginia Tech) to receive more offers. Last season Lewis battled injuries, but he has been fantastic this season while competing in states. In the 2020 Region 5 state indoor meet, Lewis ran an 6.81-second 55–meter dash and an 38.30-second 300-meter dash, and he was a member of the 800-meter relay team that placed eighth.
"Troy has the break away speed," Parker said. "He's a dangerous player and will be a big senior year for us."
Dale's Robinson hears from Shenandoah University
Kevin Robinson, one of Thomas Dale's football defensive standouts, has received an offer to play at Shenandoah this fall.
"Kevin was an extremely hard worker," said Thomas Dale football head coach Kevin Tucker. "He transformed his body in the weight room his past off season, which contributed to his improved performance on the field."
The 5-10, 200-pound senior has played both middle linebacker and fullback in his football career at Thomas Dale. Robinson played 11 games in his senior season, totaling 40 tackles and one sack while on defense.
"He's going to make an outstanding college football player because he is the ultimate first-team guy," Tucker continued. "He loves physical contact and likes to bring the bang on defense."