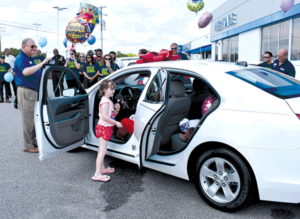 Sawyer Perkins, a pediatric brain cancer contender from Mechanicsville, celebrated her eighth birthday in a big way when the Chester community gathered recently at Heritage Chevrolet to observe and participate with her receiving her first car.
"A car? For an 8 year old? Absolutely! We all want to see our kids experience important milestones. It just happens that Sawyer's terminal illness gives impetus for hers to come a little sooner," said Kelley Kassay, president of the nonprofit organization Mason's Toy Box, which along with Carter Myers Automotive, helped to speed up the process of her reaching one of life's coolest moments. "Who doesn't remember their very first car?"
For legal purposes, the car will be donated to Sawyer's mother, Jamie Perkins, but it is the hope of everyone who follows her story and contributes in her name that Sawyer and her siblings can at least enjoy the ride – and be at ease to, once again, have a reliable vehicle for the family.
Kassay said the Perkinses were a family in need. The family vehicle broke down, was impounded, and with the expense of repairs and getting it out of the impound lot, the family found themselves without a vehicle and without a way to get back and forth for Sawyer's doctor visits.
Sawyer's shiny, white 2014 Chevrolet Malibu was filled with stuffed animals and balloons and a big red bow on top. As she approached the vehicle last Friday, it was Santa sitting behind the wheel. After all the well-wishes and photos, she retreated inside the dealership to enjoy cake and more photos.
"It's just a normal birthday," Sawyer said. "Just like a birthday."
The car may not have been a big deal for Sawyer, but her mother was very thankful.
"I am pretty speechless," Jamie Perkins said. "Not having a car, not having something to go back and forth to doctor appointments [with]has been really hard. It is one less stress off of our family."
Sawyer and her family are preparing for another trip to St. Jude Children's Research Hospital in Memphis, Tenn. This will be her fourth surgery, and she will remain at St. Jude for three months for radiation treatments. Having a car will allow them to travel around the area during their stay.
Jay Burchell, president and general manager of Heritage Chevrolet, a Carter Myers Automotive dealership at 12420 Jefferson Davis Highway, along with several associates wearing Mason's Toy Box T-shirts, greeted Sawyer and her mother upon their arrival. "The associates of Heritage Chevrolet and Carter Myers Automotive and I are thrilled to be able to reach out to this little girl and her family at this time of need for her," Burchell said.
Kassay said it's important to know that Sawyer, even in her most fragile state, has always managed to give back to her peers and community. When she learned about Mason's Toy Box, she hosted a #sawyergivesback party at a local church where she and her friends wrapped boxes that were later distributed to Richmond-area businesses for toy donations collected for pediatric patients and their families.
"Helping other people when you're in your own despair lifts you up," Jamie Perkins said. "It lifts us up a little."
And because kindness is contagious, Sawyer's eighth birthday is the perfect opportunity for Mason's Toy Box to give right back. Through fundraising, Mason's Toy Box matched the $5,000 gift from Carter Myers Automotive for the vehicle. This is the third time the nonprofit gave a car to a child's family.
Mason's Toy Box is nonprofit organization that lends support to families engaged in pediatric medical life altering struggles by offering gifts to hospitalized children and their family members. They provide relief to families facing overwhelming emotional and financial burdens, and raise awareness for childhood cancer and fund pediatric medical research.
Their signature event is an annual holiday toy drive in memory of Mason Clark Thomas, who died from neuroblastoma at 11. Kelley Kassay was Mason's mom.
"Mason loved to give his toys and games to kids he thought could use some cheering up, and perhaps just needed them more," Kassay said. "We are seven years and several hospitals strong!"
For more information, visit www.masonstoybox.org.