L.C. Bird High School's boys' basketball program has gotten used to sending student-athletes to the next level. Now the...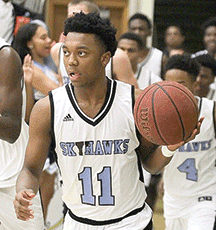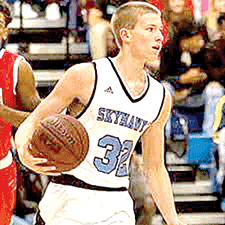 L.C. Bird High School's boys' basketball program has gotten used to sending student-athletes to the next level. Now the Skyhawks have two more students who seem destined for the college game in Jamon Battle and Mack Burgett. Both were a part of L.C. Bird's first championship season in 2016-17.
Battle has been a mid-major coach's dream so far as he's racked up 11 offers over the past few months. Eastern Kentucky, James Madison, Towson, Hampton, Norfolk State, Canisius, Central Connecticut State, Maryland Eastern Shore, Austin Peay and most recently, Murray State and Old Dominion University, are among the schools that have offered the rising senior full rides.
Several colleges have locals playing in their ranks already. Zach Jacobs (Trinity Episcopal) and Greg Jones (John Marshall) are at James Madison, while Malik Johnson (L.C. Bird/Blue Ridge CC) is starting at point guard for Canisius in New York.
Battle, who started his high school career at Meadowbrook, transferred to L.C. Bird and was a big part of the 2017-18 team's success. He averaged 13 points and 5.5 rebounds per contest, and provided top-notch defense, averaging a steal and a block per game. At 6-4, 200 pounds he provides a projectable frame for a big, tough guard or perhaps a small forward/wing player if he can grow a couple more inches before graduation.
"He is coming into his own as a player," L.C. Bird coach Troy Manns said. "His athleticism allows him to play all five positions as well as defend all five positions. Offensively, he is learning how to be a dominant scorer at a high level. As long as he [Battle] remains confident, he can be as good as he wants to be."
Burgett is an interesting prospect with three offers on the table. Two are of the Division II variety in Catawba and West Virginia Wesleyan. One is a Division I offer, picked up recently from Arkansas State. The rising senior is 6-6, and has grown several inches in high school. That growth spurt has transformed him from a shooter into a wing and post presence.
"Mack has a work ethic and a toughness that are second to none," Manns said. "He's the captain of our team, and he provides a sense of leadership and toughness that will be instrumental to our success this coming season. He's improved his shooting ability to the point where we believe he's one of the best shooters in the area."
These two athletes will lead the program into its next chapter this coming winter.