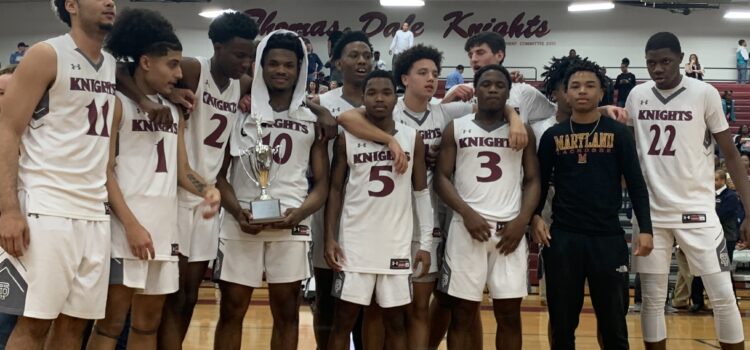 Dale to face Massaponax on Friday at Cosby in first round of state tourney Thomas Dale boys basketball has done the improbable all season. ...
Dale to face Massaponax on Friday at Cosby in first round of state tourney
Thomas Dale boys basketball has done the improbable all season.
But, they've accomplished all of their feats through good team basketball and fundamentals.
Junior Kylon Lewis hit two free throws with two seconds left in overtime to give Thomas Dale a 73-71 lead, and a Western Branch 60-foot desperation shot clanged off the rim to give Dale the 6A Region Championship, the school's first since 2001.
"The first buy in was getting back to the basics," said Thomas Dale head coach Keyode Rogers. "Back when we first started workouts and preseason work, it was getting back to the basics."
The Knights wouldn't even have made it to the overtime if it wasn't for Miles Phillips, who hit two free throws with four seconds left in regulation to tie the game. Again, it was back to the basics.
"I wanted to stay calm, take my time and follow through," Phillips said.
"Those two guys [Lewis and Phillips]- I had no fear for them," said Rogers. "They were going to breathe, take their shots and I knew they were going to make them."
The free throws were vital, but to not to be lost was a play made by senior Luke Ogle. A Western Branch steal led to a fast break, and what looked like a sure lay-up that would have put the (team name) up by four with less than ten seconds to play- but Ogle came out of no where to block the shot, and Dale regained possession.
"I told the team that was the play of the game," said Rogers. "Just where he came from to chase that down, that was a big time play."
Ogle, like the other players on the Thomas Dale roster has embraced his role- he's one of the team's best defensive stoppers.
Lewis led the way with 21 points. Jahmeel Campbell pitched in 19 points, and Miles Phillips joined this teammates in double-figures with 16.
Trey Joseph came up big off the bench with three big baskets in the first half that helped Thomas Dale establish a lead, one they held most of the game. He finished with seven points.
The victory brought the Knights' record to 20-5. Those 20 victories are four times the total of games they won last year- five.
"We beat a good team tonight in Western Branch," Phillips said. "Coming into the season, Especially after having a bad year last year, it was hard to imagine having the season we've had so far. It's not over for my teammates and I."
For a program that hasn't had much postseason excitement over the last decade, this is probably the most exciting playoff moment for the Knights since 2011, when in the Central District tournament, they knocked off a star-studded Petersburg team 92-91.
That Petersburg team featured Frank Mason, Kevin Green, D'Vaughan Maxwell and Marcus Hoosier. However, as talented as they were, they fell.
That rendition of the Knights, led by legendary coach Eddie Goss, got 38 points from guard Jordan Smith, who hit 20 of 20 free throws to help seal the victory. That team also featured standouts Kavon Waller, who played at Delaware State, and Myles Turner, who had an excellent career at Division III Emory and Henry.
Like the 2019-2020 Knights, it was the basics that led the 2011 team to an exciting playoff victory.