At a dim movie theatre; you take your seat and the lights go down as the movie begins to flicker on the huge screen. The only distraction is the crunching of popcorn and slurping of a drink by the guy next to you. Only one film is playing at this single screen movie house – not the 20 screen multiplex of today. Those were the days when local filmmaker Cyrus Kapadia became passionate about movies.
"My parents took me to a movie every weekend, and it was an experience," Cyrus said.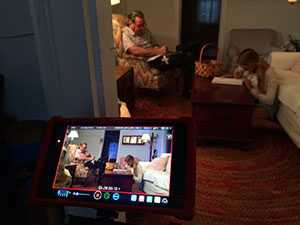 Cyrus, now a director, was drawn to see as many movies as he could over the 20-some years that followed. Now his ever present desire to make his own film has come to fruition.
"My experience is driven by passion so there are lots of personal projects, small little films," Cyrus said with an obvious English accent. "My first delve into real film, (with his wife, Shelly as Exec. Producer) other than what people would think is hoppyesk, is when I did the 48 Hour Film Project here in Richmond in 2011."
The 48 Hour Film Project is a weekend in which teams must make a movie – write, shoot, and edit – in just 48 hours.
Now Cyrus's longest film to date has just wrapped. Called "The Wages of Sin," it is about a young girl in the Deep South who forms a forbidden friendship.
"We are all capable of committing ourselves to awful ideologies," says Cyrus. "It's whether we allow ourselves to be overcome by them or not that delineates us as a species with a strong sense of morality."
"Everything comes back to one thing and that's the story," Cyrus said.
Cyrus and his 48 Hour team stuck together and made a number of films over the following years. The same team worked on his latest effort that he and Shelly will enter in the Tribeca Film Festival, which is a Robert De Niro festival in New York. Cyrus said there are many opportunities for distribution. "Video-on-demand (VOD) a distribution deal, iTunes, Netflix, Hulu, etc.  We would also love to present a limited theatrical engagement, although most festivals require that the film has not been shown publicly before – so that would not be until well into 2016 at this point.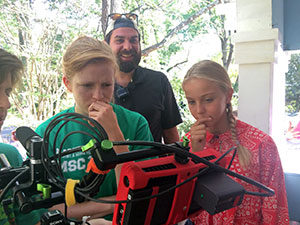 Shelly, as she says was chief cook and bottle washer, handing the budget, props, locations and wardrobe among other jobs. The $25,000 budget ran over budget, by about $10,000, not unlike big Hollywood productions.
"In nine days of continuous filming in Richmond, Ashland and Williamsburg, the film crew resided in Ashland and 'The Wages of Sin' was ready for editing," Shelly said. "It took a crew and cast of about 20 people and a lot of hard work in making the Cyrus's dream become a reality."
Cyrus also wrote the screenplay, although Shelly had some input. Before Cyrus made this film, he was in I.T. for a global company, which left him little time for his dream, but once retiring from his job he had time (with the help of Shelly) to make his dream a reality.
The performers in the film are anything but amateurs: the grandfather, Tom Belgrey, was in the soap Ryan's Hope, Star Trek: Deep Space 9, Lincoln among other professional acting jobs.
The Kapadias have three children and live off of Harrowgate Rd. in Chester.