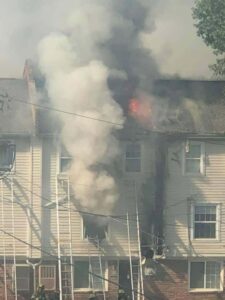 Sirens screamed that firefighters were on the way and residents quickly evacuated the apartment building in the 12600 block of Ben Fry Drive after fire erupted there Oct. 6.
"No one was injured," said Lt. Kenny Mitchell of Chesterfield Fire & EMS.
Firefighters were called to the complex at 2:30 p.m. and they saw heavy smoke and flames as they arrived.
Fire and medical personnel from the Chester, Bensley, Airport, Harrowgate, Dutch Gap, Centralia and Ettrick fire stations responded to the emergency.
Mitchell said the one apartment building was affected. Fire spread on the outside,going up the building to the attic.
Seven adults and seven children were displaced. The Red Cross is assisting them.
"Early indications show the fire started on [the]outside, first-floor meter box but [it]is under investigation," Mitchell said.